newznew (Chandigarh) : Food enthusiasts are in for a treat. Ambala's original Puran Singh Ka Dhaba has opened an outlet, serving the same authentic fare available in Ambala at Sec 40, Chandigarh. It is noteworthy that Puran Singh Ka Dhaba in Ambala is popular & known for its unique & lip smacking 'Dhaba Culinary' not only in this part but all across North India. The eating place has received wide acclaim by well known personalities in the food business like celebrity Chef Sanjeev Kapoor. Not just this, the Dhaba has been covered by National food writers like Vinod Dua of NDTV Fame & on the famous food programme 'Highway on my Plate'.
The same iconic eatery has now been unveiled in tricity thereby giving food buffs an opportunity to savour Puran Singh's tasty offerings in the city itself.
Though the outlet has been named as 'Dhaba' but it's a modern Avatar of the Dhaba; and is made as a proper restaurant serving Puran Singh's delicacies. Brought to Chandigarh by HM Food's Joginderpal Sharma, the eatery is being run by an enterprising duo Pushp Behl & Sanjay Kapoor.
"We have brought Puran Singh Ji's original recipes to Chandigarh. The signature dishes certainly are the 'Murg Tariwala' & 'Curry Meat' prepared using the ingredients , particularly the 'Masalas' transported specially from Ambala on a regular basis. Our Chef too has undergone an intensive training under the experts at Ambala so that the authenticity of the food remains intact." Said Pushp Behl.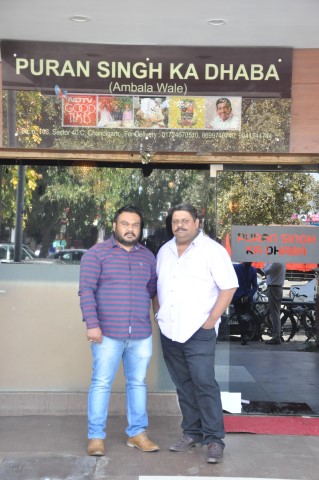 Puran Singh Ka Dhaba Amabala Wale, in Chandigarh has a wide array of popular dishes. "The Mutton at the outlet is so soft that it can be taken off the bones with mere two fingers.  Apart from Curry Meat our mutton specialities include mutton rahra (with keema gravy), mutton rogan josh, mutton masala, mutton schezwan and more. The offerings in Chicken too are mouth-watering. Other than Murg Tariwala, we are serving original recipes of Butter Chicken, Kadahi Murg, Tawa Murg, Murg Do Pyaaz, Patiala Murg etc." Said Sanjay Kapoor.
The outlet has also started a brand new menu to promote cooking & eating in earthen utensils. "We are trying to do our bit to revive traditional cooking styles which were also quite healthy. We have a range of Biryanis that are made in a unique earthen handi cooking style." Adds Pushp.
Handi style cooking & serving is done for different Biryani's like Hyderabadi biryani, Chicken Hyderabadi biryani, Mutton Hyderabadi biryani, Veg Mughlai biryani, Chicken Mughlai biryani, Mutton Mughlai biryani, Veg. Kashmiri biryani etc
The kebabs are delectable. Galafasi Seekh Kabab & Banjara Kabab stand out.
It's not just Non Veg all the way. Puran Singh Ka Dhaba, has brought a choicest vegetarian fare too. Soya specialities like Soya Masala Chaap, Soya Keema are a must try. The quintessential Dal Dhaba Fry is inviting. Veg Seekh kabab, Veg Kakori Kabab are excellent starters.
The best part is that the meals at the outlet are not heavy on your pocket. A meal for two would be somewhere in the range of Rs 500 with a Non Veg, vegetarian & a sweet dish thrown in. Gajar Ka Halwa is a must try.