More than 24,000 farmers have benefited till date, covering 58,000 acres in Punjab
Plans to reach out to more than 37,000 farmers through capacity building program
Aims to double the number of dairy cooperatives in next three years
Will increase number of members to 3,000 in Farmer Producer Organizations
NewZNew (Chandigarh) : Ambuja Cement Foundation (ACF) announced that it has reached out to more than 24,000 farmers, covering 58,000 acres through a series of indigenous efforts that are linked to its agro based programs executed in the State of Punjab. Over the next three years, the foundation plans to reach out to more than 37,000 farmers through a capacity building program on sustainable agriculture. ACF will also double the number of dairy cooperatives in next three years and increase the number of members in Farmer Producer Organizations (FPOs) to 3000.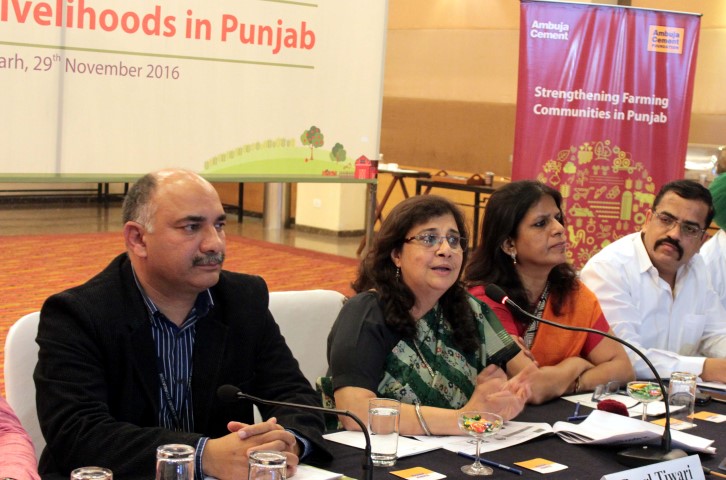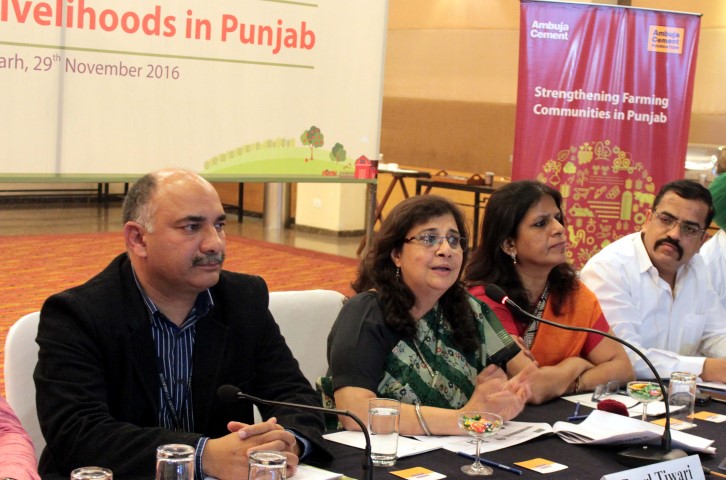 To promote new agricultural technology and improved crop management practices, ACF hadstarted the agro-based livelihood (ABL) program eight years back as part of its CSR efforts. Through this inclusive program, ACF extends support to farmers by promoting scientific knowledge on crop management and animal husbandry.
Speaking on these developments, Ms. Pearl Tiwari, Head of Ambuja Cement Foundation, said "The economy of Punjab is driven primarily through agriculture anda large part of the population is dependent on farming. ACF has adopted a holistic approach for agro based intervention and endeavours to provide end-to-end agriculture specific solutions for farmers. The program fundamentally aims at bridging existing gaps between traditional farming practices and provides an improved package of practices. The program enables new agro-based technologies and creates market linkages for better return to farmers, thereby making farming a sustainable source of livelihoods in the region."
In the State of Punjab, agriculture is conducted high chemical fertilizers and pesticide use. Punjab's farmers are more concerned about yield than the net income from their produce. Over the years the increasing input costs in the form of genetically modified seeds, chemical fertilizers and pesticides have been adversely impacting agricultural productivity and contaminating ground water. Overuse of agricultural chemical has also lead to serious health hazards for farmers. To counter these challenges, ACF is implementing its agro-based livelihood program in Punjab in two locations – Ropar and Bathinda.Over the past 8 years, the program has broadened its outreach from 660 farmers to 24,500 farmers at present.
Better Cotton Initiative
The Better Cotton Initiative aims at making global cotton production better for the populations who produce it by making it more adaptable for the environment it grows in and also favourable for the sector's future. This is done by developing Better Cotton as a sustainable mainstream commodity.
Under this program, ACF has been empowering farmers through capacity building for adoption of technology for better yield. The initiative involves formation oflearning groups of (35-40 farmers) to discuss farming requirements, challenges and arriving at practical solutions.
In this project, ACF enhances farmers' technical knowledge on cotton cultivation andeducates them on how they can reduce the harmful impact of crop protection practices, take care of water availability and soil health, effectively maintain bio diversity and enhance cottonfibre quality. Till date, 631 learning groups formed across the State of Punjab.
Organic Farming& Crop Diversification
Over usage of agrochemicals have drastically reduced land fertility in the State of Punjab. To combat this issue, ACF is promoting organic farming in the region. Organic farmers grow vegetables and wheat for their own consumption on an average of one acre area and some farmers sell their organic produce in the local market.  ACF is providing technical guidance through farmer training, farmer exposure visits, demonstrations and critical input support among other initiatives. The foundation has reached out to360 farmers with 336 acre land covered under its organic farming endeavour.
ACF also provides training and exposure visits of farmers on commercial and protected vegetable cultivation, nursery raising and market linkages. The foundation also promotes low plastic tunnel techniques for advanced vegetable cultivation used for early summer crops. It hasalso enabled farmers to establish net / polly net houses besides promoting kitchen gardening that fulfills daily family needs.
Farmer Capacity Building
ACF conducts training programs to educate farmers on optimum input use and the use of technology, etc. Farmers' exposure visits are also organised to help them adopt best practices that can be replicated in their own fields. Through formation of learning groups and farmer clubs, farmers share their on-field learning's with fellow farmers to create a larger impact. By forming Farmer Capacity Building Groups, ACF aims to strengthen the purchasing capacity of farmers and create better marketing linkages.
Animal Husbandry intervention
ACF's animal husbandry intervention is aimed at increasing milk yield by organizing animal husbandry camps on a regular basis. Under this program, ACF also conducts exposure visits for farmers and formation of dairy co-operatives. ACF organises awareness and treatment camps for cattle where farmers are given information on ensuring good feed, cattle care practices etc. In Ropar, ACF has facilitated the formation of 7 dairy cooperatives with 173 members who benefit from an average collection 1,200 litre milk per day.
Farmer Producer Companies
In March 2014, ACF formed Bathinda Farmers Producer Company (BFPC) situated in Behman, Diwana. BFPC provides quality agricultural input for farmers like pesticides, fertilizers and seeds. Presently eight individual farmers and 10 farmer groups are member of this FPC.
In April 2013, Rupnagar Producer Company Limited (RPCL) was formedin Roparwith ten local farmers. There are 70 members in this company. RPCL has been helping in supplying biomass to ACL power plants since 2013. They have supplied more than 5000 MT biomass with a cost of more than 1.06 Crores till date. It also deals with Farm Machinery Bank by providing farm implementation services (Tractor, Rotavator, Disk Plough etc. ) to local farmers on custom hiring basis.