Arresting Road  Death campaign at Derabassi: To highlight the issue of pedestrian safety, NGO Drive Smart Drive safe and ArriveSafe in association with Hella India and Punjab Police organized Arresting Road Death campaign at Derabassi on 11th May 2019.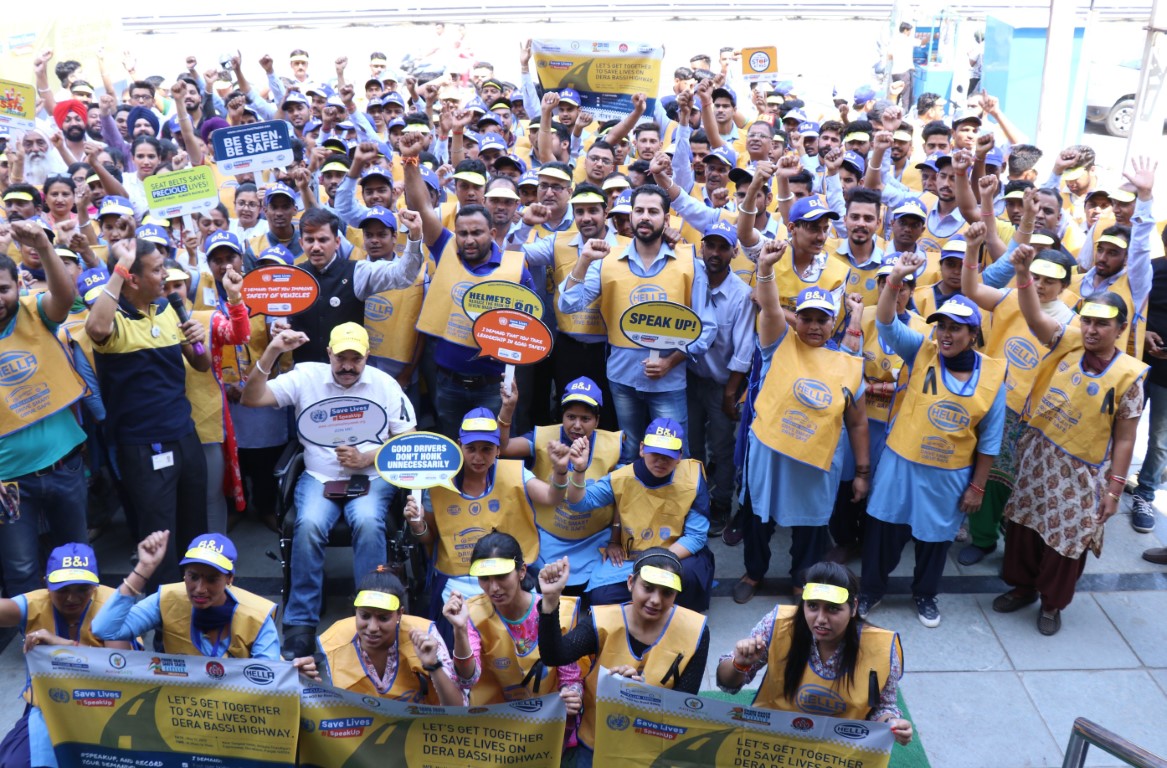 The objective of the event was to make the relevant decision-makers understand the graveness of the situation of pedestrians on DeraBassi highway and to appeal to them for construction of foot over bridge and barricading on from DeraBassi flyover till Bhushan Factory.
Employees of  Hella  India Lighting, along with Volunteers from  NGO Arrive safe, Sukhmani group, Longwal polytechnic, Derabassi Hotel association, Resident welfare association, Concerned citizens, civil society members, traffic police and scores of road safety volunteers participated in the in the event including  Mr Harman Singh Sidhu – President, ArriveSAFE, and Mr Rama shankar Pandey – MD, Hella India.
The event started with observance of 2minute silence in remembrance of Road Death victims. Participant took pledge for following Road Safety Code of Conduct and signed a petition of demand to make DeraBassi Highway Safer for pedestrians. The event ended with the participant forming a Human Chain to observe the 5thUnited Nations Global Road Safety Week.
"An accident every minute, a death every 4 minutes, loosing 29 Children a day can not be left unattended anymore. Traumatised& pained witnessing these deaths , we Road Safety warriors will not stop until India is free from all avoidable Road Deaths. Loss of more than 1.4 Million Indian lives in last decade is India's National Security Issue and it must be a National priority to take urgent actions to arrest it. Every stakeholders are urgently requested to collaborate and make available resources and plug all safety gaps on our Roads, Vehicles and it's management", Said Rama Shankar Pandey, MD-HELLA INDIA LIGHTING LTD."We also expect that such a urgent topic of National interest must be part of manifesto of each Political Party in India", He adds further.
"Since Jan 2017 till date this 7 kilometer stretch of NH-5 (Earlier NH 21) has had 148 serious road crashes, most of them fatal.We demand that the highway authorities wake up from their slumber and make necessary arrangements like over bridge and crash barriers " said Mr Harman Singh Sidhu – President, ArriveSAFE.
On 1st of May, on a non working day, Plant Worker Ajay kumar's short walk from his rented house  to ATM to withdraw money for spending on some family time in the market became last walk of his life while crossing the highway. Who is responsible for taking him away from his family forever?
Millions of Indians travel on Roads, forced to walk & cross through extremely unsafe conditions and more than 400 of them never come back home, everyday, like Derabassi lost Ajay on this unfortunate day. In India, more than 150,000 people are killed each year in traffic accidents.
These accidents are the No. 1 cause of unnatural death among those aged 15-29 years. Half of those who die in road accidents are vulnerable road users: pedestrians, cyclists and motorcyclists. Road traffic injuries and deaths have a terrible impact on individuals, communities and countries.
They involve massive costs to often overburdened health care systems, occupy scarce hospital beds, consume resources and result in significant losses of productivity and prosperity, with deep social and economic repercussions. This is a crisis that is expected to worsen unless action is taken.
While the vehicles and drives are meant to be on road, pedestrians are not. In most of the cases pedestrians use the roads because of the lack of basic pedestrian facilities like subways, foot over bridges and pavements etc.
DeraBassi highway is one of the most unsafe places for pedestrians in Punjab. Every day pedestrians are killed in accidents, while they are trying to cross the highwayfor their daily duties. The lack of foot over bridges and barricades on dividers, forces pedestrians to cross the busy highway.  All these fatalities can be reduced just by paying attention to the needs of pedestrians, which are so mostly neglected in transport and planning policies.
About Club D2S – Drive Smart Drive Safe (D2S): Club D2S – Drive Smart Drive Safe (D2S) is a Section 25 Company, an NGO that aims to educate people on road safety and reduce road accidents and deaths on Indian roads. We intend to reduce the occurrence of conditions that contribute to fatalities on roads like poor visibility, driver negligence and fatigue, negligence of safety norms, drunken driving, speeding etc.
Through awareness rallies, safety campaigns, street plays, special events and traditional and social media campaigns, we work towards raising awareness on road safety and connecting with citizens towards best practices in road travel.