'Riwaaz' an exhibition showcasing India's handicraft: Handicraft & fashion lovers of the tricity and the region have reason to rejoice. 'Riwaaz' a unique exhibition has kicked off at Himachal Bhawan, Sector 28, Chandigarh and will be on till May 13(Monday).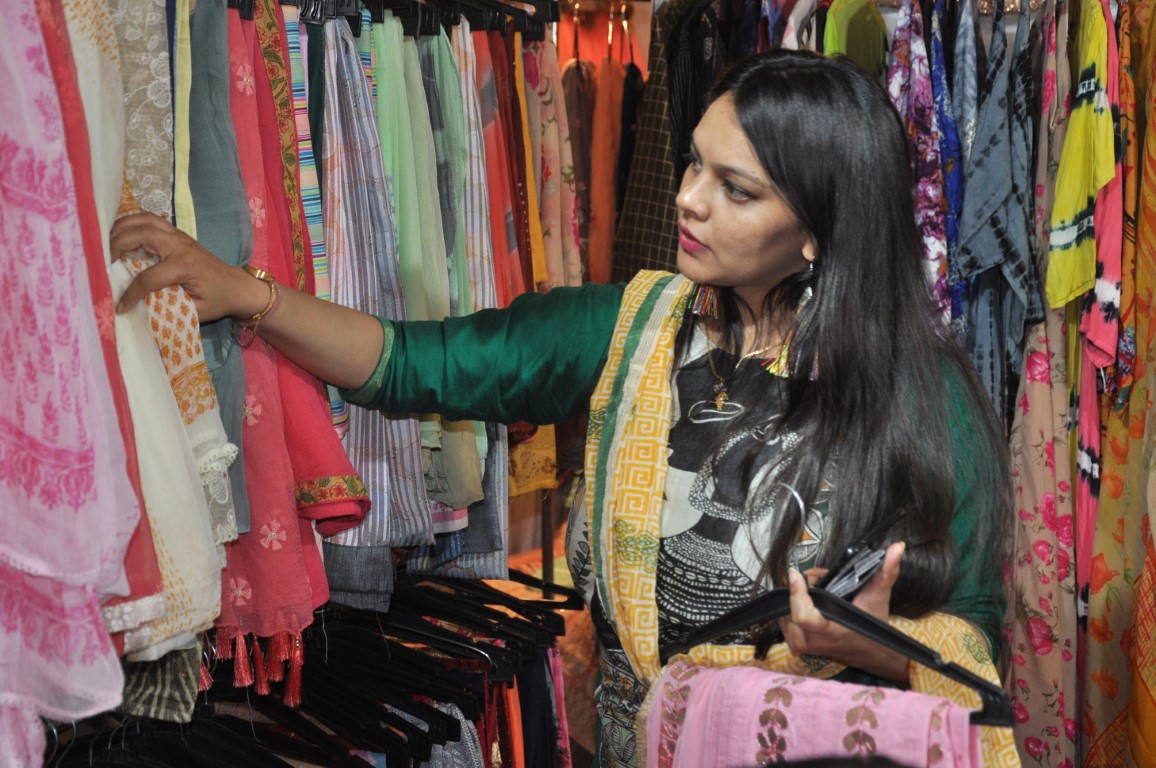 The showcase has been put up by Planning Gurus.
"'Riwaaz' is a platform which is displaying traditional Indian handicraft & trendy summer designer wear, which is being presented by artisans & designers  from across India. We have got creative handicraft products, summer fashion ensembles with beautiful hand embroidery, stylish fashion accessories, artistic jewellery, home décor items etc. The artisans and designers have brought well known art forms from places like Varanasi, Hyderabad,Jaipur, Dehradun, Mumbai, Delhi, Punjab among others." Said Rattandeep Singh Walia, Director, Planning Gurus.
Varanasi's (Banaras) rich saree heritage has been presented well at the exhibition. The world renowned Banaras silk sarees are available at label  'Satima Fabric'. The sarees are a centre of attraction with their zari work, fine silk and opulent embroidery. The rich & vibrant Rajasthani culture of traditional attires, has been displayed with a wide range of Jaipuri block printed attires and cool kurtis. 'Sachi' from Jaipur has an enviable collection in this regard.
"We have brought on a single platform young, creative artisans and fashion designers, who have unveiled their latest summer collections at 'Riwaaz'. The designer wear here is chic and full of handicraft work, and has been made with the scorching summer heat in focus. So you will find pastel colours in suits, kurtis, sarees, gowns, tops, palazzo sets etc. The designers have used cool and light fabrics like georgette, cotton, linen, organza etc." said Mrs. Aman Walia, the other Director of Planning Gurus.
Punjab's world famous Phulkari has a place of prominence at 'Riwaaz'. Phulkari, which literally translates into 'flower work', has a history etched in the culture of Punjab. Odinis, shawls, kurtis and chunris spun from the charkha with breathtaking embroidery have been presented at 'Yuvraj Creations' from Patiala. The traditional embroidery style from Lucknow – 'Chikankari' is available at label 'Aartee Novel Attire' from Dehradun.
'Sai Collection' from Karnal has brought suits and dresses,  'Vinnie's Creations' from Patiala has block printed and screen painted suits,  'Women Lounge' from Muktsar has designer long dresses. Gagan Bajwa has an enticing range of Shararas & Ghararas. 'Vallabh Silks' from Ambala has cotton Kurtis. 'Saloni Fashions' from Amritsar is showcasing cotton suits & Ritu from Chandigarh pastel colour suits.  'Shivam Cloth house' from Delhi has put up fabric material.
The exhibition is quite different as it caters to garden accessories and a bevy of home décor products too. 'Kumar Garden' has put up beautiful garden accessories and pots. 'Khepri' brings home décor items and serving plates. 'The Home Story' from Delhi has beautiful home furnishing items.
'Mahesh appliances' has showcased unique massagers and massage seats for bettering one's quality of life. Beauty has been taken care of too. 'My Happiness' has brought beauty enhancing home-made soaps and packs.
An attractive range of fashion accessories have been displayed. 'Shumiya' from Delhi has handbags and footwear & 'Arjun Trends' from Muktsar Punjabi jutties.
In jewellery, Mumbai's jewellery designer Purva has brought a good number of jewellery pieces under her label 'Supreme Jewels & Arts'. 'Myraph' from Hyderabad has a pearl jewellery collection.