AAP to open free Cancer Hospital in Punjab after coming to power
NewZNew (Nihal Singh Wala/Moga) : National Convener of Aam Aadmi Party (AAP) and Delhi Chief Minister Arvind Kejriwal today gave two months time to Prime Minister Narindra Modi to unearth the ill-gotten black money of Punjab Chief Minister Parkash Singh Badal and his family, failing which, AAP would do so after forming Government in Punjab in 2017.
Addressing the Punjab Inquilab rallies on the 3rd day of his 11 days tour of the state, Kejriwal said if Modi was actually serious to bring out the ill-gotten money amassed by the bigwig politicians and business tycoons then he must let loose his agencies on the Badal family to accomplish his task.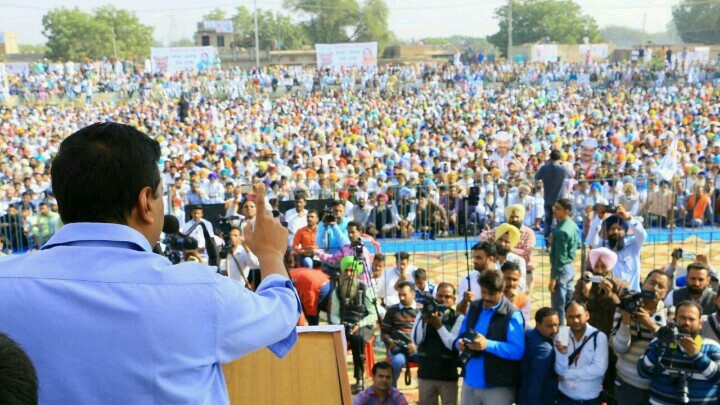 Pointing out towards the huge number of people, who turned up for the rally, Kejriwal asked who has biggest chunk of black money in Punjab – crowd immediately rose to their feet with raising both arms up replied in a unison voice that there is none other than Badals, who have amassed the biggest chunk of black money during the last 10 years in Punjab.
Kejriwal said that the time is ripe for Modi to prove his credentials that he was actually after the black sheeps, who have amassed huge black money, instead of harassing the common man through demonetization.
"We give two months time to Modi to unveil the black money stashed by Badals both in Punjab and abroad, failing which once the AAP will form the Government in Punjab, we will not let them get scot-free", Delhi Chief Minister said.
"Badals during the last 10 years of misrule amassed huge money due to their control on almost all businesses including Transport, Cable, Mining, Liquor etc.", Kejriwal said claiming that Badals have squeezed Punjab to their fullest capacity to mint money.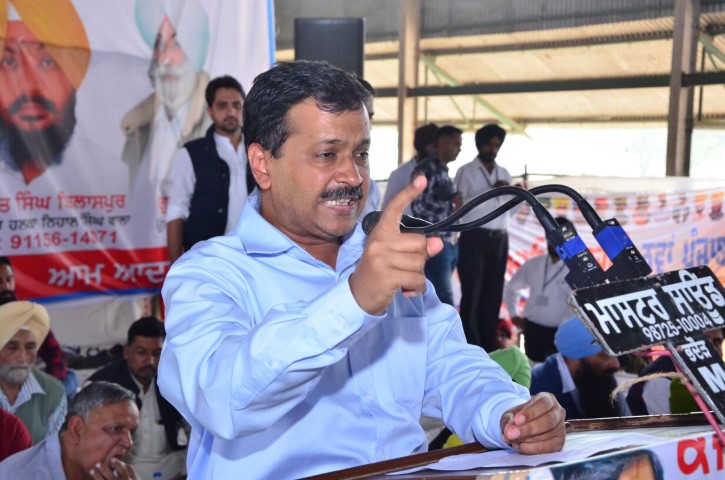 Kejriwal reiterated that contracts of mining and bus permits, which Badals obtained through misuse of power would be taken back and would be distributed to unemployed youth, once AAP is voted to power.
Kejriwal said that similarly, Modi should also go after PPCC Chief Captain Amarinder Singh and his family, who have opened bank accounts in Swiss Bank to transfer the corrupt money they made during the tenure of Captain Amarinder Singh as Chief Minister from 2002 to 2007.
"However, I am not sure if Modi would go after Badal and Amarinder to bring out black money, as SAD, Congress and BJP have always been protecting each other's political interests", Kejriwal said.
Kejriwal once again revealed the bank accounts of Captain Amarinder Singh and his family and said if he was saying anything wrong, then he was ready to face legal action from Amarinder.
National Convener of AAP, Kejriwal said that during the last 15 years, be it SAD-BJP or Congress, none of them have actually worked to improve the health system in Punjab, which has not only been deteriorated but of-late has been completely collapsed.
"I have learnt that there is lack of medical facilities for cancer ailment, especially for the people in Malwa region, who have to go all the way to Bikaner to get treatment.  I simply fail to understand why the people of Punjab have to go to other states for the treatment of Cancer", Kejriwal said while promising opening of a Cancer Hospital in the region, so that people do not have to travel to other states for treatment.
Kejriwal also promised that AAP Government after coming to power in Punjab would ensure free and fair treatment of Cancer in the state.
Speaking on the Congress' plan to woo the youth by rolling out free Smart Phones, Kejriwal said Captain Amarinder Singh has no right to bribe people of Punjab in a bid to come into power.
"We will make a drug free society and provide employment to the youth, who can buy hundreds of such Smart Phones with their honestly earned money", Kejriwal said adding that youth of Punjab do not care about such Smart Phones being rolled out by Congress as bribe and Captain should not try to buy the pride and self-esteem of Punjabis.
Delhi Chief Minister said that Congress is giving false hopes to the people of Punjab by claiming that it would fight against the menace of drugs in Punjab.  "Dr Manmohan Singh Government was in Centre for 10 years with simultaneous rule of Badals in Punjab, but Congress never acted against Punjab Cabinet Minister Bikram Majithia, who has been operating multi-crore drug racket in Punjab.
In fact, Captain Amarinder Singh opposed the CBI probe, which was being demanded against Majithia by his (Captain's) own party in Punjab, Kejriwal said.
Kejriwal vowed that after formation of government in Punjab, AAP would break the supply chain of drugs within one month and drug-addicted youth would be rehabilitated by opening rehabilitation centres at war foot level within six months and giving them employment.
Expressing concerns over the growing atrocities on dalits in Punjab, which could be evident of several barbaric murders of youth, whose limbs were even chopped off by liquor mafia, Kejriwal said AAP Government would constitute a Special Investigation Team (SIT) to re-open and re-investigate cases pertaining to atrocities on dalits to punish those found guilty for such acts.
Parliament Member Bhagwant Mann, Prof. Sadhu Singh, Mandeep Singh journalist, Nihal Singh Wala candidate, Kotkpura Candidate Kultar Singh, Bagapurana Candidate Capt. Gurvinder Singh Kang, Faridkot zone Coordinator Dalbir Singh Dhillon and other Senior leaders also addressed the gathering.