NewZNew (Chandigarh) : Ashok Leyland, flagship of the Hinduja Group, and one of the largest commercial vehicle manufacturers in the country, today launched the 'Captain 40iT' tractor in Singrauli, Madhya Pradesh. Co-created with drivers and users through an extensive study of their lifestyle, the new Captain 40iT has been designed specifically for dynamic conditions in India. It features an indigenously designed, factory-made cab based on the best principles of ergonomics and international styling to deliver superior comfort, a longer life and optimal performance.
The tractor has undergone more than 2.3 million kilometers of on-road testing and extensive internal testing on pave tracks and 6 posters. It also features an intelligent engine management system and a dual data switch that ensures optimal fuel consumption on empty and full loads at the flick of a switch. With a better pick-up, ease of repair and the highest cab tilt angle in the industry, the Captain 40iT is powered by a turbo-charged diesel engine that churns out 180 horsepower and generates maximum torque of 660Nm. This new series of Captain Tractors offers a world class cab and innovative fuel efficient new drive train in the 40T/49T range.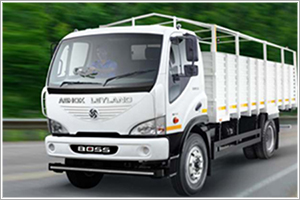 According to Mohit Golcha, Regional Manager, Ashok Leyland Limited, Madhya Pradesh – "Captain 40iT is the latest addition to our popular Captain series of truck. After the successful national launch of the Captain 40iT tractor in February this year, we are happy to introduce this reliable, efficient and versatile product in the Singrauli market. With Singrauli emerging as a power hub of this region, we anticipate a growing need for trucks and tractors. With this product, we are introducing modern technology, addressing emerging needs and maximizing productivity which will enhance returns on our customer's businesses in this region."
Singrauli is in the Eastern part of Madhya Pradesh and is slated to be the future 'Energy Capital' of the country. This region has 10 Thermal Power Plants fed by coal coming from open cast coal mines operated by NCL (Northern Coal Fields Ltd.). By 2017, Singrauli is expected to feed around 35,000 MW of electrical power to the grid. These Power Plants need a constant flow of coal which is being done by over 2000 trucks deployed in this region. With the introduction of Captain 40iT, Ashok Leyland hopes to aid this growth and become a strong pillar of support in this eco-system.