Attention 'DSP Dev' is here: Famous for his roles in movies like Dakuaan Da Munda,Blackia, Kaka ji and Rupinder Gandhi, actor Dev Kharoud who is a heartthrob of many, has officially released the first look of his upcoming Pollywood film titled 'DSP Dev' releasing on 5th July, 2019.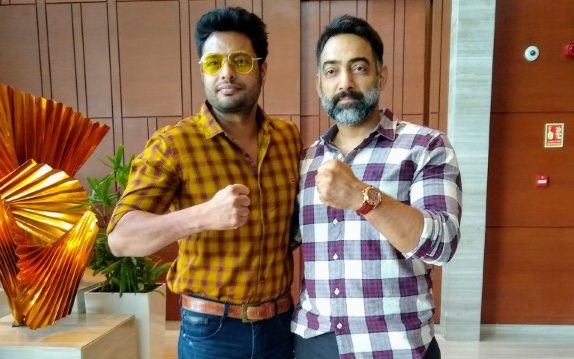 Actor Manav Vij was also present at the launch in Chandigarh.
Movie DSP Dev is produced under the banners of Ravneet kaur Chahal, Rajesh Kumar, Gunbir Singh Sidhu and Manmord Sidhu and presented by Dream Reality Movies, White Hill Studios. Mehreen Pirzada, Aman Dhaliwal, Girja Shankar, Shankar Mahal, Tarsem Paul, Neeta Mohindra will be seen in other powerful characters of the movie, story and screenplay by Inderpal Singh.
Telling more about the movie actor Dev Kharoud said, "I am very happy to unveil the first look and trailer of my action movie DSP Dev with everyone present here. This movie is totally different from all the previous films that I have done, the movie is about the son of an honest police officer, Dev Shergill who has always coveted the job for the power it commanded but after his father's death everything changes and his life takes a new turn which our audience will know when they will go to the theatres nearby and watch this film. Me and my entire team have worked hard for the entertainment and enjoyment of every age group. The movie has a surprisingly unique storyline with a different character that audience will surely adore."
This flick will definitely attract a large number of movie buffs as it has a different notion, sai actor Manav Vij who is known for his roles in bollywood films like Phillauri, Andha dhund Udta Punjab etc. Adding further Manav Vij said,"That DSP Dev has done every possible effort to set new milestone in Punjabi movie industry. Our entire team of the movie is very much dedicated and focused which is the reason we are able to make a film like DSP Dev. This movie is shot at the locations in Ludhiana, Mohali and Moga District which will surely set a different mood whole together. The music of the movie is given by Gurpreet Singh and Laddi Gill, DOP by Dhirendra Shukla and edited by Vinay Pal. I hope that our audience will like the movie as much as we liked working in this film."