Auric, World's first all-natural beverages for Mind, Body and Skin: Auric, World's first all-natural beverage for Mind, Body and Skin based on anti-ageing wisdom of Ayurveda has identified Chandigarh as the key growth market as part of its pan India scale up which will be achieved over 24-36 months.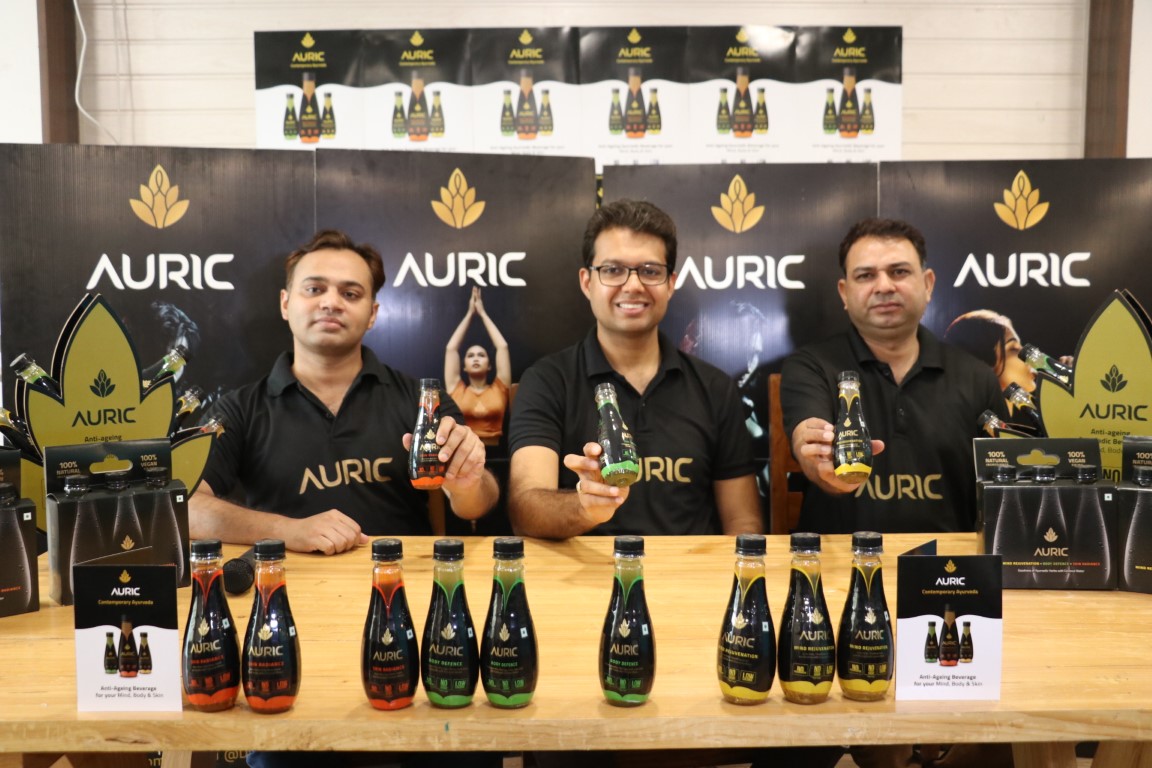 The brand was first launched in NCR in 2018 and now in Chandigarh, Auric will be available in over 30 retail stores in Chandigarh like Harry Hyper Store, Peshawari, Life Supermarket, Kewal stores and Empire stores. The smart drinks by Auric are designed for the fast-paced 21st century lifestyle where the right nutrition is often compromised. 
Auric beverages are a unique concoction of several Ayurvedic herbs like Aloe Vera, Gotu Kola, Haldi, Amla, Ashwagandha, Moringa, Shankhapushpi and Brahmi with coconut water as the base. 
All the beverages offered are rich in antioxidants, 100 percent natural & vegan, sugar-free, chemical free and doesn't have any preservatives or artificial flavours. And the best part is that it is limited to 14 calories per 100 ml. 
These beverages are crafted to Calm the mind, Power up the immunity and add Radiance and Glow to the skin. Recently, the brand has got validation for its Skin Radiance beverage for having 40x antioxidant potential as a cup of green tea.
Commenting on the debut in Chandigarh, Deepak Agarwal, Founder and CEO, Auric said, "Our smart drinks are an amalgamation of modern science and trusted ancient wisdom of Ayurveda and are designed to increase the lifestyle functionality and efficiency. We have been able to introduce ready-to-drink beverages for Mind Body and Skin that is natural, has functional lifestyle benefits, convenient, attractive and is non-bitter in taste. We are offering a product for the well-informed consumer, which is a healthy replacement for obvious choices like sugary drinks, juices, carbonated beverages, and flavored water. We strongly believe that like Yoga, Ayurveda is soon going to be ripe for disruption around the globe."
Currently, its products are available in over 200 stores in New Delhi, Gurgaon and Chandigarh Tricity. The products are also available in National salon chains and nationwide through Auric's website (https://www.theauric.com/) and online channel partners like Amazon India, Bigbasket, Milkbasket, and Qtrove. The brand also offers subscription-based service at weekly, fortnightly or monthly basis.
Know More About Auric
Auric is food brand at intersection of Beauty & Wellness based on Anti-Ageing wisdom of Ayurveda in Coconut water empowering to lead a healthier life, was founded in January 2018.
Auric which comes from the Latin word for 'Gold' is creating a disruption in the Functional foods space with launch of world's first complete Anti-Ageing Beverage based on the principles of Ayurveda. Since Skin is just a reflection of what is happening inside Mind and Body, Auric has made three 100% Natural and Low Calorie beverages – one each for Mind, Body and Skin.
Auric come from a team of more than 100 years' experience across different functions and categories in FMCG like HUL, Coca Cola and P&G.
The company is led by Deepak Agarwal, an alumnus of IIT Delhi with more than 8 years' experience with Unilever in India and abroad. The healthy hydration product uses the credibility of Ayurveda and coconut water to deliver contemporary benefits to modern consumer.