NewZNew (Chandigarh) : Australia's biggest ever trade mission to India will formally commence today, beginning a week-long series of events designed to enhance trade, education, investment and tourism ties between India and Australia.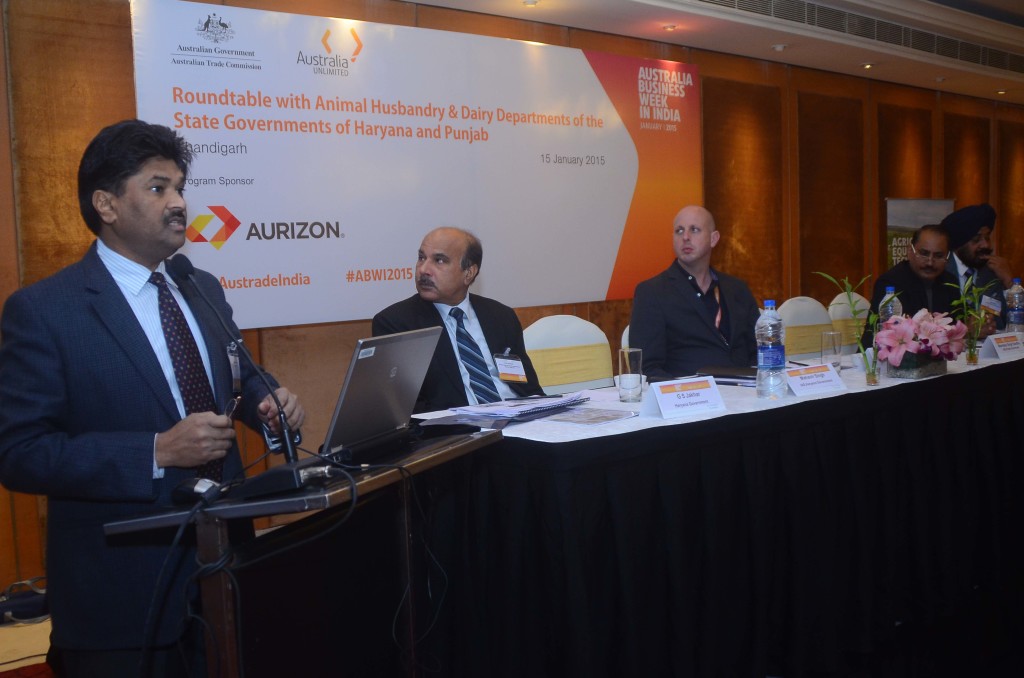 Led by the Hon Andrew Robb AO MP, Australia's Minister for Trade and Investment, Australia Business Week in India (ABWI) will see 450 business leaders across 14 industry sectors visit India's major cities to meet their Indian counterparts.
ABWI's 25 member Australian dairy delegation will focus on ways in which Australia can work with India to enhance the productivity and efficiency of its dairy sector.
The delegation will focus on dairy cattle breeds and genetics; fodder grass and animal nutrition; vocational education and training in dairy farming; research and development in milk products; dairy farm consultancy; and IT enabled services
The Australian delegation's engagement with the Indian dairy industry will include visits to agriculture and dairy farms, meetings with leading milk producers unions and participation in networking sessions and seminars. Meetings with State Governments are planned to offer Australian expertise and technologies for the development of the Indian dairy industry; as well as, enhancing productivity and efficiency.
Nicola Watkinson, Australian Trade Commission's Senior Trade and Investment Commissioner for South Asia, said ABWI reinforces the message that Australia is keen to identify, strengthen and deepen relationships with India.
"As food security increasingly becomes a global challenge, Australian producers and agribusiness firms are well placed to offer best-practice solutions across numerous areas including agricultural research, consulting, technology and equipment.
"In addition to providing a range of quality food staples, Australia is an ideal partner for developing lasting solutions to food security challenges confronted by India", said Ms Watkinson.
Mark Morley, Trade Commissioner and leader of the Agricultural Equipment, Technology and Services – Dairy delegation, said Australia has a diverse dairy manufacturing sector and is the world's fourth largest exporter of processed dairy products. The dairy industry is Australia's third largest agricultural food industry, with farm gate value of production valued at A$ 4 billion.
"Australia offers best practice solutions in agricultural research, consulting, technology and equipment. It can provide quality inputs to value-add agricultural production; systems, services, intellectual property and technology that improve production efficiency; and education and skills," said Mr Morley.
"Australian technology, expertise, products and services can improve India's productivity, particularly in drought and water management, agricultural research and development, sustainable agricultural practices, agricultural robotics and machinery, plant genetics and pathology, and animal husbandry.
"Australia is also one of the few countries in the world with the right mix of geography, climate and regulatory, policy and market settings to support world-class R&D and innovation through the entire food and beverage product supply chain," he said.
The business delegation will visit New Delhi, Mumbai, Chandigarh, Ludhiana and Ahmedabad.
India is Australia's11th largest trading partner with two-way trade of A$15.2 billion and fifth largest export market, with total exports of A$11.4 billion. Total Indian investment in Australia is near A$11 billion (up from A$600 million in 2006), while total Australian investment in India is over A$6.5 billion.
For further information about ABWI visit: www.austrade.gov.au/India
Follow us on Twitter @Austrade, @AustradeIndia, #ABWI2015
About Australia Business Week in India
Organised by the Australian Trade Commission, Australia Business Week in India (ABWI) is led by the Hon Andrew Robb AO MP, Australia's Minister for Trade and Investment. ABWI is a comprehensive programme of around 170 activities and events covering 14 industry sectors held across multiple cities in India covering New Delhi, Mumbai, Kolkata, Chandigarh, Pune, Ahmedabad, Jaipur and Ludhiana. ABWI is held from 12 to 16 January 2015, promoting Australia as a trade, investment, education and tourism destination.