Class V student Ayanna Jain pays tribute to COVID warriors through her songs on YouTube: Ayanna Jain, a ten-year-old class V student of Strawberry Fields High School, has shown maturity beyond her age, by using her passion for music as a tool to spread awareness about mental health & other social issues, on her YouTube channel – yannarocks!.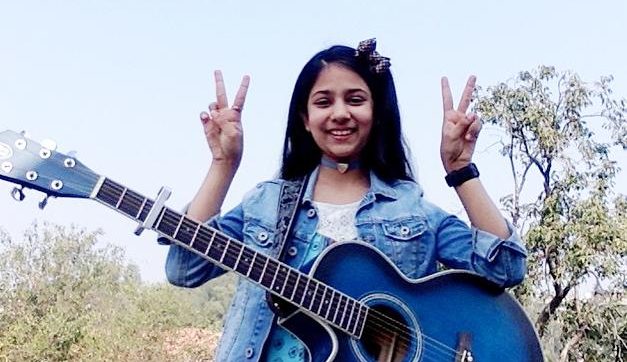 Ayanna has recently also given a tribute to all COVID warriors by singing two very hummable songs – 'Another day in paradise' by Phil Collins and 'Heal The World' by Michael Jackson. 
Her sensitivity towards different issues at such a young age comes from her elder sister Ananya, who she admires and considers as a role model. Ananya who is pursuing her studies  in the US has created a Mental Health App for which she  has been featured in Forbes magazine too.
Ayanna says, "It's my sister who inspired me to take part in this endeavour and motivated me to sing songs that spread positivity to press home the point of being happy in any situation and grateful for what one has. Music is cathartic to me. It's my world and the best way of communicating with a wider audience through emotive lyrics & melody."
Both Ayanna and her elder sister Ananya continually try to spread the message of being aware of one's mental health and not just physical.
Ayanna adds, "I also want to work on spreading awareness about the UN's SDGs – Sustainable Development Goals through my songs & music." SDGs is a nonprofit initiative started by the United Nations in 2015 and ends in 2030. The main goals under SDGs' include 'No Poverty', 'Zero Hunger', 'Clean Water & Sanitation' among many more.  
Ayanna, has been learning music since the age of five(5) and her music videos are inspired by pop, hip hop, and the soft rock style of Western music. She is a huge fan of Singer Taylor Swift and guitar veteran Van Halen. She has already cleared 3 levels of the prestigious Trinity guitar exams so far. She has a natural flair for singing & playing the guitar.
 Ayanna's mother Pooja Jain says, "Ayanna is a sensitive child who feels for her surroundings. She loved music from the moment she heard her first nursery rhyme. Though Ayanna is a happy 10-year-old child who loves to do all that a child that age enjoys doing, she is also aware of her responsibility towards her family, nature, and society."
Ayanna has been encouraged in her musical endeavors by her family. Music does run in the family as Ayanna's mother has been a guitar player and so has her elder sister . Now Ayanna continues the family's legacy.
Ayanna wants to pursue music as a career and is presently even writing her own song which she will present on her YouTube channel soon. She is also currently recording her first Hindi song 'Love You Zindagi' which again would spread the message of hope on yannarocks!. 
Ayanna also runs an instagram handle by the name letsrockwithyanna.