Trident Group to train 1500 candidates under Grameen Kaushalya Yojana: Under the ambitious Grameen Kaushalya Yojana started by the Punjab state government, textiles giant Trident Group has targeted to train 1500 candidates in association with Punjab Skill Development Mission (PSDM).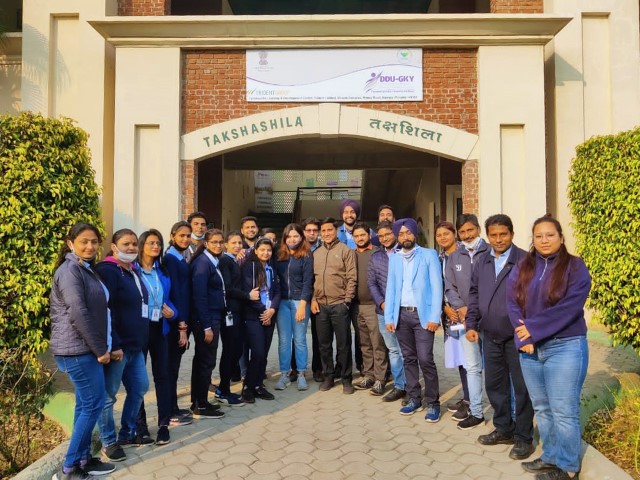 The PSDM team visited Trident's Dhaula campus and applauded the infrastructure, on-the-job training locations and residential facilities for trainees. Trident's Takshashila was termed as one of the best training centre.
Under the vision of Padmashri Rajinder Gupta, Trident Group is providing a comprehensive residential program which covers housing, clothing and food facilities for all the students throughout the training schedule. To ensure implementation of the same, hostel blocks have been allocated for the students with dedicated caretakers.
The trades to be covered under the training program are apparel and textiles. The five districts being targeted for the scheme are Barnala, Bathinda, Sangrur, Fazilka and Mansa.
Sara Sharma, Head Learning & Development & Govt. Initiatives, Trident informed that  training of batches will be starting within next 10 days. The Due Diligence Report has already been submitted online. The first set of batches will comprise of 210 trainees.
Know More About Grameen Kaushalya Yojana
Grameen Kaushalya Yojana or DDU-GKY is a Government of India youth employment scheme. DDU-GKY was launched on 25 September 2014 of 98th birth anniversary of Pandit Deendayal Upadhyaya. It aims to target youth, in the age group of 15–35 years. DDU-GKY is a part of the National Rural Livelihood Mission (NRLM), tasked with the dual objectives of adding diversity to the incomes of rural poor families and cater to the career aspirations of rural youth. A corpus of Rs 1,500 crore is aimed at enhancing the employability of rural youth.
Know More About Trident Group
Headquartered in Ludhiana, Punjab, Trident Group is a vertically integrated textile (Yarn, Bath & Bed Linen) and Paper (Wheat Straw-based) manufacturer and is one of the largest players in Home Textiles globally. Trident's towels, yarns, bedsheets and paper business has earned global recognition and is delighting millions of happy customers across the globe. Supplying national, captive, and retailer owned brands; the organization is accorded with multiple national and international awards from its customers, vendors, and various government entities in recognition of advancing the highest standards in product quality, social responsibility, and environmental stewardship.