MODI APPRECIATES CM's CONCERN FOR MAKING AGRICULTURE SECTOR SUSTAINABLE AND ECONOMICALLY VIABLE

DESCRIBES IT AS THE MOST CRUCIAL SECTOR FOR DEVELOPMENT OF COUNTRY

SEEKS ONETIME ALLOCATION FOR THE RESTORATION AND REJUVENATION OF CENTURY OLD CANAL NETWORK IN THE STATE

ADVOCATES LEVEL PLAYING FIELD FOR INDUSTRY IN THE COUNTRY

URGES FOR OPENING TRADE ROUTES TO PAKISTAN THROUGH HUSSAINIWALA AND FAZILKA BORDERS

TERMS DRUG MENACE AS NATIONAL AND AN INTERNATIONAL PROBLEM

SUGGESTS PM TO CHAIR THE MEETINGS OF REGIONAL COUNCIL

HAILS PM FOR CONSTITUTING NITI AAYOG

URGES HIM TO HOLD PLANNED QUARTERLY MEETINGS WITH EVERY CHIEF MINISTER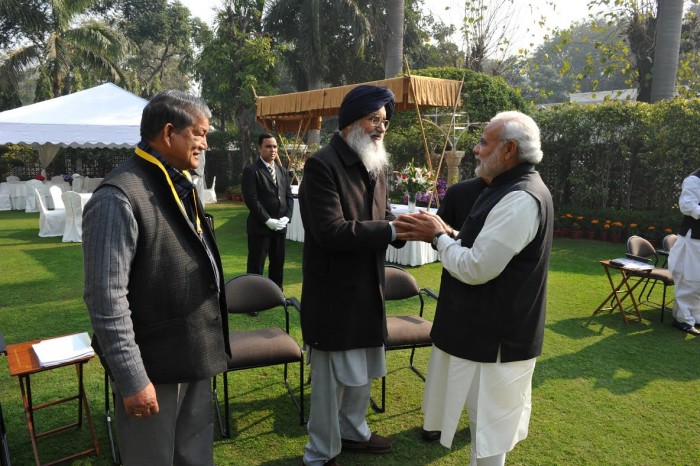 NewZNew (New Delhi) : Describing agriculture sector as most crucial for the development of the country, the Punjab Chief Minister Mr. Parkash Singh Badal today pleaded that it should be given top priority in the formulation of National Plans.
Sharing his views on the first meeting of the Governing Council of the newly constituted NITI Aayog here today at Prime Minister's residence, the Chief Minister asked the Centre to formulate a flagship scheme, in consultation with states, to make agriculture far more profitable and economically viable. Batting for revival of agriculture sector which was now turned to be non profitable venture due to high input costs and low returns resulting in mounting farmers' debt and suicides, Mr. Badal advocated for the continuation of procurement at MSP by the Food Corporation of India (FCI) till a viable alternative was provided to the farmers otherwise it could lead to serious unrest. He referred to this apprehension in wake of recently media reports submitted to Government of India (GoI) recommending withdrawal of MSP and procurement by FCI. Mr. Badal also mentioned several factors like depleting ground water and degradation of soil health which have further accentuated the woes of the peasantry especially of Punjab farmers whose immense contribution in making the country self reliant in food production has been ignored hitherto.
Appreciating the concern of Mr. Badal for prioritising the agriculture sector in the formulation of national plans, the Prime Minister assured him that NITI Aayog would certainly take a call on this issue and come up with the sustainable growth model for agrarian sector to transform the lives of peasantry.
Replying on the agenda wise items, the Chief Minister also demanded special onetime allocation for the restoration and rejuvenation of century old canal network in the state which has resulted in reducing its carrying capacity by 20%. He mentioned that the restoration of the existing canal system was not feasible under the allocation of existing schemes and the state government has already submitted a detailed proposal in this regard to the GoI.
Appreciating the Prime Minister Mr. Narendra Modi's out of the box initiative 'Make in India' to promote small and cottage industries across the country, the Chief Minister impressed upon the GoI to ensure level playing field for the industry in the state by duly compensating it for the losses suffered due to incentives given to the neighboring hill states, which resulted in flight of industry from Punjab. Vying for allocation of Central sector projects in Punjab besides restoration of Freight equalization, Mr. Badal said that state's efforts for Industrialization would not fructify without centre's unstinted support and cooperation. He mentioned that the state with its limited resources has taken several investor friendly initiatives like setting up of Punjab Investment Promotion Bureau besides introducing VAT retention for 10 years to attract huge investments in industrial sector.  In the light of this, Mr. Badal envisaged support from the GoI to accord the top most priority to Food Processing Industry in the state besides optimally utilizing the International airports at Amritsar and Mohali to propel industrialization at a much faster pace.
The Chief Minister proudly mentioned that Punjab had congenial Industry-labour relations. However, he demanded that all the central labour laws should be compiled into a single comprehensive new legislation adding that Punjab was already actively working on reforming state laws.
Welcoming the Union government's initiative of setting up a separate Ministry of Skill Development, the Chief Minister said that all skill development initiatives should be brought under this ministry with adequate operational flexibility to the states especially with regard to norms and costs of training. He apprised that Punjab State Skill Development Mission has already been set up and skill gaps identified.
On the lines of Sagar Mala project aimed at ensuring holistic development of the coastal areas, the Chief Minister asked for introduction of 'Border Mala' project for giving development boost to the border areas in the land locked Border State like Punjab. He reiterated that trade to Pakistan from Attari-Wagah border be brought at par with Mumbai-Karachi port. Mr. Badal also raised the demand to open other trade routes to Pakistan through Hussainiwala and Fazilka borders.
Showing concern over the drug menace, the Chief Minister solicited all possible help and support from centre saying it was not a state level problem not even national rather an international one. Contending this issue, Mr. Badal mentioned that no drug was manufactured or produced in the state adding that heroin was smuggled from the international border whereas poppy husk and synthetic drugs were produced and manufactured in other states. He urged the Central Government to intensify its vigil on International Border and emphasized the need to have better coordination amongst the Inter State and Centre-State agencies. Listing the initiatives taken by the state government to check the menace of drug addiction, Mr. Badal said that several drug peddlers have been arrested and many interstate gangs involved in this heinous crime smashed besides making huge recoveries of drugs and plugging the supply lines. "Punjab has come up with a unique model which ensures availability of De-addiction and Rehabilitation services by the government" asserted Mr. Badal.
The Chief Minister said that recommendations of CMs be sought regarding appointment of experts, specialists and practitioners in the NITI Aayog adding that officers from states be also taken in its Secretariat. Putting forth the proposal that PM should chair the meetings of Regional Council, he also asked that NITI Aayog and Regional Council should meet at least once in six months. Mr. Badal also demanded that North India Regional Council centre should be set up at Chandigarh.
Giving his inputs on another agenda item, the Chief Minister also recommended that states should be at liberty to prepare their own annual plans in the spirit of cooperative federalism adding he said that the prevalent system of Annual Plan joint review should be done away with. He also suggested the termination of 12th Plan to make it co-terminus with the Finance Commission period.
Referring to the vital aspects of Human Development and Equal opportunities for all, the Chief Minister said that Human factor was the backbone of Economic Development but at the same time the ever widening Disparities amongst various sections were a matter of grave concern. Thus, he underscored the need of Equal opportunities for all to access food, health and education especially in the era of competition.
Lauding the vision of Mr. Modi for launching 'Swach Bharat Mission', the Chief Minister suggested that Separate Mission Directors should be appointed for rural and urban areas under this ambitious program adding that like urban areas, rural areas also faced the problem of Solid Waste Management and Disposal of sullage water. He also recommended that National Mission Directors should prepare the plans in consultation with the States as their needs and solutions vary from state to state.
Likewise, the Chief Minister also suggested that under 'Beti Bachao, Beti Padhao' scheme, state should be treated as a unit instead of district adding he said that successful initiatives by states like  Shagun Scheme, Nanhi Chhan project and Mai Bhago scheme (free cycle for girl students) should be included in this scheme.
Under the 'Housing for all' scheme, the Chief Minister said that financing pattern for housing in rural and urban areas should be equal. He further said that under 'National Solar Mission' other viable schemes like Biomass Power Projects and Canal based Solar Power plants besides Solar pumps for agriculture need to be promoted in a big way. He said that urbanization Level of the states may be kept in mind while determining the number of cities to be taken up in the 'Smart Cities Mission'.
Complementing the Prime Minister for the successful completion of first phase of 'Jan Dhan Yojna', the Chief Minister apprised in the meeting that Punjab has covered all the unbanked families under the scheme. Under the 'Digital India' program the state government has already provided all required support including the Right of Way. Apart from this more than 2000 Sewa Kendras providing 200 services were being set up across the state.
Giving his consent for transfer of benefits under welfare schemes through Direct Benefit Transfer (DBT) scheme, the Chief Minister said that to address the serious problem of malnutrition through PDS and subsidy on urea need to be continued in the present manner adding that leakages must be plugged through Aadhar linkages.
Dwelling on the issue of allocation of resources, the Chief Minister said that this must be reviewed in light of cooperative federalism. He also suggested that pending grants under 13th Finance Commission and CST Compensation be expedited and released before March 31. For implementing GST, a fair formula be reworked to provide full and permanent compensation for State taxes like Purchase Tax, ID cess, RDF. He also demanded that the state should be aptly funded for launching Innovative schemes like Armed Forces Preparatory Academy, Meritorious schools, Sewa Kendras etc and these could be replicated at national level.
Likewise, he also demanded that Industrial Corridor and Dedicated Freight Corridor be extended upto Amritsar (Attari border).
The Chief Minister hailed Mr. Modi's vision for constituting the NITI Aayog thereby replacing archaic Planning Commission and thanked him for convening the first meeting of its Governing Council. He said that the PM was fully conversant with the ground realities and problems confronted by the states because of his vast experience as the Chief Minister.
Recalling the immense contribution of Punjab in the nation building, the Chief Minister said that in recognition with its stellar role in nation's freedom struggle and being 'food bowl' and 'sword arm' of the country, state deserved special consideration.
In his concluding remarks Mr. Badal observed that all these schemes were laudable but it would not be possible to implement them without adequate funding, fiscal and operational autonomy to the states.
The Chief Minister felicitated the Prime Minister for providing such platforms for interaction with the Chief Ministers. Mr. Badal also urged the Prime Minister to hold planned quarterly meetings with every Chief Minister.
The Chief Minister was accompanied by his Principal Secretary Mr. SK Sandhu.