Bajaj Allianz Life decodes India's life goals: Bajaj Allianz Life, India's one of the leading private life insurer, unveiled the first of its kind survey on India's Life Goals Preparedness Survey in Chandigarh.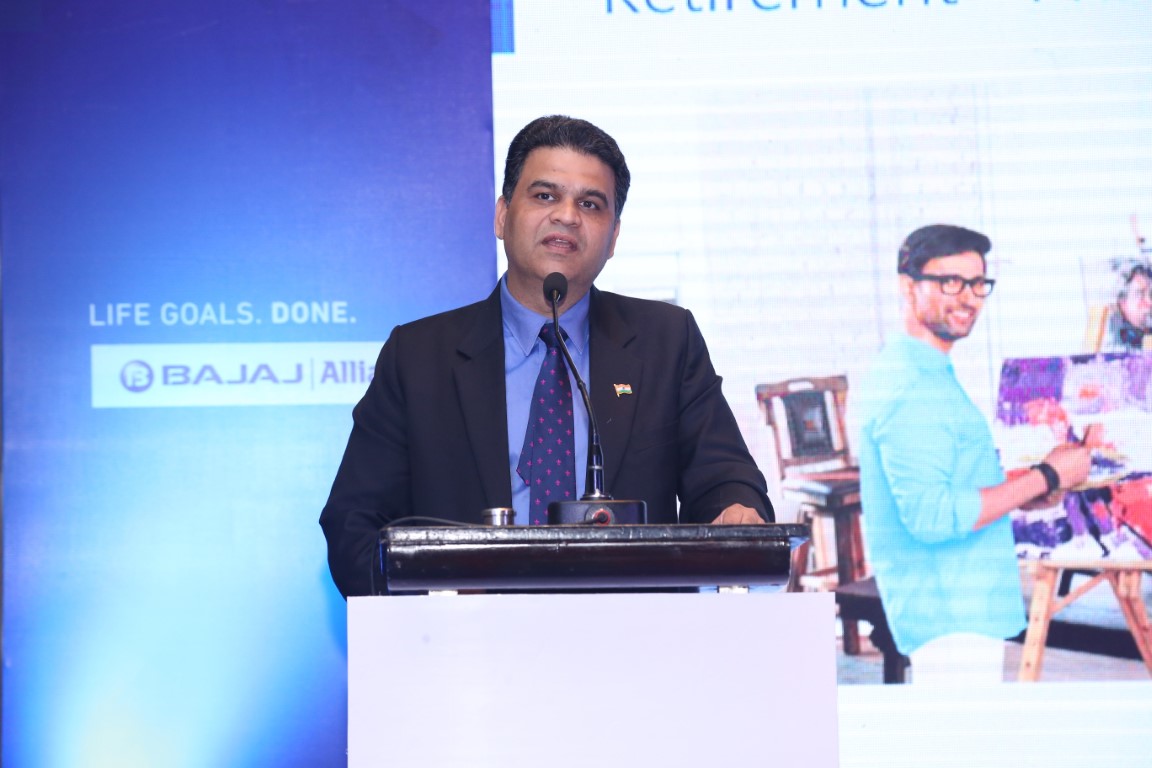 The survey showcased the new age goals of Indian Millennials, as well as provided insights as to how young India is preparing to achieve its unconventional life goals. Over 150 life goals of the millennials were mapped in this survey.
As per the survey, Indians cited on an average five life goals that they wish to achieve in their lifetime. North India (comprising of three cities, namely Delhi, Ludhiana and Bareilly) reflected a similar trend.  Interestingly, the survey also highlighted that millennials no longer wanted to play it safe, but were also keen to achieve goals that are unconventional.
EMERGENCE OF UNCONVENTIONAL LIFE GOALS
Being an entrepreneur was a rising life goal amongst Indians, where 1 in every 10 Indian wanted to start something new or pursue a parallel career
Retirement related life goals are becoming a priority, especially amongst Indian millennials
2 in 5 Indians have retirement related life goals
Retirement related life goals features in the top 5 life goals of Indian millennials
42% millennials consider it as their life goal
30% North Indians consider retirement as their life goal
One in three respondents cited focus on health and fitness as a life goal
1 in 3 Indians have a health or fitness related life goal
Being physically and mentally fit was amongst the top 10 life goals of Indians.
19% Indians want to be physically and mentally fit
Travel is becoming as a part of the mainstream culture
1 in 4 Indians want to travel abroad or travel to new exotic locations
Other key findings:
While Indians have interesting goals that they wanted to achieve in their life, 38% of the population is unsure about achieving the same
Comparatively, the population in the metro are more unsure of achieving their life goals than the non-metros
70% of respondents felt it is difficult to achieve financial freedom in their old age
62% of respondents felt they have not done financial planning to have a carefree retirement
Lack of financial support is considered as the major barrier to achieve one's life goals
The life goals preparedness Index of India is 53 which is across the regions, geographies and age group
Life insurance is the most preferred investment option for Indians to fulfil 60% of life goals. The affinity of life insurance was visible at 80% for retirement-related goals
Speaking in Chandigarh, Mr. Sameer Joshi, Chief Agency officer, Bajaj Allianz Life Insurance said, "The aim behind doing an in-depth survey was to have a clear understanding what new age India is perceiving as their life goals, and how they are preparing to achieve them. There is no doubt that young India wants to achieve unconventional goals and interestingly for us we have understood that they are keen to achieve early retirement goals, amongst others. We are confident that with our value packed products, backed by our strong investment philosophy, we will be able to become a strong partner and life goals enabler for anyone looking at getting their early retirement goals done." 
Early Retirement Campaign and Products
Taking a cue from the key finding that millennials are looking for early retirement, Bajaj Allianz Life has recently unveiled a powerful campaign. The 360 degree campaign yet again breaks a stereotypical mind-set – to drive home the message that retirement need not happen later in one's career, but can happen anytime.
All they need is a bit of planning. #EarlyRetirement goals can be achieved is the key message of the entire campaign. The #EarlyRetirement campaign is being played across leading TV channels and the company is supporting it with a strong outreach on radio, outdoor and digital platforms. Bajaj Allianz Life's #EarlyRetirement campaign can be viewed here: https://www.youtube.com/watch?v=L_376gLtMoQ
Furthermore, the company has showcased its key Retirement products viz: new-age ULIP – Bajaj Allianz Life LongLife Goal, the monthly income endowment plan – Bajaj Allianz Life Income Assure and the guaranteed monthly income – Bajaj Allianz Life Guaranteed Income Goal.
Each of them are uniquely designed to enable people across different profiles to plan for their retirement. Customers can further benefit from all the advantages life insurance products offer when it comes to planning for retirement.
Key advantages of Bajaj Allianz Life's retirement products:
Tax-free retired Life income – Bajaj Allianz LongLife Goal product provides you retired life income that can be received as regular income for whole life, starting from the age of 55 years or as soon as you complete 10 policy years, whichever is later. This Retired Life Income is tax free.
Guaranteed Monthly Income – Bajaj Allianz Life Income Assure product provides a guaranteed monthly income for 144 months to help you meet your future expenses.
Guaranteed Increasing Income – Bajaj Allianz Life Guaranteed Income Goal product offers guaranteed benefits as lump sum or in increasing instalments with an option to continue with life cover beyond policy term.