Bajaj Allianz Life Insurance Company's individual new business premium rises : Bajaj Allianz Life Insurance Company Ltd., one of the leading private life insurers of the country achieved its new milestone in Punjab by registering a stellar growth of 72% in individual new business premium for the period H1FY2018-19.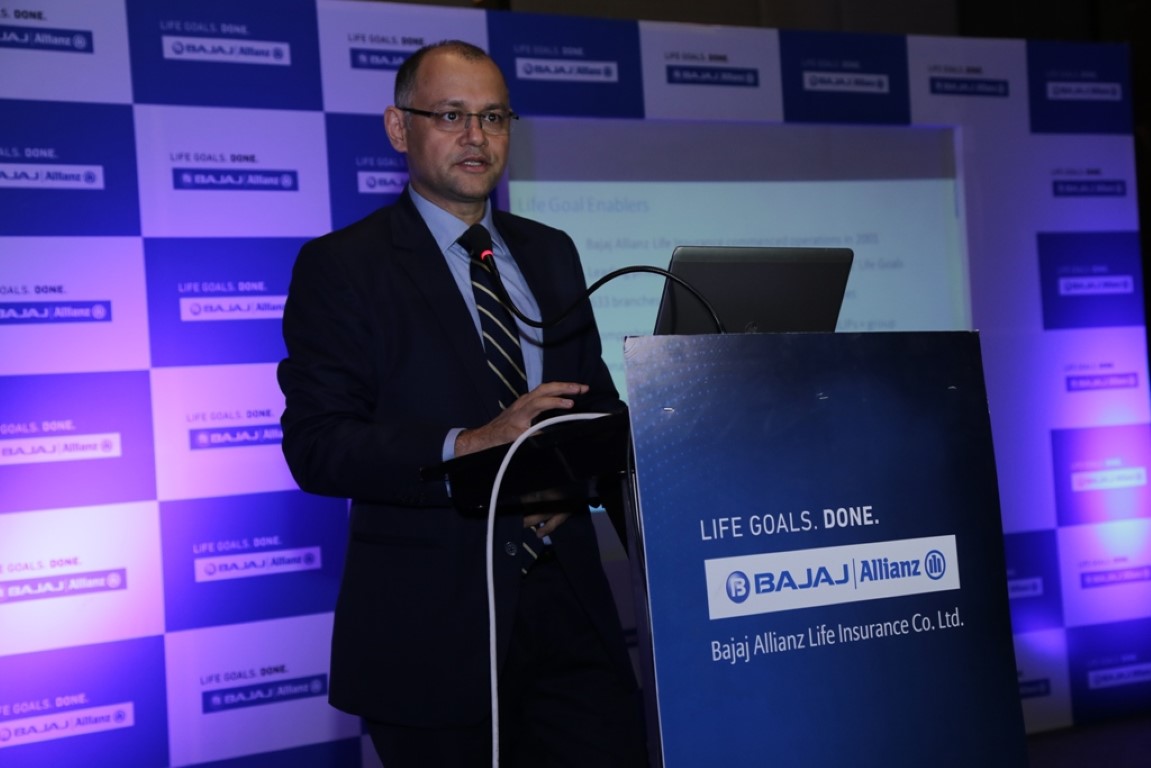 The individual new business premium was recorded at Rs 25 crore for H1FY2018-19 as compared to Rs 15 crore for the same period last year. In Haryana too, the company witnessed a 31% growth in the individual new business premium from Rs 11 crore for H1FY2017-18 to Rs 15 crore for H1FY2018-19.
The company holds a strong presence in North India and has been one of the leading private life insurers in the region. For H1FY2018-19, the life insurer has covered 7,231 number of lives in Punjab and 14,804 in Haryana. Its average ticket size in Punjab witnessed a 58% growth from Rs 68,722 to Rs 108,300 (including single premium policies) in H1FY2018-19. In Haryana too, Bajaj Allianz Life Insurance recorded a 10% growth in its average ticket size from Rs 51,187 to Rs 56,141 for the same period.
Company's overall individual new business premium rises by 12% in H1FY2018-19
Average ticket size up at Rs 108,300 in Punjab and Rs 56,141 in Haryana
Promises more reach in Punjab & Haryana for insuring life goals of customers
Speaking to the media during his visit to the state, Manish Sangal, Chief Agency Officer, Bajaj Allianz Life Insurance Company, said: "Bajaj Allianz Life Insurance has taken several initiatives this year towards insuring the life goals of customers. These include introducing innovative and value-packed products, technological interventions to further increase customer delight, and expanding our customer touch-points. We are confident that these initiatives will enable many more people to enjoy the living benefits of life insurance, and help us strengthen our market position as life goal enablers."
Commenting on the region, he added, "Punjab and Haryana continue to be our key markets, clocking a healthy growth over the years. We will further strengthen our presence in the states to insure the life goals of many more Indians."
Bajaj Allianz Life Insurance continues to grow at a faster rate than the industry with a 12.7% uptick in the individual rated new business premium, while the industry grew by 9.9% and the private life insurers' growth stood at 11.4% in H1FY2018-19.
BUSINESS SNAPSHOT OF BAJAJ ALLIANZ LIFE INSURANCE IN PUNJAB & HARYANA AS ON H1FY2018-19
| | |
| --- | --- |
| Particular | H1FY19 |
| No. of Policies | 4,983 |
| No. of Lives Covered | 22,035 |
| Branches | 34 |
| Agents | 2,237 |
| Employees | 249 |
Source: IRDAI
PRODUCTS & SERVICES LAUNCHED BY BAJAJ ALLIANZ LIFE INSURANCE
Bajaj Allianz Life Goal Assure

is a life goal based new-age online ULIP  which  provides the customer with a choice of eight funds, four investment strategies, return of mortality charge on policy maturity, tax-free returns on investment and life cover, making it one of the preferred  investments money can buy. The product also gives the option to take maturity benefit in installments and get the benefit of Return Enhancer, which is an addition of 0.5% of each due installment. Bajaj Allianz Life Insurance is the first of its kind in the life insurance company to return the life cover charge to policyholders on maturity. Since the launch of this ULIP, the company has taken the leadership position in the online ULIP space.

Bajaj Allianz Life Goal Based Savings

is another ULIP added to its product portfolio for customers who are keen to take advantage of the country's equities market. The product comes with a host of unique features like Return of Life Cover Charges and Return Enhancer that enhances the customer's corpus on maturity.

Bajaj Allianz Life POS Goal Suraksha

is a Point of Sale or POS life insurance product designed for quick issuance, where no medicals are required and customers can get life cover for a premium as low as INR 450 per month. The product also comes with guaranteed benefits, thereby customers looking to achieve their life goals through low premium insurance thereby helping customers meet their life goals.

Bajaj Allianz Life Health Care Goal
is a critical illness health insurance plan which covers 36 critical illnesses including heart disease & cancer. It also covers 2 juvenile critical illnesses, which is a first of its kind in the life insurance industry. In this product, a policyholder can cover up to 6 members of the family in one policy and one premium.
SERVICES
Mosambee is a hand-held device that takes branch services to the customers' doorstep. Customers can access and manage their policy including policy renewals though cashless online payment options, at their convenient time and location.
o   In just 5 months, the company has collected renewal premiums of more than INR 280 crores through Mosambee
BOING is the company's 24×7 virtual chat assistant that responds to customer queries instantly and assists them with an entire range of policy services.
o   BOING has garnered an impressive response from customers with more than over 8.9 lakhs unique visitors unique visitors
Life Assist is a one-stop solution for customers for getting all their queries serviced online on their Bajaj Allianz Life policy.
o   Over 2.9 lakhs customers have used the portal since its launch
i-SMART, INS-tab, i-RECRUIT and i-MANAGE are key initiatives for the sales force including the agents, which help them serve  customers better, be updated with key developments and follow through any customer requirements.