NewZNew (S A S Nagar) : Banks should provide agriculture loans to the farmers for agriculture & to self help groups for self employment and the process should be simplified for ensuring timely disbursement of loan amount. This was stated by Dr. Raghram Rajan, Governor Reserve Bank of India, while addressing the gathering at Govt. School village Gige Majra in SAS Nagar. At here he addressed the various bank officials, members of self help groups & farmers.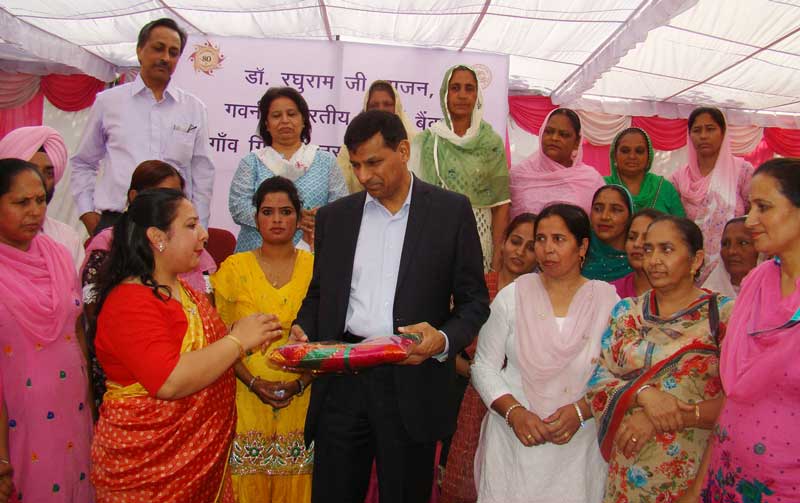 Governor RBI said that Reserve Bank of India sets the Repo rate then after banks defines their interest rates and reserve bank directs them to made the loan process simplify. He said that reserve bank of India will help in expanding the horizon of self help groups as they are proving very beneficial for financial stability of women. As such, feedback for the same is being sought. He said as well farmers should also form self help groups for more financial stability. Before this, Governor RBI inspected the goods exhibition, where the goods prepared by the members of self help groups were displayed. He asked in detail about the income & expenditure of goods thus prepared. Female members explained their difficulty about the marketing of these products. They demanded for establishing shops at govt. level for selling these goods at one place. During this, farmers demanded for single window system, so that loan could be disbursed easily & they could use the money when needed. During this members of self help groups honoured the Governor RBI with a 'Fulkari".
During this Smt. Rashmi Faujdar, Regional director Reserve Bank of India said that, any complaint regarding banking process could be lodges at Banking Lokpal Office at Chandigarh. She also advised the banks that to facilitate the farmers, the loan application forms should be filled at village level. She ualso advised the farmers to take loans as per their needs so that easy repayment could be ensured. During this, Sh. Rajesh Gupta General Manager NABARD said that NABRD is dedicatedly working for setting a link of banks with people & is working for generating awareness about the Govt. of India & RBI Programs at village level, as such, training camps for self employment etc. are being organised by NABARD. He said that there are approximate 35 thousand self help groups in Punjab, wherein more than 4 lacs 25 thousand females are the active members. He also advised to develop a mobile app for loans to provided updates about loan facility.
The gathering was also addressed by Sh. B.S.Raina, Chairman Punjab Gramin Bank. Addressing the gathering, Dipika Sindhwani, President Mahila Kalyan Samiti said that 350 female self help groups are working in Punjab & Haryana wherein more than 4000 females are actively working. She said that only in SAS Nagar & Fatehgarh Sahib 210 self groups are working jointly. She apprised the governor RBI about the activities being carried out by Mahila Kalyan Samiti. Chief Lead District Manager PNB Sh. R.K.Saini thanked the guests for their valuable time. During this, SDM Lakhmir Singh, District Education Officer (Secondary) S. Mewa Singh Sidhu, Deputy General Member RBI Sh. Anjni Mishra, Director Punjab Nationla Bank Sh. Jaswinder Singh, Sh. Bikramjit Singh Gige Majra, Village Sarpanch Smt. Charanjit Kaur & other bank officers were present.