Asks NHAI to submit proposal to declare Banga-Garhsankhar-Sri Anandpur Sahib road as NH
Work for 4 laning of Chandigarh-Ludhiana road to be awarded by July 31
Gives green signal to set up Driving, Inspection and Certification school at Kapurthala
NewZNew (New Delhi/Chandigarh) : Union Minister for Road Transport and Highways Mr. Nitin Gadkari today fixed the deadlines for various major road projects in the state during a meeting with Punjab Deputy Chief Minister Mr. Sukhbir Singh Badal and asked the National Highway Authority of India (NHAI) to initiate the process to rechristen Banga-Garhsankhar-Sri Anandpur Sahib road as national highway (NH).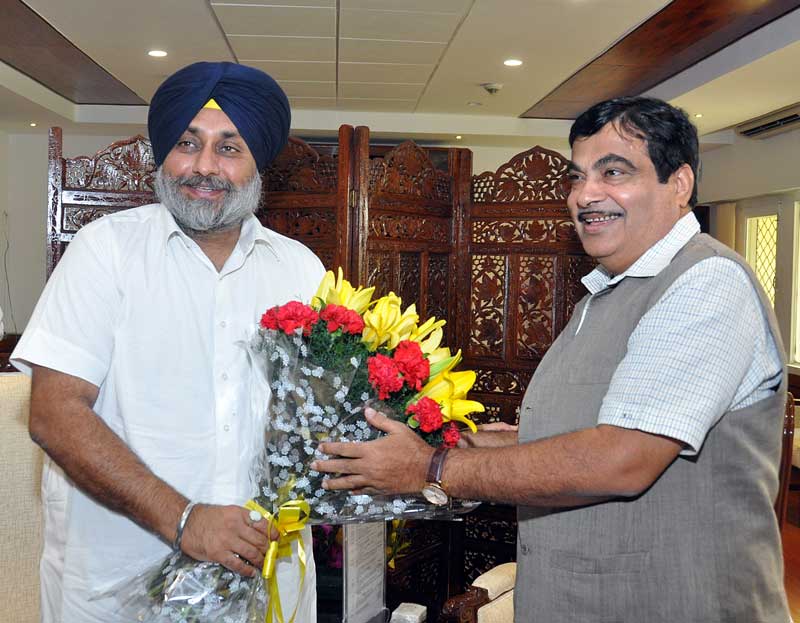 During the meeting held at New Delhi, Deputy Chief Minister has discussed the present status of various  pending road projects in the state with Union Minister which mainly includes 4/6-laning of Chandigarh-Kharar-Ludhiana section of NH-95, Improvement of Amritsar Bypass (NH-1) up to Attari border, maintenance of Ropar-Phagwara road, widening and strengthening of Banga-Garhshanker-Shri Anandpur Sahib, elevated road project in Ludhiana from Samrala Chowk to MC limit Ludhiana (NH-95) and  construction of 5  ROBs.
Mr Badal informed Mr Gadkari that NHAI has re-submitted the proposal for Chandigarh-Ludhiana road project to the ministry on March 26 after attending to all observations. On the request of Deputy CM the Union Minister asked the officers concerned to award the construction work till July 31.
On the issue of widening and strengthening of Banga-Garshanker-Shri Anandpur Sahib road, Mr Badal stressed that this major road was connecting religious and historical towns of Shri Anandpur Sahib in Punjab and further Shri Naina Devi in Himachal Pradesh where devotees from all over India pay their obeisance at sacred places throughout the year especially during Navratras, Holla Mahalla and Baishakhi festivals. The Punjab Government has already submitted the proposal to widen this 60.94 km road at a cost of Rs. 125 crore. The Union Minister asked the Chief Engineer of NHAI to submit the proposal at the earliest to declare this road as NH.
Mr. Gadkari also assured Mr Badal that the work on elevated road project of about 12.300 kms in Ludhiana from Samrala Chowk to MC limit Ludhiana (NH-95) would also be awarded before September this as the consultant will submit the DPR to NHAI by May 30.
Deputy CM has also emphasized that Amritsar bypass (NH-1) upto Attari border needs upgradation by providing service roads along with lights and landscaping works. Union Minister assured its completion and directed the
NHAI officers to kick start this work till July as no land acquisition is required for this project.
Discussing construction of new ROBs on various National Highways in the State that included ROB at Amritsar along with HBL over adjoining UBDC canal, Faridkot, Kotkapura, Bathinda and Barnala with approximate cost of
Rs. 250 crore, Deputy CM pleaded the Union Minister to direct the bridge section of Union Ministry to construct all 5 ROBs during 2015-16. Mr Gadkari assured to start construction at Amritsar and Bathinda ROBs by June as DPR for both these projects have been submitted whereas the remaining ROBs would be constructed after October 2015.
The Union Minister has also cleared the way to set up a driving, inspection and certification school at Kapurthala at a cost of Rs. 14 crore where driving licenses would be issued within 30 mintues on the spot after automated driving tests.  Among others present in the meeting included Principal Secretary to Deputy CM Mr. P. S. Aujla, Chief Engineer A.K. Singla and officers of NHAI.