~ Walks away with prize money of Rs.20 lakhs, an OPPO Camera phone and a guaranteed playback debut in Vishesh Films' upcoming venture ~
newznew (Mumbai) : After months of entertaining viewers through its revolutionary format and path-breaking LIVE audience engagement, COLORS' interactive singing reality show Oppo Camera phone presents Rising Star ended on a high as Bannet Dosanjh was crowned the winner. A first-of-its-kind proposition, Rising Star converted 130+ crore Indian viewers into citizen judges as they chose Dosanjh Kalan-based Bannet Dosanjh as India's first-ever Rising Star from amongst millions of aspiring singers. As winner, Bannet has won a cash prize of Rs.20 lakhs, an OPPO Camera phone and a contract with Mahesh Bhatt's Vishesh Films to debut as a playback singer in their next film.
Delhi's Maithili Thakur and Bengaluru's Ankita Kundu were deduced as the first and second runner-ups respectively by the audiences. While the experts Shankar Mahadevan, Monali Thakur and Diljit Dosanjh listened closely to ensure their votes supported the rightful winner, evergreen superstar Anil Kapoor joined in for the festivities, launching the DVD for 24: Season 2, bringing his unique brand of entertainment to the Rising Star stage.
When he first stepped onto the Rising Star stage, it was evident that Bannet Dosanjh was expert Diljit Dosanjh's biggest fan. But moving onward, he proved that along with his last name, he also shared the Punjabi sensation's passion for music. He proved his versatility by reinventing himself in every episode, earning the love and adulation of not only his idol, but also experts Shankar Mahadevan and Monali Thakur. Always a frontrunner in impressing viewers, Bannet, a young simpleton from Jalandhar's Dosanjh Kalan, has proved that mere geography cannot stop true talent from creating history.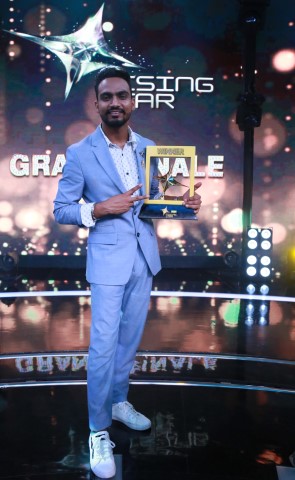 Talking about his win, Bannet Dosanjh said, "Rising Star has taken my passion for singing to another level; it has given me the platform to share it with the world! I am indebted to the viewers whose constant support and votes have encouraged me to be a better performer, and to the experts whose words of wisdom have guided me throughout this journey. I cannot thank COLORS and Optimystix enough for creating this platform for budding singers like me."
Celebrating Rising Star's first successful season, Manisha Sharma, Programming Head – COLORS said, "Pulling off a show of Rising Star's stature was a big challenge for us. The LIVE format, a first-of-its-kind in the Hindi General Entertainment space, required strong technical backing, and the results we have garnered are beyond anything we ever imagined! The engagement level with our viewers through the COLORSTV App, gives us the confidence that India is ready for such futuristic formats, and we hope to continue delivering them time and again."
Commenting on the conclusion of the show, Vipul D Shah, MD, and Co-founder of Optimystix Entertainment India Pvt. Ltd. said, "Every week, we have pushed boundaries to present a show that is filled to the brim with music and entertainment. Be it technology or logistics, Rising Star's real-time interactivity has redefined Indian television altogether. As we close the first season of the show, we would like to congratulate Bannet Dosanjh on his win and hope that their musical dreams and aspirations bear fruition."
While 130+ crore Indian judges decided the fate of each contestant, they were  closely monitored by three experts- musical maestro Shankar Mahadevan, Punjabi music sensation Diljit Dosanjh and new age singer Monali Thakur. During the course of the show, each expert not only guided them through their musical journey but also added their personal touch to the show. Be it Diljit Dosanjh's swag, Monali Thakur's liveliness or Shankar Mahadevan's technical comments, it only raised the bar of entertainment  week after week. Joining the expert panel, Anil Kapoor brought with him oodles of charisma and an unparalleled level of energy. Giving a thunderous start to the Grand Finale, Anil entered alongside the Top 3 Finalists crooning some of his popular songs in his fun-loving andaaz. The actor, alongside the experts, also launched the DVD for his blockbuster espionage drama 24: Season 2. Adding some humour to the Finale were Chhote Miyan's dhaakad kids who mimicked the three experts to create some rip-roaring laughter moments. As Bannet Dosanjh was declared India's LIVE singing sensation and first-ever Rising Star, there was not a single dry eye in the room as tears of joy overrode every sentiment.