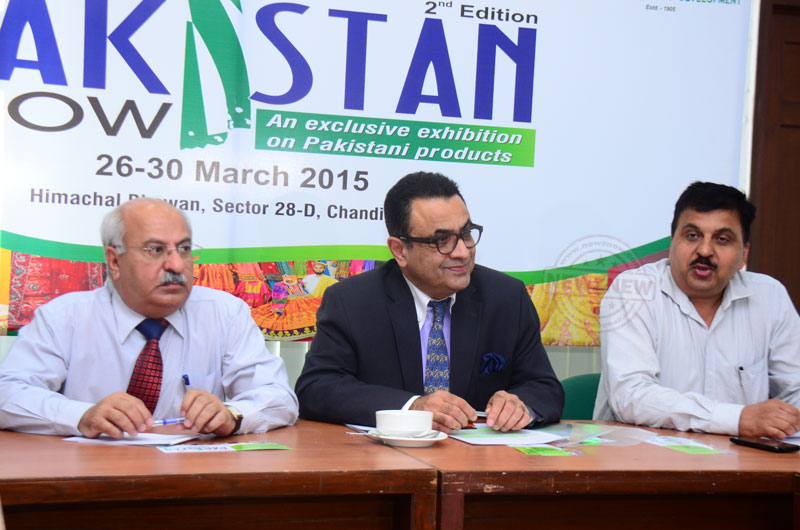 NewZNew (Chandigarh) : Terming the bilateral trade to be the most promising factor and the most potent instrument for having better bilateral relations between India and Pakistan; and facilitate progress in actualizing their strategic partnership for the future, Vikram Sahgal, Chairman, Chandigarh Committee, PHD Chamber of Commerce and Industry said, "There is a lot of trade potential with Pakistan. If trade takes a front seat, automatically, other issues shall get pushed to the back seat."
Sharing that PHD Chamber is organizing second edition of "The Pakistan Show", here at Himachal Bhawan, Chandigarh from 26th to 30th March, 2015, Sahgal told that the first edition of the Show was held at Amritsar  in association with Lahore Chamber of Commerce and Industry, Pakistan last year.
"Booming bilateral trade may well be the strongest pillar of Indo-Pak rapprochement so much so that it shall not only overtake the pace of general confidence-building but also have a substantial impact on each other's mutual perceptions," said Sahgal.
"With the cross border trade especially being brought in for a noticeable transformation, it shall contribute to overall tranquility and peace in the area and shall well facilitate progress in the border areas," said Sahgal.
[blockquote author="Sahgal said, " pull="pullright"]"According to latest figures of the Directorate General of Commercial Intelligence and Statistics, Ministry of Commerce and Industry India, the volume of bilateral trade recorded a net increase of $410 million from April last year to March this year. Indian exports to Pakistan increased 19% while Pakistan's exports to India grew 28%. Bilateral trade has increased to $2.4 billion, which may soar to $6 billion in the next two years if both countries decide to treat each other equally. Currently, most of the trade between India and Pakistan takes place via Dubai and its volume is estimated at over $4 billion."[/blockquote]
Reiterating PHD Chamber's firm resolve to boost bilateral trade ties, Dalip Sharma, Director, PHD Chamber said, "PHD Chamber has been undertaking many initiatives aimed at confidence-building in trading communities on the either side of the border since its maiden show in 2005, the exclusively held Indo-Pak Expo, 2005, wherein only few exhibitors from Pakistan participated. The recently held Punjab International Trade Expo, PITEX, 2014 in Amritsar, saw participation of Pakistani industrialists including delegations from 6 Pakistani Chambers of Commerce and Industry and traders besides 70 exhibitors, he said.
The recent back to back trade delegations would usher in a new era of mutual buoyancy to expand their areas of mutual co-operation, which now remains premised on their new mantra of mutual accommodation and mutual benefit. "The aim", said Sharma, "is to build people to people (P2P) connect and then from people to P2P to B2B relations.
"Being a part of the integrated approach towards better trade ties, such interactions play the role of a catalyst", echoed Khurshid Barlas, Chairman, Regional Trade Committee and Executive Member, Rawalpindi Chamber of Commerce and Industry "And these efforts have to be continuous, rigorous and regular", stressed Barlas.
The economic success of the two countries had, for a long time, remained a mutually exclusive exercise thus slowing down its pace of progress and its global impact remarked Barlas.
Barlas added that credit goes to such exhibitions and expos as these, which go a long way in confidence building. Bilateral trade is perhaps the only such thing which can pave way to peaceful and harmonious co-existence of the allies.
"It is very satisfying that the vision with which PHD Chamber started the series of international trade expos in Amritsar in 2005, facilitating the industry and business on both sides of the border with a common platform to boost trade across border, has met befitting rewards. The explicit exhibition of sentiments by the industry & trading community on both sides, coupled with the significant pro-active measures from both the governments, have already started bearing positive results. Indo- Pak trade ties have come a long way with the trade going up substantially", said Sharma.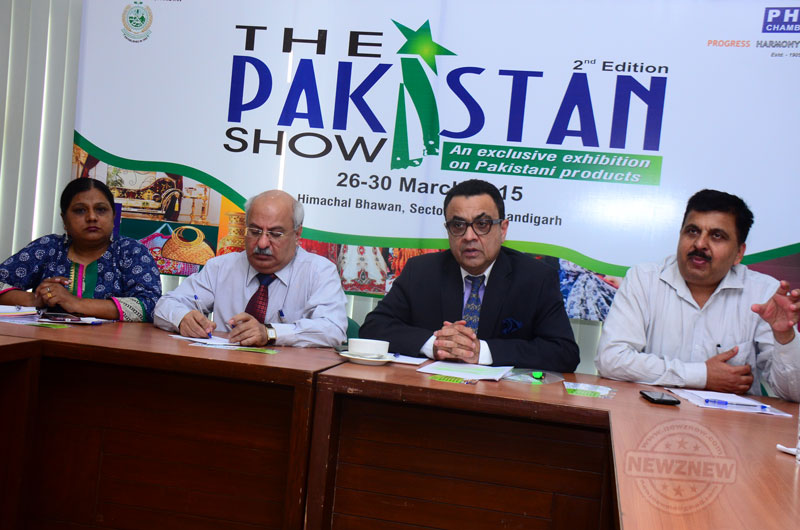 Taking note of the reports, Sharma said, "The potential gains from the increased bilateral co- operation between India and Pakistan are immense. More flexible issuing of visas, rupee trade and better customs procedures can enhance the scope for trade." "Perseverance in improving and sustaining better bilateral trade ties shall make trade a front runner over other issues," said Sharma.
To further the PHD Chamber resolve, Sharma informed, "PHD Chamber has been organizing Indo- Pak International Trade Expo (IPEX) at Jalandhar and Ludhiana for the past 4 years."
Delving into the details of the Show, Sharma shared that more than 70 brands of fashion wear, textiles, handicrafts, home interior goods, form Pakistan shall be on display for the next 5 days at Himachal Bhawan.