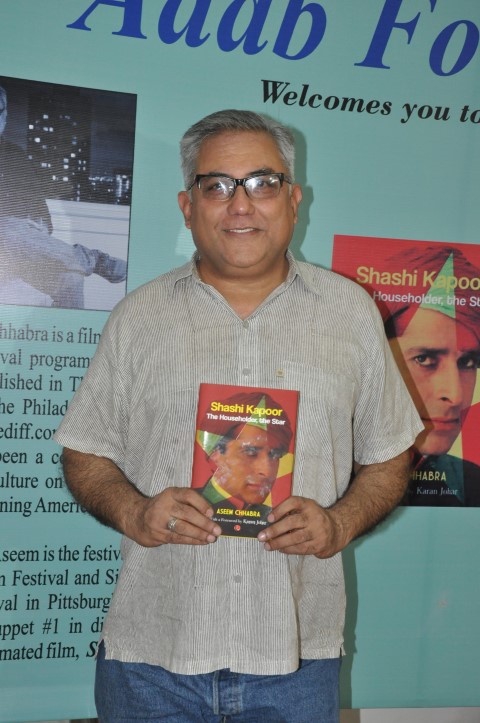 NewZNew (Chandigarh) : Adab Foundation organized a Book launch event for "Shashi Kapoor – The House holder, The Star", written by Aseem Chhabra. Aseem is a popular Film Journalist & Film festival Programmer at New York. The book was released
by Sanjay Chauhan a renowned Bollywood Screenplay writer & Mitul Dikshit, Chairman, Adab Foundation & Dikshant Group of Schools, at Chandigarh Club.
The Book Launch was followed by a conversation about the book between Author Aseem Chhabra & Film Writer Sanjay Chauhan.
The book is a biography of veteran actor Shashi Kapoor, unveiling the chapters of his personal and professional life. In this rare book, fans of the veteran Actor will be able to read about how Shashi Kapoor — son of Prithviraj Kapoor, husband of Jennifer Kendal, and father to Kunal, Karan and Sanjna is a family man to the core. The book takes the reader on a sojourn of Shashi Kapoor's film career—his debut as a bright-eyed child-actor in Awaara; his emergence, in the hectic 1970s, as India's busiest performer—with a slew of hits including Deewaar and Trishul etc.
Aseem said, " I have also written in the book about Shashi Kapoor's business acumen, and how he astutely managed —Film-Valas as its Proprietor; produced Shyam Benegal films; and handled the distribution of 'Bobby'. The businessman aspect of Shashi Kapoor is something that his fans will enjoy reading."
Another very fresh offering in the book are the thus far undisclosed stories by the actor's family (Neetu Singh, Rishi, Sanjna and Kunal Kapoor), co-stars (Shabana Azmi, Simi Garewal, Sharmila Tagore), colleagues (Shyam Benegal, Govind Nihalani, James Ivory, Hanif Kureishi, Aparna Sen), and friends; a compelling foreword by Karan Johar; and stunning photographs from Merchant–Ivory's archives, makes the book —by one of India's best-known film journalists— a captivating read.
"The book launch and discussion on the same was part of TILM (Thinking Inspired through Literature and Movies) Programme at Dikshant Group of Schools, which started yesterday with screening of Vittorio de Sica's 1948 classic movie 'Bicycle Thieves' for students of our Schools as well as general public. The screening was followed by a discussion on the film between Sanjay Chauhan & Aseem." Sums Up Mitul Dikshit, Chairman, Adab Foundation & Dikshant Group of Schools.