BJP's service and dedication campaign will run for 20 days on Modi's birthday: The illustrious Prime Minister of the country, Narendra Modi, is completing 20 years of serving the countrymen as a public representative.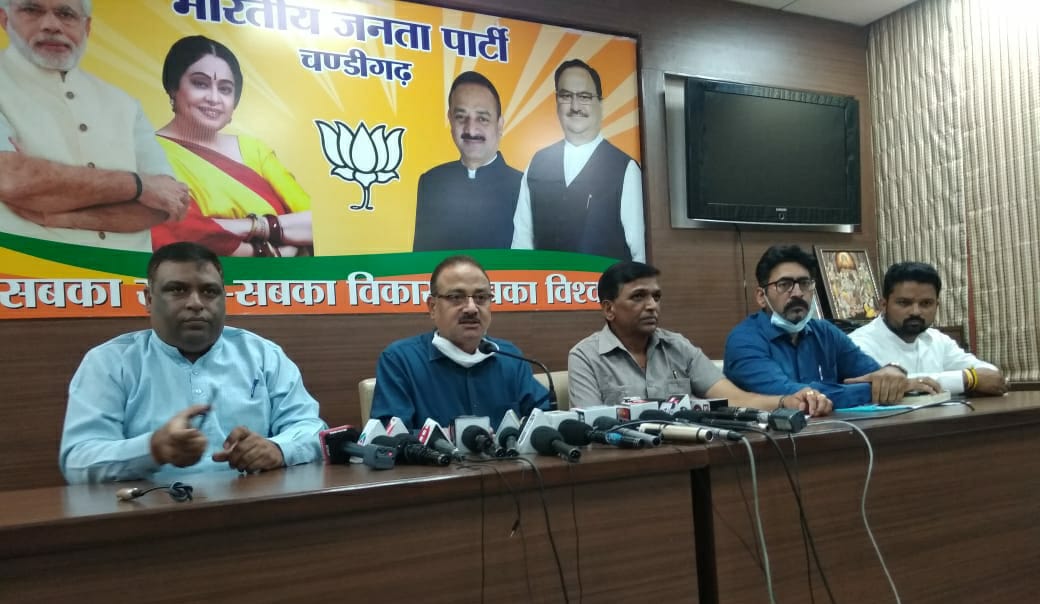 He was sworn in as the Chief Minister of Gujarat on 7 October 2001 and from then till 7 October 2021, he is completing twenty years as a public representative. Meanwhile, September 17 is the birthday of the Prime Minister and the Bharatiya Janata Party celebrates the Prime Minister's birthday through service activities.
This year too Bharatiya Janata Party is celebrating the birthday of Prime Minister Narendra Modi across the country from September 17 to October 7 as a dedicated service campaign. In this series, the Chandigarh BJP will also go to the public under this campaign and undertake social service.
The information about these service dedication works was given by the state president of BJP Chandigarh, Arun Sood in a press conference. State spokesperson Kailash Chand Jain, State Office Secretary Deepak Malhotra, District President Ravinder Pathania, Yuva Morcha State President Vijay Rana were also present in the press conference.
Arun Sood informed that in Chandigarh also the 71st birthday of Prime Minister Shri Narendra Modi will be celebrated under the Seva and Samarpan Abhiyan and for this, 20 different types of service work will be carried out for 21 days. Under this campaign, the party will organize exhibitions based on the personality of Prime Minister Narendra Modi at the district level, organize 6 blood donation camps, organize 6 medical camps, distribute fruits, distribute stationery, undertake distribution of ration and ration bags under Pradhan Mantri Garib Kalyan Anna Yojana, cleanliness programmes, organization of vaccination camps, service work related to Antoday scheme, cleaning of rivers, distribution of fruits, sweets, clothes and other items of need to orphanage, Pingalwada and differently-abled, people.
On this occasion, State President Arun Sood said that Prime Minister Narendra Modi's whole life has been dedicated to the service of the country, the birthday of such a great person will be celebrated with great enthusiasm and all the workers will celebrate birthday programs with reverance which will last for 21 days.
A committee has been constituted at the state level for proper implementation of these works. State General Secretary Chandrashekhar, State Secretary Tajinder Singh Saran, State Spokesperson Kailash Chand Jain, Office Secretary Devi Singh, Deepak Malhotra have been included in this committee.
While 7 state level committees have also been formed for various service works, State General Secretary Ramveer Bhatti will look after booth level activities like postcard, Namo app, service work, taking resolution etc., while environmental activities, river pond cleaning, plastic removal, plantation etc will be overseen by Dr. Hukumchand, State Secretary. Health related activities, such as blood donation, healthy camp, vaccination etc. by Dr. Ruchit Uppal. 
Service activities, fruit distribution, assistance to the differently-abled, ration bags etc. will be under State Vice President Mrs. Asha Jaiswal. Promotional activities such as exhibitions, sessions, hall meetings, seminars, hoardings, State Secretary Amit Rana and State Spokesperson Kailash Chand Jain for media activities, articles, panel discussions etc. Mahendra Kumar Nirala, coordinator of IT department for social media activities, testimonials, infographics etc. has been made in-charges.
Similarly, on September 25, a committee of district president Ravindra Pathania, Jatindra Malhotra, Rajendra Sharma and Manish Bhasin has been formed to celebrate Pandit Deendayal Upadhyay's birth anniversary at the booth level. And for the programs of Gandhi Jayanti on October 2, a committee has been constituted under the leadership of State Vice President Prem Kaushik, Ramlal Bairwa, State Spokesperson Naresh Arora and District President Satendra Singh.
 Apart from these, the office bearers of all the district, morchas, cells, departments have also been given responsibility. All public representatives and workers will be involved in these programs.
The birthday of Prime Minister Shri Narendra Modi will be celebrated with great gusto, enthusiasm and respect.