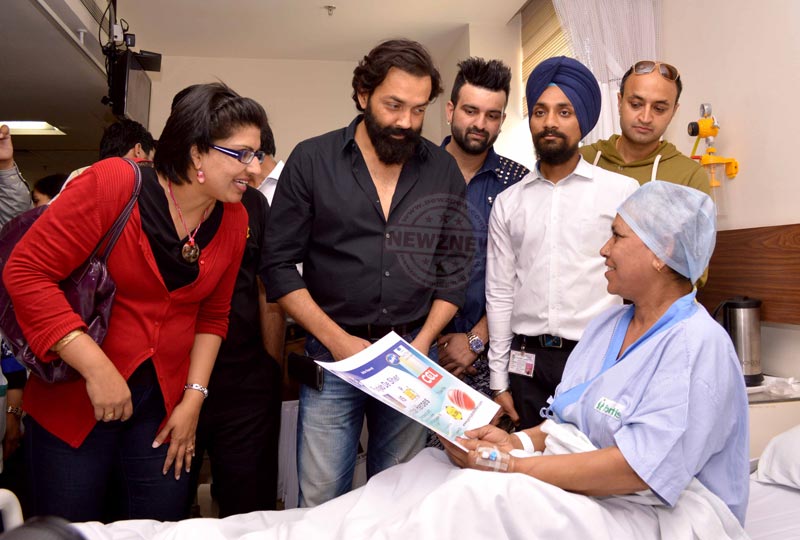 NewZNew (S A S Nagar) : Excitement built up and smiles shone bright in the Chemotherapy Ward of Fortis Cancer Institute when actor Bobby Deol, Captain of Celebrity Cricket League (CCL) team Mumbai Heroes, visited and spent time with cancer survivors on Wednesday afternoon. Accompanying the Bollywood star were owner-promoters of CCL team Punjab De Sher producer Puneet Singh and actor-singer Navraj Hans. The celebrities distributed the first tickets of the thrilling encounter between Punjab De Sher and Mumbai Heroes match on March 28 to the cancer survivors.
Fortis Cancer Institute Mohali is the social cause partner of the newly-constituted Punjab De Sher team.
Charmed by Bobby Deol, the patients were all ears as the 'Punjab Da Puttar' went around meeting all of them, inviting them for the celebrity cricket match at Cricket Stadium, Sector 16, Chandigarh.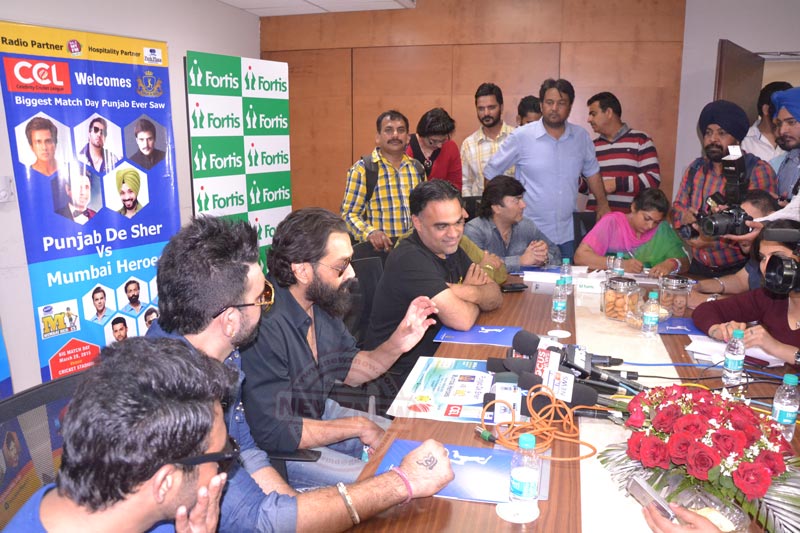 "We, Punjabis,are famous for our healthy bodies and love for sports. I, too, live by the fitness mantra and aim to promote healthy lifestyle and importance of sports through the Punjab De Sher platform. It's sad to see so many Punjabis fall prey to cancer and lose vital years of their life. We sincerely hope this cricket league will bring back people to the sporting arena, away from the unhealthy facets of 'modern lifestyle'," the handsome actor said.
"It was a great gesture from the Celebrity Cricket League teams and a great boost for the patients of Fortis Cancer Institute. This has further strengthened the bond we share with Punjab De Sher, being their social cause partners for the league," Mr Abhijit Singh, the Facility Director of the hospital, said.
Dr Rajeev Bedi, Director – Medical Oncology, Fortis Cancer Institute, who introduced the celebrities to the survivors, said, "Studies worldwide show that the power of positivity can go a long distance in helping a cancer patient recover. And these visits bring a great vibe of positivity and happiness in the lives of our patients, who value these moments and cherish them." Dr Arunjeet Kaur, Chief Clinical Officer, Fortis Cancer Institute, said the patients were delighted to meet Bobby Deol and the young Navraj Hans, a rising star in the Punjabi film industry.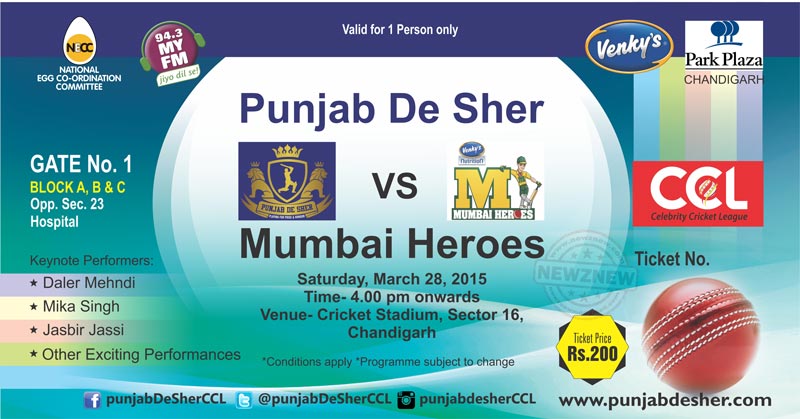 Punjab De Sher owner-promoter Mr Puneet Singh explained the reason for launching the tickets at Fortis Cancer Institute. "I have a personal affinity with cancer patients as my parents suffer from the disease. Cancer has taken on epidemic proportions today and can strike anyone at any time. This is the reason we have decided to connect with Fortis Cancer Institute, the leading treatment provider in the region, so we can demonstrate that life never stops. There is always light at the end of the tunnel."
Echoing his feelings, co-promoter of Punjab De Sher Navraj Hans also stressed on the need for fitness amongst youth today and shared how Punjab De Sher would promote fitness initiatives in the region.