Bosch K4000 rally to bring together key stakeholders so as to enable customers to avail its unique offerings
Bosch Automotive Aftermarket distribution network is the largest in India
Bosch K4000 rally aims to educate customers about Automotive Aftermarket division's wide-range of offerings
The rally will reach out to around 40,000 customers across 680 locations in a span of 20 days
Unique and largest retail binding program from Bosch complements its vast product portfolio
To introduce core strategy of 'Parts, Bytes & Services' and also present complete range of innovative technologies and solutions during the rally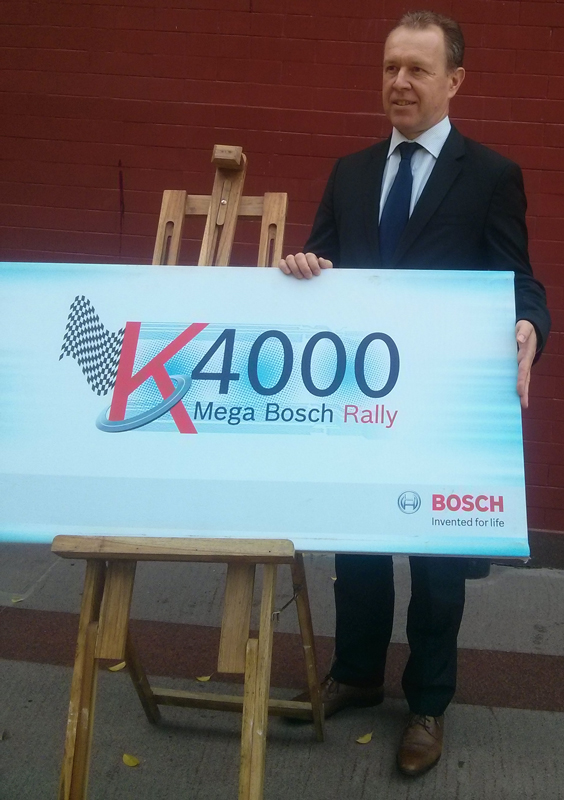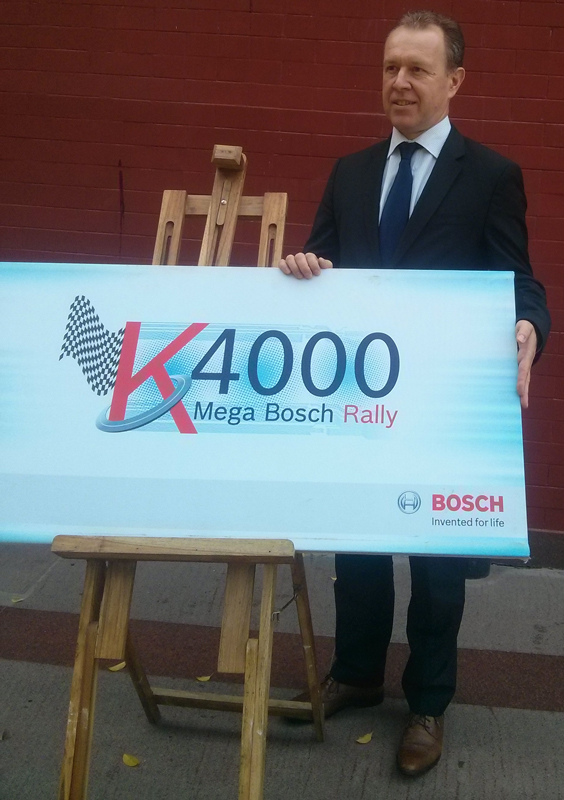 Chandigarh, 18th February, 2015: Bosch, a leading supplier of technology and services flagged off a customer engagement drive across India on February 02, 2015. Aptly titled Bosch K4000 rally, this country-wide outreach program would cover the breadth and width of India right from Kanyakumari to Kashmir, Kohima to Kutch.
Spearheaded by Bosch Limited's Automotive Aftermarket business, this initiative will bring together the division's key stakeholders, including distribution partners, retailers, sales associates, workshop technicians and mechanics, apart from other customers, so as to serve the customers better. The unique three-week program will see the division reaching out to over 40,000 customers across 680 locations in India. This is the most extensive engagement drive to be attempted in recent years.
The unique initiative is aimed at maximizing consumer satisfaction by ensuring that they are entitled to the best technology driven services at their disposal. The customer engagement drive will also focus on creating consumer awareness about the eco-friendly product range offered by the company. All these efforts are bound to translate into enhanced consumer benefits by providing them quality results and effective after sales service.
"In India, the Bosch K4000 rally is a unique initiative that aims to generate awareness among customers about Bosch's extensive offerings. Through this campaign we aim to increase our brand awareness among consumers in the commercial vehicle, tractors, off-highway, passenger car and two-wheeler, industrial and institutional segments," commented Mr. Guenter Weber, Regional President, Automotive Aftermarket, Bosch Limited. "Taking advantage of Bosch's extensive offerings, the activities planned as part of the rally would enable workshop technicians and mechanics to offer technology-driven and more effective services to consumers. Thus, equipping them to meet the demands of the Indian automotive service industry better," he further remarked.
Extensive activities to assert Bosch's leadership in the Indian automotive aftermarket
With over 500 Bosch associates from 28 sales offices taking the rally across the nation, the initiative will also see more than 2,000 customer activities. These will include mechanic, retailer and fleet owner meets, merchandising drives as well as product demonstrations. Information on the Bosch technical hotline number as well as the scope of the team's expertise and services will also be shared during the rally.
"The Bosch Automotive Aftermarket distribution network is arguably the largest in the country, with over 1,000 authorized distribution partners on the one hand, and over 3,000 authorized workshops that are engaged in unit repairs as well as vehicle service on the other. Our direct distribution reach extends beyond 60,000 semi wholesale and retail points with a dominant presence in all the key markets of the country. Finally, our unique and largest retail binding program called '3P' complements our vast product offering. The Bosch K4000 Rally aims to bring all these fine ingredients together to build an effective narrative to assert Bosch's leadership status in the Indian automotive aftermarket." said Mr. S. Srinivasa, Senior General Manager, Automotive Aftermarket, Bosch Limited.
Bosch is customers' first choice
As a leading mobility solutions provider, Bosch brings state-of-the-art automotive technology to customers, across the country. The company also focuses on offering more efficient, safe and environment-friendly products to the market. The Bosch K4000 Rally also works towards enabling greener mobility through its 'Genuine Parts' drive, which aims to educate Automotive Aftermarket division's stakeholders on the environmental effects of using spurious parts in vehicles. It also spreads awareness on the statutory implications of selling these components. With the wide variety of activities planned during the campaign, Bosch aims to introduce its core strategy of "Parts, Bytes & Services" and present its complete range of innovative technologies and solutions in the segment.
"The Bosch K4000 rally comprises a comprehensive set of activities and is a medium to take new products into the market out to the retailers and workshops. This campaign is aimed at ensuring that Bosch is definitely the first choice to the customers", said Mr. Yeshwant Kumar P. V., Senior General Manager – Product Marketing, Bosch Limited.