Brijesh Luthra debuts with a Scintilating Sci-Fi book for Kids – The Great Moto-Matic House : Launching his debut work of fiction, first time author Brijesh Luthra, a Zurich based professional is stepping into the fascinating world of children's literature with a science fiction / humour book series describing the adventures of a ten-and-a-half-year-old boy, who likes to go by the name Ziptuxand his friend Dibbly, the most advanced robot in the universe.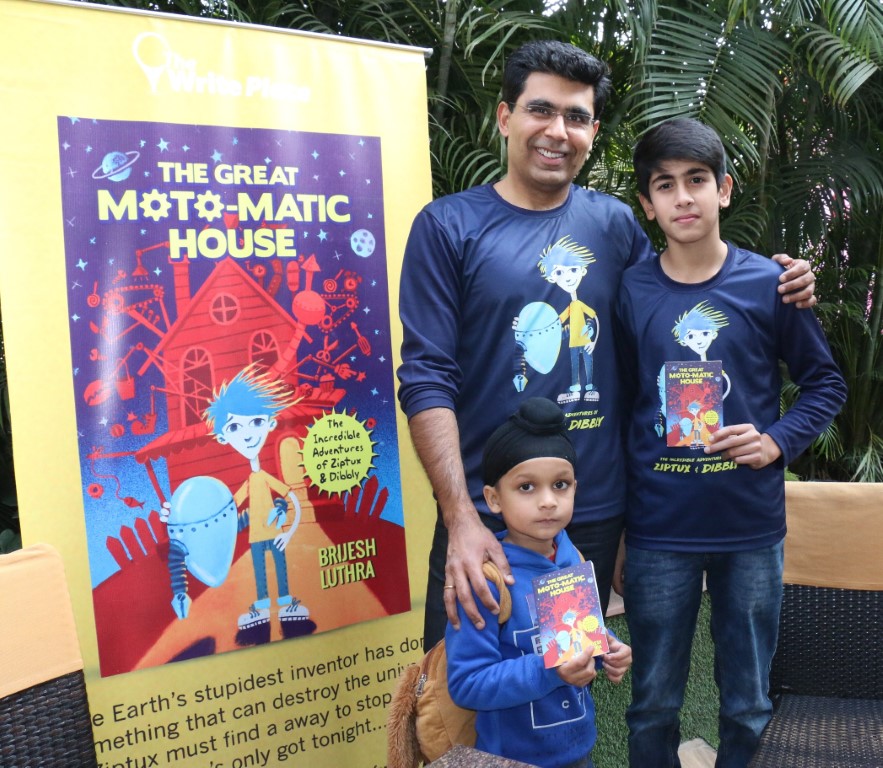 In the country for a whirlwind trip to launch the book, he will be in your city on 9th December 2018. For a formal book launch held at Coffee Bean & Tea Leaf, Sector-22, Chandigarh  on Sunday 9th December.
An ex-banker, consulting professional, coach of the Swiss national U-15 cricket team and an avid writer, Brijesh has taken a sabbatical from his mainstream career to focus on writing, and the first book  of the series  is being published in India by Crossword book store. The duo'sfuture adventures will be quirky pursuits instigated by day-to-day errands, simple questions, desires or requests for help from friends and authorities, human as well as alien.
The book launch is envisaged as a crisp evening dedicated to adventure, creativity, unique friendships and a quest to re-establish the position of books as a child's best friend. At the launch, which will be held at Coffee Bean & Tea Leaf, Sector-22, Chandigarh, Brijesh will be interacting with an audience of children from school book & science clubs, as well parents who are all Ziptuxs at heart: keen on space travel, robots, fantasy & a desire to undertake spectacular adventures with their friends. The author will also announce an exciting national fiction writing competition for children, whose winning entries will be published as a book.
Says the author, "We are all born storytellers. As most of us grow up, our creative sidesget suppressed by the everydayroutine &demands of life.But there are occasional sparks, which can be nurtured to revive that creative self. The spark for this series was a seemingly simple parental duty from a few years ago – giving my very young son a shower. Both of us dreadedthat activity so much that we spent countless hours discussing ideas for a five-second shower machine that I can give make as his birthday gift.While that shower machine never materialized, but these stories did.And this is my gift to children all over the world."
In this book "The Great Moto Matic House" –  In the book, Ziptuxwants to make machines to do tasks he doesn't like (undoubtedly a fantasy of every child).And Dibbly knows just where to get the parts from – the best DIY store in the universe, which happens to be only a few trillion light years away. ButEarth's stupidest inventor gets in the way and does something that can destroy the universe. Ziptux has to find a way to stop him. And only in one night.
The launch will witness a dramatic reading by a child prodigy. The author will be available for a book signing and he, along with the audience will invite little ones to sign a pledge making books every child's best friend, just like Ziptux is Dibbly's. Because books take you on an unbelievable adventure that the mind visualizes with ease.