NewZNew (Chandigarh) : The cast & crew of forthcoming Punjabi movie '25 Kille' held a press-meet at Chandigarh's Wave Cinemas located in City Emporium Mall. Veteran Punjabi Actors Guggu Gill & Yograj Singh, who play major roles in the movie, were present. The suave & well built lead actor Ranjha Vikram Singh who is also a Co-Producer of the film, lead actress — the ravishing Sonia Mann & Director Simranjit Singh Hundal too interacted with the press. A preview of the film's trailer was also held for the media. The other producers of the film are Amanpreet Singh Sodhi & Shirin Morani Singh from Running Horses Films.
"The USP of the film is that after a long gap- 16 years to be precise, two stalwarts of Punjabi Cinema — Guggu Gill & Yograj Singh are coming together on screen. The presence of these seasoned actors will be a major draw." Said Simranjit Singh Hundal, Director Cum Writer.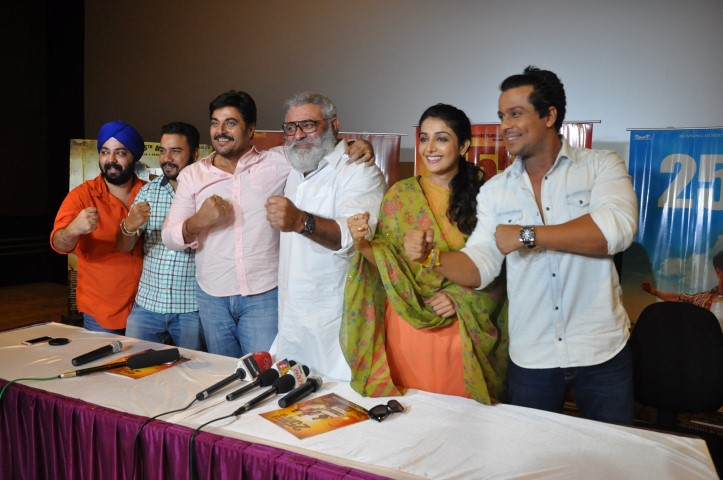 It was also revealed at the press meet that '25 Kille' is a story of 4 brothers who are Jatts but ironically are landless. "I have had a very good chemistry with Guggu during making of the film. People will get to watch a 'land centric' story after many years. Mind you it is not a regular blood & gore violent film, but one which has a good plot & story." Said Yograj Singh. The screenplay & dialogues are by Surmeet Maavi."It was a great experience working with Yograj Ji. I am satisfied with the screenplay & am looking forward to a good box office performance." Said Guggu Gill.
"The plot is quite riveting & divulging the story here will take away the suspense generated by the 'Trailer'. The trailer which all of you just saw, teases everyone who watches it in a way that one's appetite to go & watch the full movie is whetted." Said Ranjha Vikram Singh, who has acted in Bollywood & South Indian films, but being a Punjabi wants to come back to his roots by doing Punjabi films.
 "This media conference was held to formally launch the movie's trailer offline, the same hit digital platforms on 21st July.  Within 24 hours, it generated impressive likes & made a trending record." Said Sumeet Singh, MD, Unisys Infosolutions-Saga Music, the company which is looking after the film's marketing & distribution.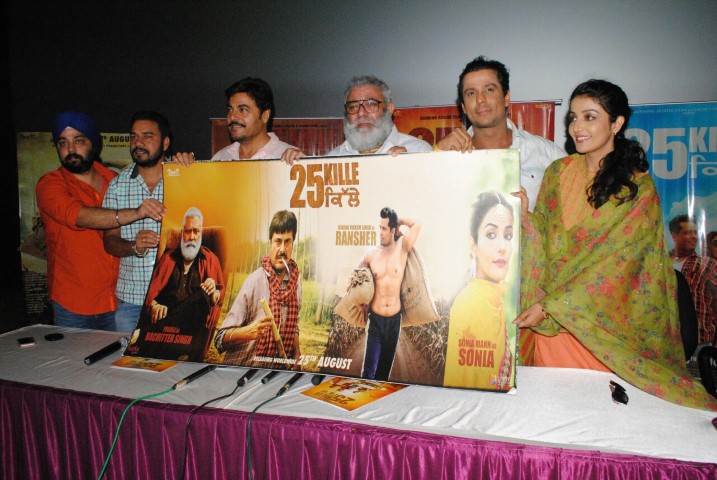 Sardar Sohi's acting with a touch of humour will regale you, Sohi plays a retired Patwari. The romance shown between Ransher Singh played by Ranjha and actress Sonia Mann who plays a documentary film maker is also an attraction. "The film is full of twists & turns that will surely keep you glued to your seats. It has comedy, romance and all ingredients that make it a healthy family watch." Said Sonia Mann.
Yograj Singh plays the bad guy while Guggu Gill plays the eldest of the four brothers. It is noteworthy that Ranjha Vikram Singh has acted in Bollywood his last role was that of a Romantic Bad Guy in 'Hero Panti'. Not just Bollywood where he debuted in 'Souten' with Mahima Choudhry, Ranjha has acted in over 15 South Indian films too. Actors Lakha Lakhwinder Singh, Jimmy Sharma, Hobby Dhaliwal, Prince K J Singh, Daljinder Basran & Baljit Sidhu are also playing important characters. The other actresses are Sapna Bassi, Sandeep Malhi & Sandeep Kaur.
The makers of the movie – Running Horses Films & Color9 Productions are upbeat about prospects, when the movie hits theatres worldwide on August 25.