CBSE Board Exam 2020 Cancelled: CBSE Board today informed the apex court that it has decided to cancel the CBSE Board Exam 2020 for both 10th and 12th Class Students, which were scheduled to start from 1st July 2020.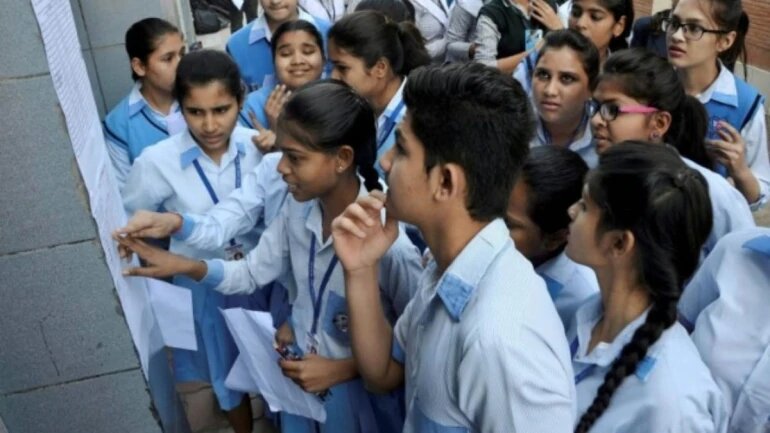 Instead, the board has designed a unique formula under which CBSE 10th Exam 2020 stands completely cancelled, while for 12th Class students, the exam have been made optional. Get complete details about the CBSE's decision below:
Keep refreshing this page for latest updates from Supreme Court's hearing on CBSE Board Exams Here.
Live Update @ 2:25 PM: CBSE 10th Exam Cancelled Completely
The Board informed the apex court that looking at the challenges and risk factors involved, the board has decided to cancel Class 10 Exams for CBSE Board completely. CBSE 10th Result 2020 will be announced on the basis of Internal Assessment. Students can expect the results to be out by 15th July 2020.
Live Update @ 2 15 PM: CBSE 12th Exam to be Optional
Further clarifying the matter, CBSE Board has confirmed that the For Class 12 students, the pending board exams will be optional. CBSE will conduct pending Class 12 Board exams when the situation is more conducive. However, students alternatively will have the option to opt  not to appear for the exam. Such students will have their past exams make up for their performance and assessment accordingly.
Live Update @ 2:10 PM: CBSE Board Exam Cancelled
Solicitor General Tushar Mehta Informed Court that taking into account the feebback from state govenrment, Board has decided to cancel the pending exams which were scheduled to be held from 1st July 2020.
Live Update @ 2:00 PM: Hearing Begins
Live Update @ 1:50 PM: SC to decide on Fate of 30 lakh students
Today's SC verdict will decide the fate of nearly 30 lakh students, who have been waiting for nearly three months in uncertainty and no clarity about their academic future. Since the announcement of lockdown, several other state boards including Tamil Nadu, Telangana and Andhra Pradesh have cancelled SSC or Class 10 Board Exams looking at the prevailing situation. This has put a lot of pressure on CBSE to take a decision in the favour of students' safety. However, the final decision about pending CBSE board exams will be announced shortly.
Live Update @ 1:40 PM: Hearing to begin at 2PM, Verdict Shortly thereafter
As per schedule, the SC hearing on CBSE Exam is slated to commence at 2 PM and court is expected to deliver a verdict shortly thereafter. Sources close to the Board have informed that Solicitor General Tushar Mehta will present the position of CBSE Board on holding of the pending 10th and 12th Class Board Exams 2020 in brief. Following which, the apex court will deliver the judgement regarding directing the board about future course of action with regards to holding of exams.
Live Update @ 1:30 PM: 15000 Exam Centres for CBSE Exams
Earlier in May 2020, Union HRD Minister in a series of webinars held to address concerns of teachers, students and parents; informed that the CBSE Board and ministry are working on taking all the necessary precautions for holding of the pending board exams. As part of this measure, CBSE has also increased the total number of exam centres from current 3000 to 15000 across the country. Increase in the total number of exam centres will allow board to ensure that proper social distancing guidelines are followed by students during the examination.
Live Update @ 1:20 PM: What happened in 23rd June Hearing?
Originally,  the CBSE Board was expected to announce its final decision about the pending board exams on 23rd June 2020 – Tuesday. However, that hearing was adjourned by the apex court, after SG Tushar Mehta sought two days's time to come to a final decision  saying that 'discussions are at advanced level and that final decision should be available in next two days.
Live Update @ 1:10 PM: Delhi Deputy CM asks HRD Minister to Cancel CBSE Exam
Earlier, Delhi Deputy Chief Minister Manish Sisodia, in a meeting with Union HRD Minister, had urged him to cancel the pending CBSE Board Exams 2020 in the light of the Coronavirus outbreak in the country. Despite Mr Sisodia's insistence, CBSE Board had gone ahead and announced revised dates for the pending board exams in the country. It would be interesting to see what stand does CBSE take today in the Supreme Court.  
Live update @ 1:00 PM: Maha Govt denies permission for ICSE Board Exam 2020
Earlier in the week, Maharashtra Government informed Bombay High Court that under the prevailing circumstances, it will 'not permit' CISCE Board to hold ICSE 10th Board Exam 2020 and ISC 12th Exam 2020. The state government also informed the court that it had also decided cancel all semester exams in the state looking at the wide-spread of Coronavirus infection.
Live Update @ 12:50 PM: JEE Main, NEET 2020 Postponed?
Along with CBSE Board Exam 2020, the HRD Ministry is also expected to announce the future court of action about two important national level entrance exams i.e. NEET 2020 and JEE Main 2020 exams today. JEE Main and NEET 2020 exams are national-level engineering and medical entrance exams that are scheduled to be held in late July 2020. However, the exams will be most likely postponed and rescheduled in the light of current COVID-19 situation.
Live Update @ 12:40 PM: ICSE Board to Follow CBSE's formula
On 23rd June, during the hearing of the same case, counsel for ICSE Board informed the apex court that it plans to follow and replicate the formula designed by the CBSE for holding of the pending board exams. The counsel informed the court that both CBSE and ICSE Boards being central boards, the situations that they both are similar and therefore, the solution devised by CBSE would also be easily applicable for them.
CBSE Board Exam Live Update @ 12:30 PM: Pre-Boards vs Internal Assessment
While most students and parents believe that the exams should not be held under the current circumstances, there is no much consensus among them when it comes to alternative assessment policy. Few students have been completely against using pre-board exam marks as an alternative, as they feel that they were not prepared fully for the exam when the pre-board exams were held. On the other hand, some are against being marked based on internal assessment, as they were focus on preparing for the final exam and may not perform well in internal assessments.
CBSE Board Exam 2020 Live Update @ 12:20 PM: Alternative Assessment Policy Likely
Media reports have indicated that the HRD Ministry and CBSE Board have taken the concerns raised by students and parents quite seriously and therefore is looking to evolve an alternative assessment methodology through which students can be evaluated. With exams already delayed by nearly three months now, any further delay will disrupt the next academic year completely. To avoid this, the board might propose a promotion policy based on internal assessment and pre-board exams before the court today.
CBSE Board Exam 2020 Live Update @ 12:10 PM: Students, Parents Express Concerns
With the number of COVID-19 cases increasing throughout the country, parents of the students, who are due to appear for the pending board exams, have expressed concerns about the upcoming board exams that are scheduled to be held in July 2020. Many parents have cited the rising number of cases, especially in metro cities of Mumbai, Delhi and Ahmedabad and how holding exams in such situation may exposure students to risk of contracting coronavirus while also increasing the possibility of a mass outbreak.
CBSE Board Exam 2020 Live Update @ 12 PM: Decision to be based on HRD Ministry's Advice
As per sources close to the Board, the CBSE Officials and officials from HRD Ministry held a comprehensive meeting in which all aspects with regards to holding of the exams were considered and discussed thoroughly. It was expected that during this meeting, a final decision is taken about the pending CBSE Board Exams 2020, which will then be shared with HRD Minister for his approval and will be presented today before the court.
Class 10 May be Cancelled, 12th Class Postponed
As per sources close to the board, the CBSE Officials are likely to cancel the pending Class 10 Board Exams for students from North East Delhi and instead promote students to next grade on the basis of internal assessment or on basis of pre-board exams. However, the biggest concern is holding of CBSE Class 12 Board Exam 2020, for which, a large number of papers are pending at pan-India level. Looking at the importance of the examination, especially when it comes to seeking admission to higher education, the board might not be in a position to completely scrap the exam but may decide to postpone it further until August or Sept.
Online Exams for Class 12 Students?
Another aspect that is being considered by the CBSE Board for holding of the pending CBSE 12th Exams 2020 is to assess the situation on the basis of Coronavirus spread and hold exams online in areas where the risk is maximum. According to ICMR data, the spread of COVID-19 is quite limited to major cities and towns, including around 40% of cases being reported from major metro cities like Delhi, Mumbai and Ahmedabad. In such cases, the board may opt to hold CBSE 12th Exam 2020 in offline format in rest of the county, while holding online assessment for students from these red zone areas. However, this seems to be very unlikely option, as it would create an imbalance between students appearing for the exams.
But soon all these speculations will come to an end today at 2 PM, when Supreme Court's hearing on pending CBSE Board Exams 2020 begins. Students are advised to bookmark this page and visit it for regular news updates about CBSE Board Exam 2020.