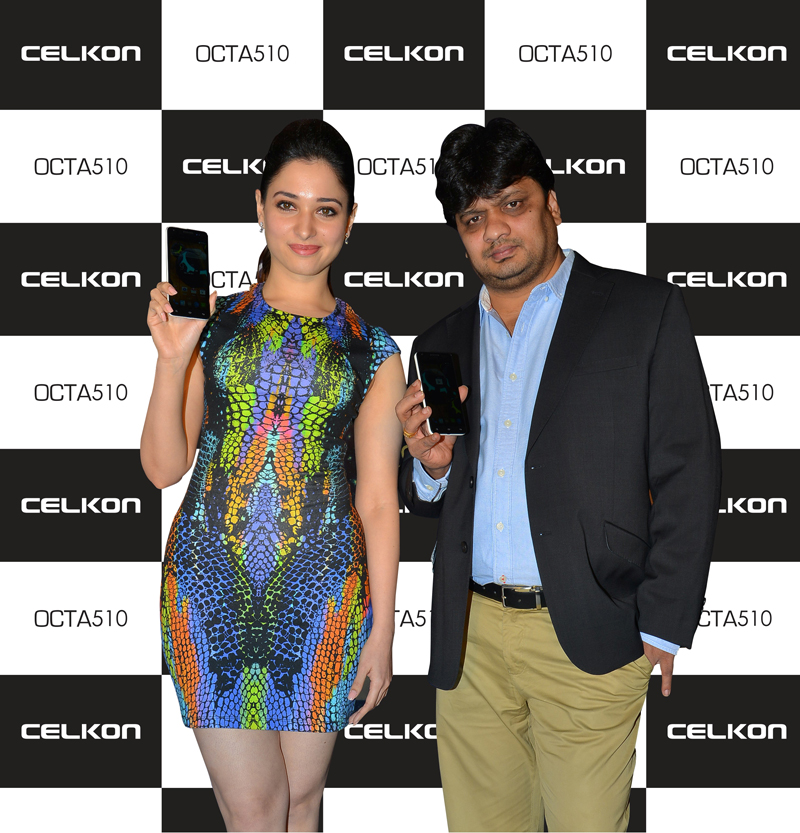 NewZNew (Chandigarh) : Celkon Mobiles (www.celkonmobiles.com), one of the leading Indian mobile brands; today launched yet another exciting model for selfie lovers – Millennia OCTA 510. OCTA 510 is Celkon's first and much awaited Octa-Core phone. This exciting model was unveiled by the popular bollywood and tollywood star Ms. Tamannaah Bhatia.
A True Smart Phone with Gesture Recognition & Motion Sensors from Celkon Launched
SMART Wakeup
SMART Gestures
HOT KNOT Data Transfer
HANDSFREE Selfie
5" HD IPS & OGS Display
1.4 GHz Octa-Core processor
8MP Rear Auto Focus camera with flash, 3.2 MP front Camera
3G + Video Calling
Apart from being a perfect selfie model, the OCTA 510 also packs-in delightful features and exciting specs for the range. The dual sim model comes with a 1.4GHz octa-core processor with Android's Kitkat as the operating system. The phone also has an 8 MP Autofocus Rear Camera with an active Flash and a 3.2 MP Front Camera that has gesture controls & listens to voice commands  which makes this an absolute delight for selfie lovers.
OCTA 510 provides full 3G support with an HD IPS OGS Display. The model comes with OTG support making it a great device for gaming lovers. OCTA 510 also has Hotknot data transfer enabled for ease of data transfer between 2 devices.
The device also features an excellent gesture recognition system for Unlocking, Opening the camera, Playing music & videos, accessing the dial pad and a variety of utility functions making the phone easy to use.
The OCTA 510 is backed by a powerful 2000 mAh battery, an internal memory of 8GB, 1GB RAM along with a 32 GB Expandable memory support that enables seamless multitasking and provides adequate storage space. The OCTA 510 is a truly smart phone with a smart wakeup feature and HD video recording and playback. It affordably priced at Rs. 8999/- and will be available in all leading mobile retail stores and ecommerce portals.
Commenting on the launch, Mr. Y Guru Chairman and Managing Director – Celkon Mobiles, said "Octa 510 in itself is a new milestone for Celkon being the first of many such exciting models with latest technologies. We are pleased to start the New Year with a bang and will continue to delight our customers with new offerings."
Mr.Murali Retineni, Executive Director-Celkon Mobiles said, "We at Celkon believe in products which are absolute value for money for our customers. Following the philosophy, we have brought out one of India's most affordably priced Octa-Core smart phones. Not only that, adding high end camera, motion sensors and gesture recognition is another feat which makes it a perfect device for the gaming and selfie lovers. We hope to continue to wow our customers with newer, better and more exciting models this year."
[blockquote author="Unveiling the new Celkon Millennia OCTA 510, Ms Tamannaah Bhatia said, " pull="pullright"]"It's an honour to unveil the latest model from Celkon – OCTA510. I thank Celkon for providing me this wonderful opportunity to launch many such models and associate as a brand ambassador. Celkon as a brand has always believed in the philosophy of delighting their customers with exciting products. I am sure that OCTA510 will be yet another wow model from Celkon"[/blockquote]

Celkon Mobiles aims to strengthen its North and east India network and expand its international presence this year. The company is currently present in over 11 countries including Srilanka, East and South Africa, Nepal, Zimbabwe, Zambia, West Indies , Botswana etc.,. Celkon has launched leading and cutting edge models in the last year including India's slimmest phone and the most affordable Kitkat model Campus A35K. Moreover the company also launched its first Windows model – WIN 400 last year.
About Celkon Mobiles: 
Celkon Mobiles is one of leading mobile phones and wireless solutions provider in India. Celkon caters to the increasing smart needs of mobile users across the world. The wide range of products available at Celkon ensures that there is a phone for every pocket. Every Celkon product undergoes stringent quality tests at every stage of production. Leading the market in South India, Celkon has presence in International markets such as Sri Lanka, Nepal, Singapore and South & East Africa. For more details please visit www.celkonmobiles.com.