CGC Jhanjeri to hold two days CGC Tech-fest: Chandigarh Group of Colleges Jhanjeri is organizing Two days a state level techno-cultural fest on 10th & 11th April, 2023 with a view to bring out and promote the hidden talents of the youth studying in various colleges of Punjab.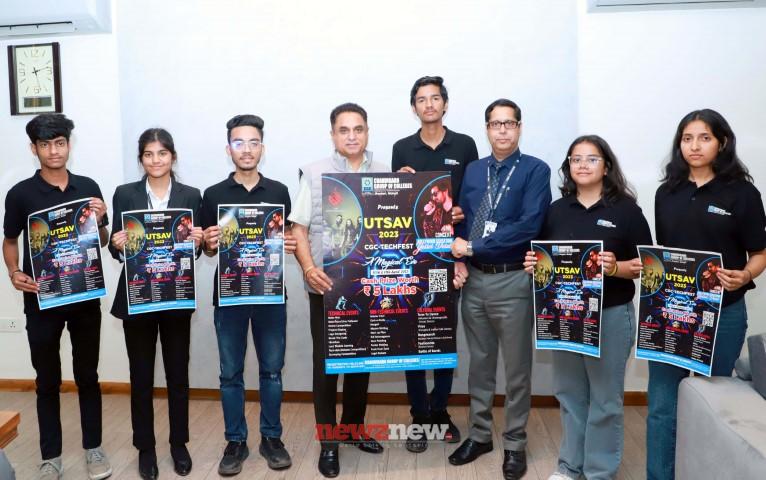 Rashpal Singh Dhaliwal, President CGC & others released poster giving details of various events to be held during this fest. Live performances by famous Bollywood singer Yasser Desai will be the star attractions of the show.
The events have been divided in three categories with twenty eight events. Technical events include Robo race, Line follower, Robo War, Drone competition, project display, logo designing, break the code, Ideation, Lan/mobile gaming, Tech-Debate competition, Surveying competition.
While Non-Technical events consist of Master Chef, Quiz-o-pedia, Ranggli, Mazim writing, start-up plan, ad Extravaganza, Face painting, poster making, funk from junk, legal debate etc.
Apart from these events, the fest will have cultural events including western & choreography group dance, Punjabi & Indian folk dance, Kukkad natak, mimicry & mime, battle of bands, fashion show etc.
One of the most novel items of this fest is a Project Display Competition in which students of various streams from different colleges will display their innovative and thoughtful working projects as well as non working models.
This competition will help in bringing out ideas from budding engineers. Hefty cash prizes, trophies, medals & certificates will be awarded for all these events to promote the spirit of competitiveness.
Speaking on the occasion Rashpal Singh Dhaliwal, President CGC said that such functions are extremely important for overall personality growth of the students. Executive Director Dr. Neeraj Sharma said that CGC Tech fest of Jhanjeri campus is one of the most eagerly awaited events in the region.
Every year we get huge response from the students of a large number of colleges in & around the tricity of Chandigarh, Mohali & Panchkula, added Dr. Sharma.