Chandigarh Boy Mrinal Garg brings laurels to Sri Chaitanya: Sri Chaitanya Chandigarh has once again established its supremacy in JEE Main 2022 results. Regular classroom student Mrinal Garg has secured AIR 5, while another three students have found a place in the Top 100 Ranks.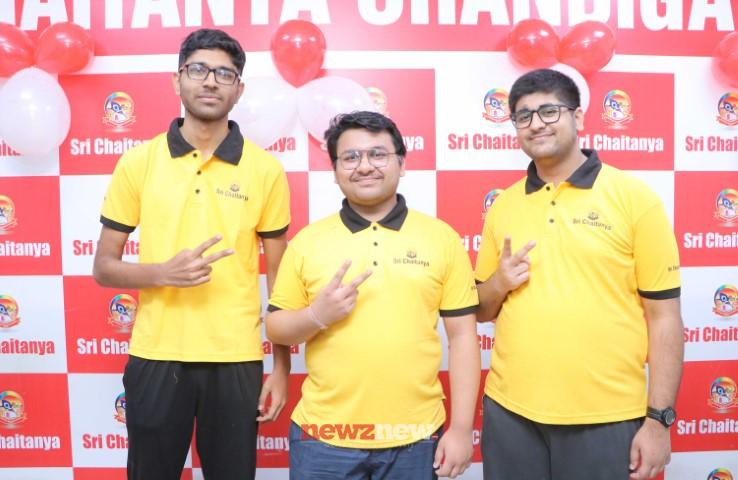 The institute produced one student in Top 10 AIR and 4 students in Top 100 AIR 12 students in Top 500.
Naman Goyal has secured AIR 62, Sankalp Mittal has Secured AIR 76, and Yagya Goyal has secured AIR 99 and many other top Ranks.
From the last five years Sri Chaitanya Chandigarh has been producing remarkable results, and there has been a tremendous growth. In JEE Main Session-1, Mrinal Garg had secured 300 out of 300 marks which has now secure All India Rank 5 in the final result, he has been an NTSE Scholar, KVPY Scholar & qualifier of prestigious IOQC & INMO.
All India Rank 62 Naman Goyal had scored 100 percentile in Mathematics & Chemistry in JEE Main, he has been an NTSE & KVPY Scholar.  Sankalp Mittal has secured AIR 76, he too had 100 percentile in Physics in JEE Main apart from being KVPY Scholar. JEE Main 99 AIR achiever Yagya Goyal is a KVPY Scholar & had 100 percentile in Physics.
Their parents expressed deep gratitude to the faculty at Sri Chaitanya Chandigarh, especially Mrinal Sir for the exemplary performance of their students. "My son has proved that with hard work, anybody can reach the zenith. We are very happy and proud of his achievement", said, Mrinal Garg's parents.
Mrinal said, "I would like to thank my parents & owe my success to my teachers at Sri Chaitanya Chandigarh. I joined Sri Chaitanya in class-11th with an aim of cracking IIT as a dream. The classes at Sri Chaitanya were highly interactive & highly supportive, the doubt clearing sessions helped me a lot, you could ask any number of questions & they were cleared at once, the study material, the modules & all the solving material helped me grasp my weaknesses & strengths equally. The platform provided by Sri Chaitanya for conducting exams was an exact replica of that given by JEE Main. I wasn't scared while giving the exam because I have been put through those circumstances earlier". He gave credit to his teachers for the right guidance and encouragement and said JEE is a mix of hard work and smart work. Consistency is the key to success. Whatever you study, revise it at regular intervals. If you focus well, your study hours won't really matter. Have faith in your teachers and their guidance, and always ensure that your knowledge is conceptually sound"
Naman said, "Teachers at Sri Chaitanya have brought out the best in me. The Physics teacher made me learn Physics, the Chemistry teacher's vast knowledge in organic helped me a lot and the math teacher's two words "keep fighting" kept me motivated. I really enjoyed learning here at Sri Chaitanya, as the teachers were very supportive in all the ups & downs. He gave credit to his teachers for the right guidance and encouragement.
Sankalp said," I am feeling blessed to be one of the JEE Main achievers just because of the platform provided by Sri Chaitanya & my parents' support."
Yagya said," I would like to thank Sri Chaitanya Institute for motivating me to reach the sky & my parents to support me to fulfil my dream."
Mrinal Singh, Centre Director of Sri Chaitanya Chandigarh says, "We are thrilled with the exemplary performance of our students reflected through the outstanding results secured by the students in JEE Main and students are now preparing for JEE Advanced. Understanding the importance of the relevance of early preparation, Sri Chaitanya believes in nurturing and enhancing the students for their bright future. Apart from these ranks produced by Sri Chaitanya Chandigarh, we as an institution have also secured AIR 6, 7 & 9 ranks too from our other centres nationally."