Chandigarh Literary Society organized creative writing workshop for children: Chandigarh Literary Society (CLS) organized a creative writing workshop for children on today at the Gurukul Global School, Sector 13.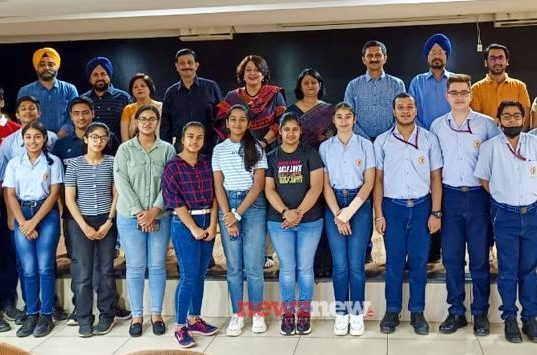 CLS Chairperson Dr Sumita Misra. informed that celebrated authors Chandra Shekhar Verma and Sonika Sethi conducted this one-day workshop to teach them the fundamentals of creative writing in English and Hindi.
Mrs Nina Pandey complimented CLS for giving students the opportunity to interacted with authors and learn the art of story telling.
Chandra Shekhar Verma is a behavioural scientist, motivational speaker, and a Hindi poet from Lucknow is a celebrated author and carries on the legacy of his illustrious grandfather Padma Bhushan Shri Bhagwati Charan Verma and his father, a well-kinown Hindi author, Shri Dhirendra Varma.
Dr Sonika Sethi is a prolific writer and columnist with interest in post-colonial literature and historical fiction, and is Assistant Professor of literature and linguistics at SD College, Ambala Cantt.
Both of them are deeply involved in conducting creative writing workshops for children, and engaged the children in various games.
Nearly 24 students of Class 7th to 12th participated in the workshop.  The CLS members present on the occasion included Principal Mrs Nina Pandey,  exIAS Vivek Atray, CJ Singh,  Hardeep Chandpuri, among others.