Chandigarh woman architect's start-up aims at reviving traditional Indian art forms: Propensity to think out-of- the-box has proved a blessing in disguise for a 45 -year-old city-based woman architect & interior designer Meenu Prashar, who is now aspiring to be a job creator and play an important role in realizing the dream of Aatma Nirbhar Bharat.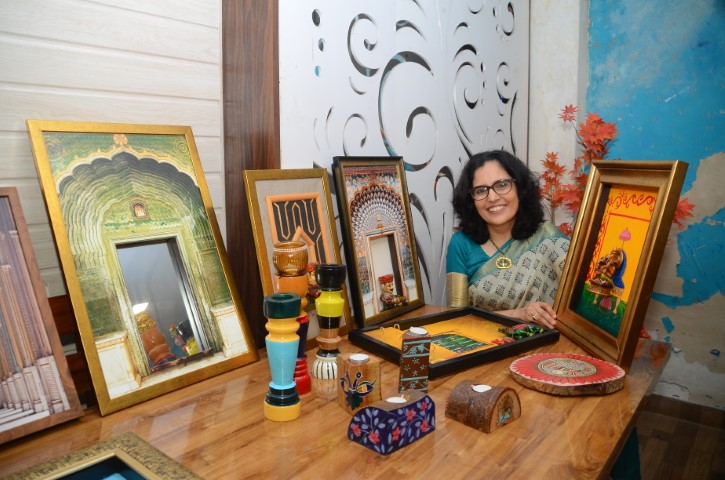 It is noteworthy that Meenu has a rich experience of over 20 years & has worked as an architect & designer with real estate big wigs like EMAAR MGF, JLPL, & Sushma Group. She has also worked as a lecturer in Government Polytechnic for Women, Sec 10 here.
Sharing her thoughts , Meenu said that she was always on a hunt to find new home décor items and artifacts. It was then when she realized that the market had nothing new to offer. Similar products were found everywhere and there was a lack of innovation. "This inspired me to create something different," she revealed.
Talking about her products, Meenu said that under her start-up 'Shilpkosh' she has created products inspired from art forms from different parts of the country — Madhubani from Mithila region in Bihar, Phad from Rajasthan, Gond from Madhya Pradesh, and Warli from Maharashtra etc. "I have tried to cover as many traditional arts as possible. While one might have seen them in paintings and murals, I have incorporated these art forms in the products of daily use like armrest tables, hot pot coasters, lazy susans, candle stands and hooks," she said.
Bubbling with confidence, Meenu added, "With the help of my products, my future plans are to engage local artisans and educate them about the current demands of the public. While Indian handicraft is a huge success all over the world, it lacks appreciation in India itself. My mission is to provide them with creative and fresh ideas for their craft and excel in market. Innovation can help them generate income despite COVID."
According to her, Indian handicraft, though very unique and vibrant, has a typical style which has been repeated since time immemorial. "The artists have maintained their age-old patterns, designs and intricacy but lack innovation. The demand for the type of products has changed substantially over time, but the artisans have not aligned them accordingly. I feel that these Indian art forms should be given their due acknowledgement," she said.
"I am determined to generate employment for more and more artisans whose art is being lost or going unrecognized. For example, a person who applies henna is unknowingly taking inspiration from Mandala art. We can polish their skills, which can further be used in a constructive manner. Thus, they can be provided with a better source of income. With their hand work and my ideas, a lot of beautiful items for utility can be created," Prashar further said.
Meenu showcased her innovative products at an exhibition to create awareness about how traditional art forms can be used in household  interior products, which will add elegance to the overall ambience. 
She said that she wishes to revive the traditional artifacts by blending modernity and utility, which will help in bringing India to their homes. "Through exhibitions, I want to create general awareness regarding my venture.  We can generate revenue by giving employment opportunities to the needy and promote our culture as well," she said.
Her products epitomize a contemporary look and feel, a new dimension, which make them uniquely different from stereotype products, which flood the market today. "My products stand out because of their modern look and grace, which the customers will certainly love and like to the hilt," she said.