BAJA SAEINDIA 2021 commences its 15th edition: SAEINDIA, a professional Society of Automotive Engineers, today announced the commencement of the 15thedition of the much-awaited BAJA SAEINDIAseries (Digital Event).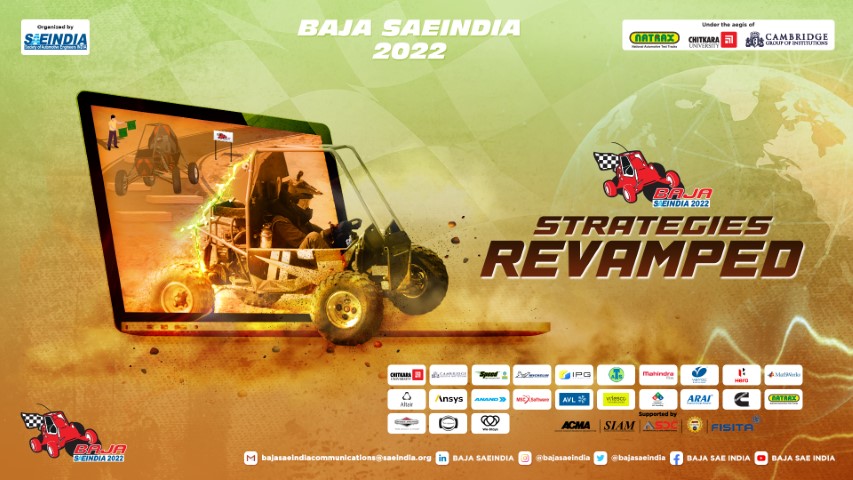 214 entries across the Engineering colleges in India were received for BAJA SAEINDIA 2022, out of which 138 teams are registered for conventional m-BAJA &76 teams are registered for e-BAJA event.BAJA SAEINDIA tasks the students to conceptualize design, build, test& validate a single-seater four-wheeled All-Terrain Vehicle (ATV) to take part in a series of events, being conducted in three phases this year, giving the teams an opportunity to participate virtually in PHASE-1 & 2 or physically in PHASE-3 or both.
Upon successful completion of the previous edition, BAJA SAEINDIA 2021- "Embracing Challenges", BAJA SAEINDIA'2022 has begun in full swing. The pre-registration for the participating events started on June 16th, 2021. Considering the difficulties faced by the teams due to the current covid-19 outbreak, the registration deadline was extended from July 15th2021 to August 15th, 2021.
Embracing the current Pandemic challenges, BAJA SAEINDIA 2022 edition will be held on a digital platform involving static as well as dynamic events, considering the health concerns of all stakeholders involved.
Intending to expand the spectrum of learning, the continuously evolving BAJA SAEINDIA Organising Committee has decided to introduce the participation of international teams all over the world till PHASE-2, for both mBAJA and eBAJA. Participating remotely will work hand in hand with the current safety rules to be followed with the idea of increasing the exposure of all the teams towards healthy completion and international bonding.
To promote clean energy-efficient solutions to the automotive future, the new eBAJA teams participating shall be provided financial support of INR 1 Lakh upon completing 5 laps in the endurance race which would be conducted in Phase 3 as per registration guidelines.
This unique and eccentric step of BAJA SAEINDIA is towards a cleaner, efficient and brighter future and pushing to strive ahead and perform better than before, best than ever. To promote diversity amongst the teams, BAJA SAEINDIA has allowed the team who has reached the 25 members limit, to add 5 more girl team members without any additional amount in the registration fee to promote gender diversity.
The details for 1stand 2ndphase of BAJA SAEINDIA 2022 are as below:
The first leg (Phase 1) i.e. Preliminary Round, scheduled in September 2021, will be focusing on the virtual presentation of the ATVs of the teams. The two-day event will include a virtual Inauguration, presentations from teams showcasing the Design Reports of their buggy, an Automotive/Rulebook quiz and evaluation.
Followed by this, the second leg i.e. Phase 2, will incorporate Virtual Dynamic Events with the help of Automotive Simulation Software combined with Digital Static Events for 2022 edition, similar to BAJA SAEINDIA 2021.
The tentative schedule of this phase is December 2021. This will include the Virtual Static Events Evaluation such as Design, Cost, Manufacturing & Sales Presentation as well as the Dynamic Events such as Acceleration, Brake, Gradeability, Suspension & Traction, Manoeuvrability and All Terrain Performance held virtually through IPG CarMaker software.
During Press conference, Mrs. Rashmi Urdhwareshe – President, SAEINDIA said
"BAJA SAEINDIA is inspired by the values& ethos and it provides an opportunity for thousands of engineering students to put the skills they have picked up into practice.  This competition furnishes an engineering student with a stage for their overall development. It enables them to grapple with a real-life application and improve their skills related to design, analysis, validation, problem solving, marketing, project management, team work, etc., which boosts their self-confidence and teaches them leadership skills. The competitive atmosphere at BAJA, always put learning at the front and nurtures the growth of an individual right before they enter the competitive environment of the industry."
During Press conference, Dr. Madhu Chitkara – Pro-Chancellor, Chitkara University, Punjab said, "At Chitkara University, we believe in building a skilful society and promoting research,innovation in collaboration with industry and academic institutions. The vision of BAJA SAEINDIA and our university is in sync and we joined hands in the year 2015.As the host institute of Virtual BAJA SAEINDIA from the last 6 years, we feel proud in supporting this program. BAJA SAEINDIA is improving the engineering skills of young graduates through its project-based learning approach. For this year also, we are hosting the Preliminary and Virtual round of BAJA SAINDIA 2022 at our Punjab campus."
During the event, SAEINDIA also signed MoU with Chitkara University, Cambridge Group of Institutions and IPG CarMaker to kick start the event.
Know More About BAJA SAEINDIA
BAJA SAEINDIA is an educational pursuit for engineering college students, an out-of-classroom-education system, where engineering students can participate as a team, giving them pragmatic exposure to real-world challenges as faced in the industry. Originally started in the USA by the SAE International as Mini BAJA SAE, today it is being organized in several countries.
In India, it is being organized as BAJA SAEINDIA. A student level competition in which teams from universities all over the country, conceptualize, design, analyze, fabricate, validate and run an all-terrain vehicle. This is evaluated during a series of Static, Dynamic, and Endurance events.
Over the years, BAJA has grown in numbers and has become a bigger event nationally, signifying its increasing popularity. It serves as a platform for young engineering talent to showcase their skills and acquire real-life experience while overcoming obstacles and challenges- something that is critical for their long-term success.
BAJA SAEINDIA is being Led by Dr. Pawan Goenka as the Chairperson of BAJA SAEINDIA Steering Committee. We thank our sponsors ALTAIR, Anand Automotive, ANSYS, ARAI, ATS, AVL, BPCL, Briggs and Stratton, Chitkara University, Cambridge Group of Institutions, Cummins, Hero Moto Corp, Hexagon-MSC Corporation, IPG CarMaker, Mahindra, MathWorks, Michelin, NATRiP, Power Equipment, Varroc, Vitesco Technologies for their continued passion and support towards building future-ready engineers through BAJA SAEINDIA. It is also supported by SIAM, ACMA, ASDC, FISITA & AICTE.
Know more About eBAJA
eBAJA is an event initiated by the Steering Committee & Organizing Committee of BAJA SAEINDIA, which engages around 1400 engineering students every year. To leverage the onset of electric mobility in India, BAJA SAEINDIA had started this event under the convenorship of Mr. Subodh Morye (Mahindra & Mahindra Ltd.) in 2015.
This is a platform where engineering students get an opportunity to build an electric vehicle on the same dynamics of BAJA rulebook and experience the wonder of the electric vehicle. During a session of the Organizing committee and Late Dr. APJ Abdul Kalam, former President of India, where he suggested utilizing this platform for national prosperity. Overwhelmed by his thoughts, the organizing committee decided to include a new sub-event to its 8th season – named eBAJA.
The conventional BAJA is all about petrol-driven ATVs, while the eBAJA vehicles run on an electric motor powered by a rechargeable Lithium-ion battery pack. To give eBAJA another push and special focus, the Organizing Committee of BAJA SAEINDIA decided to conduct the eBAJA event at a separate location. Cambridge Group of Institutions from Bangalore has come forward and agreed to be Host for eBAJA SAEINDIA 2022 at Bangalore.