Chandigarh's first Hyper-Hybrid Business Park launched by Omaxe: Omaxe Limited, one of India's leading real estate companies brings to New Chandigarh, region's first hyper-hybrid business park- Beacon Street.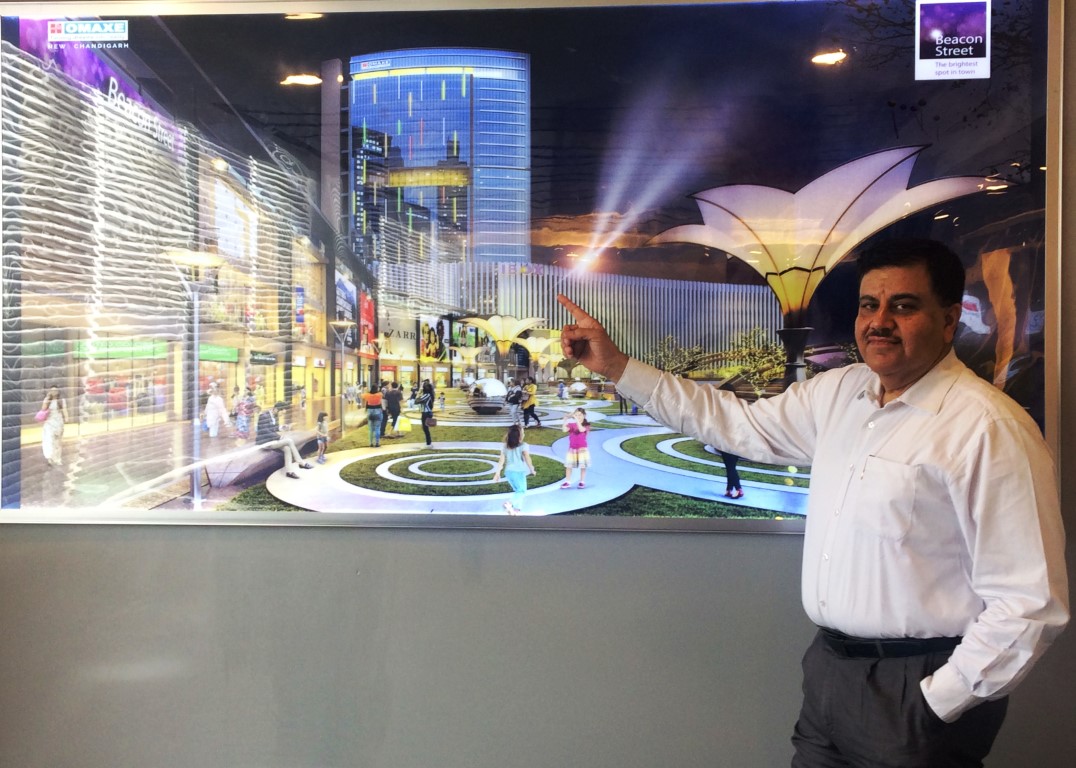 The business park will be a future-proof business hub, complete with a glass and chrome skyline and 360-degree amenities such as retail, office, living, dining and entertainment spaces.
Beacon Street is part of Omaxe'scommercial projects, namely, India Trade Tower, International Trade Tower and Holiday Inn, in New Chandigarh. It will be a kaleidoscope of colour, taste, smell and pleasures for everyone and of every age.
Under its roof, Beacon Street will have Palika Bazar, Bespoke Boulevard, CentrePoint, Gourmet Gallery, Café, Clubs & Pubs, Court Cullinaire, Funderland, Megaplex, Odeon, Uni-Suites, Serviced Apartments, 7-screen multiplex cinemas and The Roof Top. With sky escalators, playing areas for kids and beautiful ambience, Beacon Street can cater to become the next favourite shopping destination.
It will be a destination combining business space with green, high-end horticulture, which will take your commercial experience to a different level.
Mr. Bhupinder Singh, Business Head – Chandigarh, Omaxe Limited said, "We are very excited to introduce our new project Beacon Street. New Chandigarh is a modern city,Omaxe is very thrilled to bring its hyper-hybrid hub as a project for the new generation. It brings multiple experiences under one roof. We are hopeful that Beacon Street will be a unique and successful journey."
Beacon Street project is conveniently located along a 200ft stretch on Madhya Marg Extension road, just opposite to MedCity and next to transport terminal.
The site is close to major residential area. Marked by large landmarks and with more projects to come, the business hub will be fast becoming one of the most valuable investment zones in North India.
Know More About Omaxe
New Chandigarh:
Omaxe New Chandigarh offers world-class amenities to its residents, all under one roof. This one-of-its-kind project, proposed in an area of around 1,000acres, is truly the epicenter of New Chandigarh. From hotels to health services and from education to entertainment, you're sure to find everything that suits your taste. And the best part is, Omaxe New Chandigarh is a dream closer than you think, with a proposed population of 1 lakh+ to inhabit this futuristic township. And this is justthe beginning, there are plenty more to come.
Know More About Omaxe Limited:
Omaxe Limited is one of India's leading real estate development companies. Founded in 1987, the company has fast spread its footprints in 8 States across 27 cities. Today, the company has in its kitty a diversified product portfolio that includes Integrated Townships, Hi-Tech Townships, Group Housing projects, Shopping Malls, Office Spaces, SCOs and Hotel projects.
With approx. 116.0 million sq. ft. of delivered space in both real estate and construction contracting, the company is currently undertaking 21 real estate projects – 5 Group Housing, 9 Townships, 7 Commercial Malls/Hotels/ SCO. A BSE & NSE listed company, Omaxe has over the years made a mark with some landmark projects and engineering marvels. Sensing an opportunity in Tier II and III cities, the company made a conscious decision to venture into States like Uttar Pradesh, Madhya Pradesh, Punjab, Haryana, Uttarakhand, Rajasthan, Delhi, Himachal Pradesh to name a few and has immensely contributed in the socio-economic development of these cities.