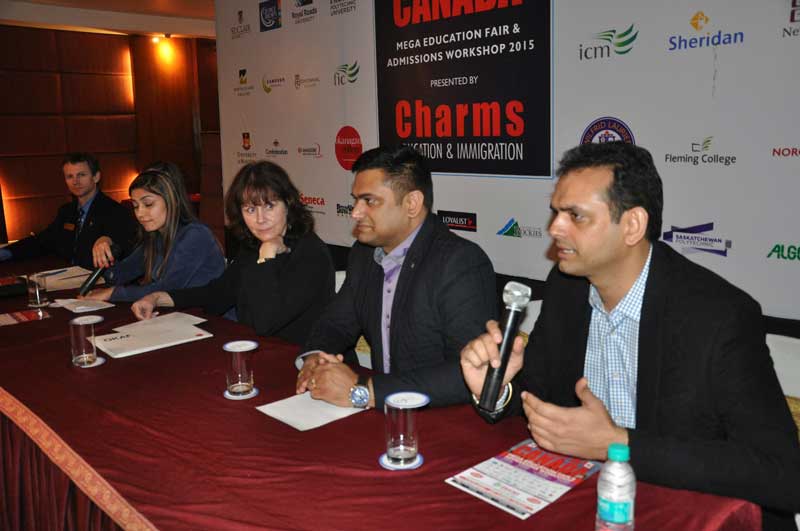 NewZNew (Chandigarh) : A Press Conference was held under the aegis of Charms Education & Immigration Services, which guides students find the right course, Institute and in provision of consultancy services for turn-key student visas for Canada. It was announced that Charms is organizing Mega Canadian Education Fairs in Punjab & Chandigarh. The fairs will have under one roof Recruitment Heads of 32 top Colleges & Universities from across the length & breadth of Canada. Said Mr. Manish Paitka, CEO, Charms Education & Immigration Services, "It is noteworthy that all reputed Institutes coming to Chandigarh & Punjab; are approved by the Canadian Government and are members of AUCC (Association of University & Colleges of Canada) & ACCC (Association of Canadian Community Colleges)." Adds Mr. Manish, "We are having Mega Education Fairs at Amritsar on 9th April 2015, Jalandhar on 10th April 2015, Ludhiana on 11th April 2015 & Chandigarh on 12th April 2015 at Hotel Taj, Sector 17."
Recruitment heads from Canada who were present at the press meet were Ms. Karuna Ausman, International Recruitment Manager, University of Waterloo, Ontario, Ms Tanya Sehgal,  International Recruitment & Admissions Coordinator, Kwantlen Polytechnic University, Surrey, British Columbia, Mr Jeff Cooper, Manager, International Education, College of the Rockies, Cranbrook, British Columbia, Canada,  Ms Samina Kuwajerwala, Regional Manager, South Asia, Middle East, Africa, Georgian College, Barrie, Ontario ,Canada. Ms Leah Iszakovits, International Student Officer who represents Nor Quest College, Edmonton, Alberta, Canada, and Ms Diane Thomson, International Recruitment Officer came on behalf of Okanagan College, Kelowna, British Columbia, Canada. Some new colleges have been added under the Students Partnership Programme (SPP) & two of these — Sault and Canadore College will also be present at the Fairs.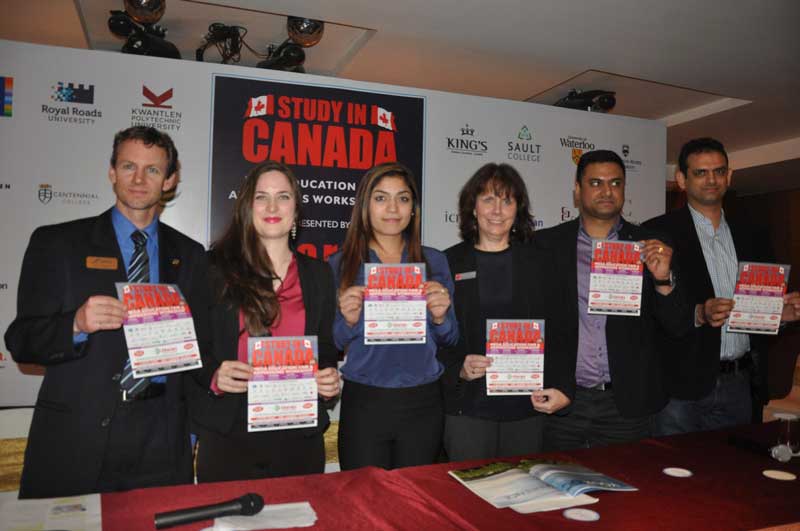 It was pointed out at the press meet by the experts that a National survey carried out in Canada earlier this year revealed, that India is one of the top countries from where foreign students come to study in Canada. The finding about India was a revelation as according to it India ranks well and is placed third after China, Brazil and equals US (57 per cent) in so far as foreign student intake in Canada was concerned.
Said Mr. Rahul Paitka, MD, Charms Education & Immigration Services, "Canada has come up as a destination where education is more affordable than other countries. The amount of paper work to be done is a bare minimum & no old funds need to be shown. A student has to deposit $ 10,000 in GIC (Guaranteed Investment Certificate) account through the student's own saving bank account. For those passing out of school the fairs hold a World of opportunity. What's more, students can work up-to 20 hours per week off campus to pay partly for their education. The fairs will help prospective students apply for intake in sessions of September 2015 & Jan 2016."
It is important to point out that Canada has also embarked on a system in which students get a work permit after completion of their course. This is helping Foreign students take advantage of a new rule to get permanent residency –Express Entry Visa. Skilled Canadian work experience gained through the Post-Graduate Work Permit Program helps graduates to qualify for permanent residence in Canada through the Canadian Experience Class (CEC).
At the education fairs student queries will be answered and they will get latest information on student visa processing for Canada. Information about the minimum English language and Academic requirement will also be shared with the prospective students on a priority basis, to assess the eligibility criteria. The fair will provide the perfect platform to zero in on the appropriate Institute and Course of study. Some special offers for students like scholarship, application fee waiver and on the spot admissions etc will also be available.