Charting path of success with hard work and dedication : Neeta Malik, Co Founder, Meatington: You are bound to be successful if you do something you love with passion. Ace entrepreneur Neeta Malik's story perfectly fits here.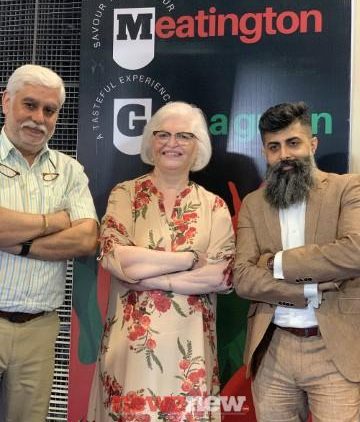 Beginning with Destinations Unlimited, a luxury travel company, and Heirlooms, a soft furnishings and fashion accessories company, she got into the food and beverage business with Meatington.
After transitioning into a diverse professional milieu, she says, " It was a natural transition." Inbound travel brings local food experiences to clients and our business already created exquisite culinary experiences. Bringing it into the frozen food market just added another feature. "We offer a holistic experience, letting you order online or offline, store savory dishes in your freezer, and enjoy gourmet dining feel at home every day."
Meatington is therefore a natural extension to our already extensive luxury goods and experiences portfolio," she continued, giving a glimpse into the illustrious operations of Meatington, which has already established itself in Delhi NCR, Punjab and now being launched in Jammu and Kashmir.
She is a visionary and an entrepreneurial icon with a history of demonstrating success across many industries. Explore Meatington's entrepreneurial trail, unique selling point, visionary outlook, tips for aspiring entrepreneurs, and more with her.
Q How challenging has your journey been as a woman entrepreneur?
There has always been excitement surrounding the food. As Indians, we always discussed what we were going to eat next. Food was an important focus during the lockdown since families were spending more time together. It was important to provide easy, tasty, and nutritious options for people.
During that phase, finding good food on a daily basis was challenging. This led to the creation of Meatington. A leading luxury silk brand from India, Heirlooms was established in 1992 and introduced premium silk products to the worldwide market.
Additionally, in 2009, we started Destinations Unlimited, an inbound luxury travel company that provided unmatched personalized experiences to clients who saw India with admiration and amazement. We thought we should do something to make the lockdown enjoyable for people as the pandemic halted travel to India.
You can get a luxurious experience with Meatington. This allows you to order online or shop offline, store several delicious options in your freezer, and create a luxurious experience on your table with every meal. Thus, Meatington was a natural addition to our portfolio,
Q What is Meatington's unique selling point and how does it market and retail its products?
The heat and eat range makes it easy for people living independently to have tasty and healthy meals all day. Each meal can include different products, such as chicken sausages for breakfast, Dal Makhani for lunch, Dahi ke kebab for tea, Chicken / Mutton Seekh or Broccoli corn Kebab for a snack, and Chicken Tikka for dinner.
It comes in a Zip Locked reusable pouch where you can store our products for up to twelve months. To name a few chains, we sell in Modern Bazaar, Needs, Sodhi's, and General Trading stores in North, East, West, and South Delhi, Noida, and Faridabad. Starting with Delhi NCR, we aim to make it available to consumers as far as possible and now our reach has also expanded to Punjab.
Various channels are used to expand our database. Through social media, influencers, Google ads and Facebook ads, we're using Digital Marketing. Through LinkedIn, we plan to reach out to the industry. To bring brand awareness and showcase our products, we are also holding tasting sessions at corporate offices and in residential societies as well.
Where do you see the brand moving in 5 years from now ?
Meatington will be in every kitchen. Soon we will be expanding to Pan India and exploring the export market. It's already exciting to get inquiries from all over the world.
Green, healthy, or eco-friendly practices have made frozen or ready-to-eat foods less trusted. Do packaged and ready-to-eat foods lack freshness?
It's like freezing time. We already talk about it regularly on our social media handles. When the product is brought down to extreme freezing temperatures, we use technology proven in international labs to preserve the nutritional value. If stored at -18 degrees, bacteria growth stops and it retains its taste and nutrition. It tastes fresh and delicious when heated.
How will you overcome the challenges you currently face?
Debunking frozen food myths is our first challenge. We eat almost everything processed. Freezing food is probably the safest method. Our technology gives you a long shelf life without harmful preservatives, and it makes all the difference. Through social media, we are already raising awareness and educating people.
A second challenge is that we are in a hurry – we know we have a great product and we want to deliver it as soon as possible. Our products convert most people on the spot. The real challenge here is reaching untapped markets. Just 5 months old, we are already partnering with distributors and retailers, but we can't wait to be up and running!
What lessons have you learned on your entrepreneurial journey?
As I was once told – "You learn from your own mistakes, never from anyone else's." So take chances and make mistakes. You will be wiser.
What's your greatest professional achievement? Whom do you credit for your success?
My values and goodwill are my greatest professional achievements. My success is largely due to God who brought me to the right place at the right time, the friends I have made in business and most importantly, the support I have always had from my family and colleagues.
BRIEF ABOUT THE AUTHOR NEETA MALIK
Neeta Malik, CO FOUNDER, MEATINGTON, is a natural entrepreneur. She has over 40 years of experience in creating and running successful businesses. She Co founded Heirlooms, a high-end textiles company which has won several awards for their performance in exports of silk products.
For the last many years, she, along with Ashutosh, has been running Destinations Unlimited, a luxury travel business. Good food being an essential part of a successful travel experience, she is no stranger to delighting her clients with delicious food.
She now teams up with Sachin and Ashutosh to bring the magic of Meatington to every table! Meatington caers to a discerning palate with a wide variety of options in ready to cook and frozen snacks.