Gurvinder Singh's much acclaimed next, Chauthi Koot, the first Punjabi language film that premiered at the Cannes Film Festival, 2015 to release Pan-India on 

August 5

The National Award winner for best Punjabi feature to release in over 80 screens across India with English Subtitles
NewZNew (Chandigarh) : Noted director Gurvinder Singh's much-acclaimed Punjabi film Chauthi Koot (The Fourth Direction) is slated for pan-India theatrical release on August 5.
Chauthi Koot is the first ever Punjabi film to have its world premiere at the prestigious Cannes Film Festival in 2015, where it was screened in the 'Un Certain Regard' section and got a standing ovation.
Among other accolades, the film, which was screened in over 13 international and Indian film festivals, won the best film award in the India Gold section at MAMI, 2015 and bagged the 2016 National Award for the best feature in Punjabi language. It won the Singapore International Film Festival Silver Screen Award for Best Asian Feature Film in December 2015.
Gurvinder Singh informed that Chauthi Koot has been adapted from two stories written by Canada-based writer Waryam Singh Sandhu called 'Chauthi Koot' and 'Hun Main Theek Haan'.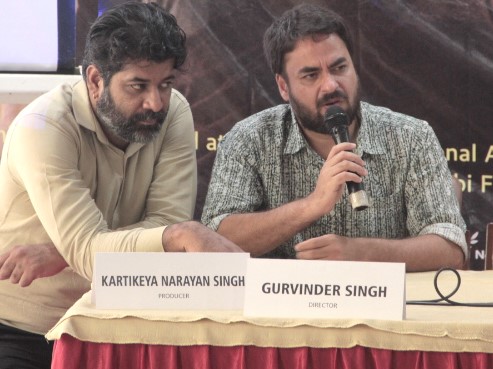 "I'm happy that Chauthi Koot is finding mainstream release in India, not just in Punjab but outside the linguistic boundary of Punjab. Because cinema is a universal language that speaks of humanitarian concerns, it knows no limitation of the spoken language," Gurvinder Singh said.
"I'm sure the film will speak to the audience across the country, as it has done to overseas audience already, as it addresses concerns not just limited to Punjab and its history, but reflects the tumult across the world in today's time, and the human endeavour to continue to live a life of dignity and simplicity in the face of turbulence," he added.
An FTII alumnus, Gurvinder Singh's Gurvinder Singh's debut film, Annhey Ghorrey Da Daan (Alms for a Blind Horse), about the plight of farmers, bagged three National Awards and was the first Punjabi film to be showcased at the Venice Film Festival.
A maiden production venture of Kartikeya Narayan Singh  under his banner, The Film Café Entertainment Pvt Ltd, Chauthi Koot will be releasing and distributing the film in over 50 screens in Punjab through Tridev Films and and nearly 30 screens in the major cities across India with English subtitles by Drishyam Films.
Chauthi Koot is co-produced by Gurvinder Singh, Catherine Dussart of Catherine Dussart Productions (France), National Film Development Corporation (India).
Sharing his film's journey Kartikeya Singh said , "It gives me great pleasure to present the acclaimed director Gurvinder singh's  second film "Chauthi Koot" to a much larger and wider audience across the world.   The Film already had a 23 screen release in France and found great appreciation. Newer avenues, digital platforms and keen audiences are helping us reach out to wider audience across the globe. We have a big plan for the film and its theatrical release is a stepping stone towards that plan. 
"The film creates a truthful atmosphere of fear and paranoia in the 1980's, recreating a realistic impression. Many people  who have had the opportunity to see it at festivals and had lived in those times, told me often that they felt  they were revisiting 1980's.  It felt very real to them. It is a true and honest representation and everyone must watch it," he added.
About their association with NFDC, Kartikeya said, "NFDC has been a key partner in bringing this works to life. Their numerous efforts in the past few years are showing tangible results and I wish that they get continuous support. I have always felt that they should be given more leveraging power with funds to support distribution of not only their own but other independent films." 
Suvinder Vicky and Rajbir Kaur who are the lead actors with Master Taranjeet and Baby Harleen also joined.
The video trailer and poster was also released on this occasion.