Cheap Billboard Advertising in Texas: Billboard advertising refers to the process of using a large scale advertisement for marketing a brand, service, company, product, or campaign. Mobile LED billboards are usually moved in high traffic areas so that they get seen by the highest number of pedestrians and individuals passing by while commuting.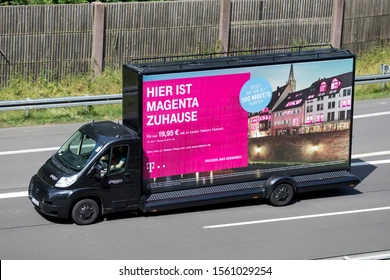 Billboard advertising is one of the most effective ways of building your brand awareness and broadcasting what your business has to offer. As you take an LED truck through busy areas, you receive the highest number of impressions and views in comparison to other marketing methods.
Who should go for mobile billboard advertising?
Mobile Billboard advertising in Texas works best for businesses that are looking to boost their brand awareness or planning to target the audience in specific locations. It is a great way of promoting your brand if you are planning to engage and interact with your audience at a deeper level. One very popular option is to have mobile billboards in houston.
If you are still wondering whether billboard advertising is right for you or not, then here are a few parameters you can consider. 
Does your product pass the eight-second rule? – If you cannot pitch in eight seconds, then you shouldn't consider investing in billboard ads. The static nature of traditional billboards is ineffective if your advertising campaign requires interpretation from your target audience. You can instead consider mobile truck advertisements for grabbing the attention of your target audience.
Is your product relevant to a mass audience? – If your product is not relevant to 10% of the population, then you will be wasting your money on billboard impressions.
Cost of billboard advertising
The amount a brand would incur for billboard advertising is dependent on various factors including the location of your billboard, the total traffic in the area, and the number of people estimated to see your advertisement. Billboard advertising is categorized as one of the popular forms of out-of-home advertising (OOH). Each OOH advertising opportunity is given an OOD rating which ultimately decides its value and the cost to advertisers.
Geopath, a nonprofit organization, that relies on technology and media research estimates the weekly impressions of every billboard in the country and provides OOH ratings. Here are the top factors that affect the cost that influences each billboard advertising campaign. 
Circulation – It is the total number of people who pass by billboard each week. This information is usually gathered by local transportation authorities.
Demographics – This refers to the gender, age, spending potential, and various other characteristics of the traffic that the mobile billboard is navigating through. This information is also collected from local transportation authorities and travel surveys.
Impressions – This refers to the number of people who see the billboard. This information is gathered based on the size of the billboard, its visibility, the speed at which it is navigating through the traffic, and more.  The cost of billboard traffic is not just dependent on the LED trucks you would be hiring. You also need to take into account the cost of designing the billboard ad, gifs, video clips, and more that would be displayed on the LED truck. The cost is also dependent on the agency or designer you are collaborating with to display your ad.  
Traditional billboards vs. Digital billboards
Physical billboards come with a lot of advantages in comparison to digital billboard advertising. Choosing the location of physical billboard ads is not a hassle because the infrastructure has existed for several decades. Moreover, printed ads are not subjected to power outages like digital billboards.  
| | |
| --- | --- |
| Static Billboards        | Digital Billboards |
| Are less expensive in comparison to mobile billboards        | The ads are dynamic and more effective |
| Not subjected to power outages          | Better targeting with the ability to display ads during specific hours of a day or the week |
| Already existing infrastructure           | Flexibility in terms of updating and optimizing the ads quickly |
| Not subject to any technical glitches | Easy measurement of ad campaigns progress via geotagging |
Renting mobile billboards
Mobile billboard vehicle rates are competitive and are dependent on the size, longevity, and design of the campaign. Most brands lease mobile billboard trucks on a weekly basis. Some may enter a contract for months depending on the nature of their ads or campaigns. Any trusted mobile billboard company will have a partnership with trucking companies that will provide them the ad space for a nominal fee.
Brands that want to advertise their offerings can consult a mobile billboard company about their advertising projects and they can arrange the LED trucks they have on hand to help their clients launch their advertising campaigns. Digital mobile billboards are equipped with LED lighting and can cost anywhere between $700-$1800 per truck per day. These tend to be expensive as a lot of technology goes into materializing a campaign. However, these provide better returns in the long term. Always collaborate with a trusted name in the industry to grab a better deal on mobile billboard advertisements.
Bottom line
Billboards are a great way of encouraging the viewers to take action or introduce your brand to a wider audience. The cost also depends on various factors such as impressions, demographics, circulation, format, and more. While static billboard advertisements are less expensive, digital billboards promise better returns to brands launching their campaigns with selective targeting. To save money, you need to ensure that your advertising targets the right audience. Collaborate with a trusted name in the industry for mobile billboard advertising to reap better results.