The idea behind initiative was to encourage them to care for their environment.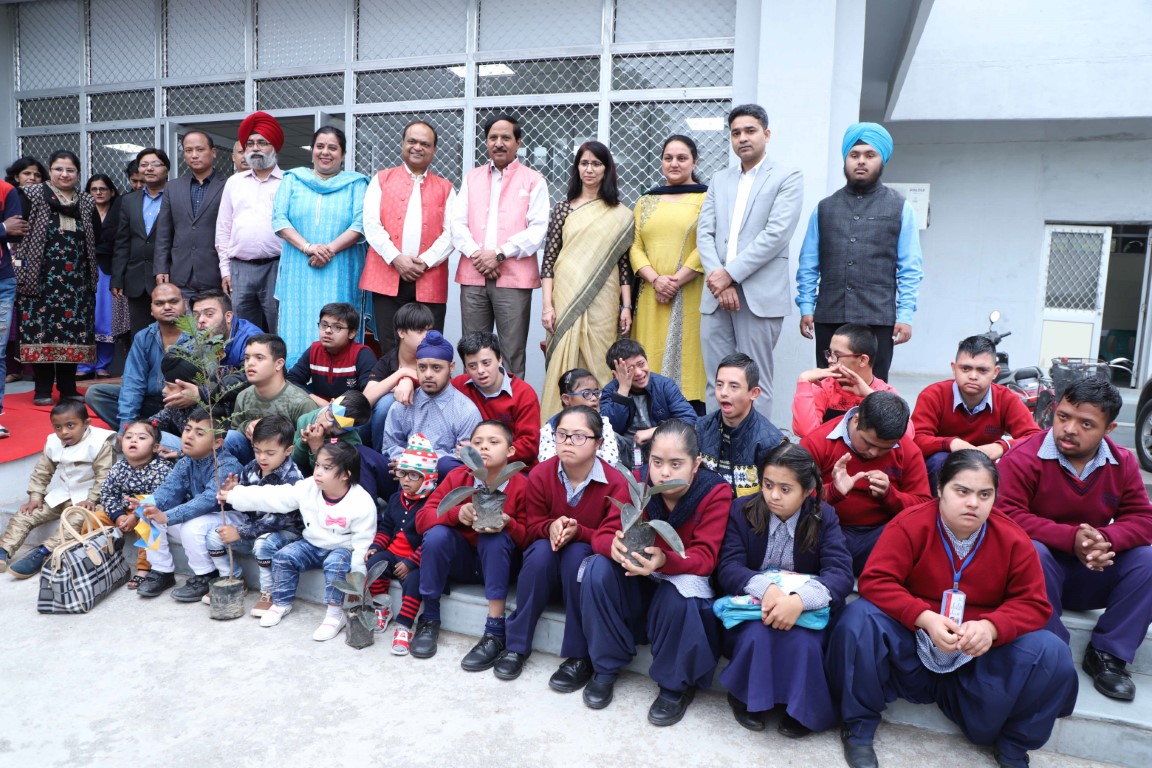 As a part of World Down Syndrome Celebration, Chandigarh Down Syndrome Society, (CDSS) Genetic Centre GMCH and Govt Rehabilitation Institute for Intellectual Disabilities (GRIID) organised a tree plantation bythe children with Down Syndrome Day.
The program was inaugurated by Prof BS Chavan, Director Principal GMCH. The other expert present on the occasion were Prof Priti Arun, Joint Director GRIID, Dr Gurjit Kaur, Dr Ravi Gupta MS and Dr Wasim Ahmad, Assistant Prof GRIID. The theme World Down Syndrome Day 2019 was 'Leave No One Behind' and the event was to unite all children with Down Syndrome and their caregivers through an innovative approach of planting a sampling in a dedicated pot.
The pot was provided by CDSS and the children with their parents planted the sapling in the designated pot which carried the name of the child. The parents were told to encourage their children to take care of the plant so that theyfeel concerned about nature.
During the program Prof Chavan informed the parents about his vision to start the genetic Screening Centre in 2007 with the primary aim of prevention of disability. Dr Gurjit Kaur shared the data of newborn and antenatal screening program being carried out at the Genetic Centre. She stated that through prenatal screening program, Genetic Centre is screening pregnant ladies for chromosomal and neural tube defects and 45,852pregnant women have been screened and identified 24 cases of Down Syndrome and 37 cases of Neural tube defect.
All the new-borns are screened for three disorders i.e., congenital hypothyroidism (CH), Glucose-6-Phosphate Dehydrogenase (G6PD) Deficiency and Congenital Adrenal Hyperplasia (CAH) and Genetic Centre has screened around 75,544 babies and identified 51 cases of CH, 770 cases of G6PD, and 8 cases of CAH. In 2015, program was expanded to other major hospitals UT Chandigarh (GMSH-6, Civil hospital Manimajra, Civil hospital 45 and 22 including GMCH-32).
Dr Priti Arun JD GRIID and Dr Wasim Ahmad, General Secretary of CDSS informed parents that GRIID is providing early intervention, special education and vocational training for 57 children with DS. The larger aim of CDSS is to make 'Chandigarh Down Free and Friendly City'. This society is actively working in association with Genetic centre, GMCH and GRIID to achieve this aim.