Chitkara University's educational roller coaster ride by Mr. Rajesh Mapuskar of the Ferrari ki Sawaari fame for an educative discourse: In the pursuit of imparting rewarding learning experiences to its students, Chitkara University organised a riveting educational discourse on "Ferrari ki Sawaari ki Chaabi: Unlocking Potential through Rajesh Mapuskar's Cinematic Lens" at its Punjab campus.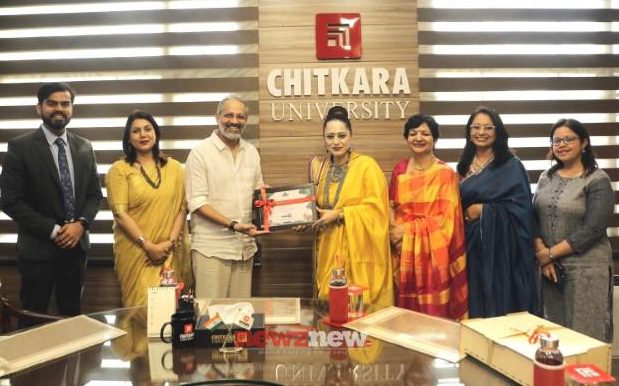 Organised under an instructional module for the students of Chitkara College of Education, Chitkara School of Psychology and Counselling, Office of Student Affairs, Chitkara School of Mass Communication and Chitkara School of Liberal Arts, the discourse was organised in collaboration with the renowned Indian Director, Writer, Producer and National Film Awardee, Mr. Rajesh Mapuskar, famed for his impressive directorial debut in 2012 film Ferrari ki Sawaari and his contributions in many other prominent films including Munnabhai MBBS, Lago Raho Munnabhai, 3 Idiots, and Ventilator.
The latter had won the directing maestro, a National Award in addition to many other coveted awards.
The forward-looking event "Ferrari ki Sawaari ki Chaabi" was put together to help elucidate the role of cinema as an effective teaching tool in classrooms and as a potent means of understanding human psychology.
The event, in fact, witnessed the unfeigned sharing of many thought-provoking insights and stances by the Keynote Speaker, Mr. Mapuskar, who further engaged in candid conversations with the students at the university, which revolved around the filming maven's journey from being a young lad to being a national film awardee, the skills required to be an ace filmmaker, the art of overcoming challenges, and his upcoming film projects in addition to his take on the role of cinema in education and psychology.
Not to mention, in addition to a highly informative discussion on understanding Cinema as a powerful educational tool, the students of the University also enjoyed an edge-of-the-seat rapid-fire round, featuring Mr. Mapuskar, who laid special emphasis on the significance of hard work and counted his directorial debut to be one of the most special moments of his life.
He encouraged the students to never give up to overcome challenges and have a positive attitude. He also gave a message to the students to "Always Trust Yourself, Your Instincts and You Will Surprise Yourself".
Expressing his take on the event, the stellar Indian Director, Writer, Producer and National Film Awardee, Rajesh Mapuskar said, "As a filmmaker, there's nothing more joyful than seeing Cinema being perceived as a medium of learning. Ferrari ki Sawaari ki Chaabi has been an exceptional platform, indeed, to promote the might of Cinema, and how it can play a pivotal role in helping the students learn or in understanding their behaviours and actions."
He also conveyed his best wishes to the students for all their future endeavours and congratulated the management for providing a wonderful learning platform.
Furthermore, exhibiting her contentment on the special occasion, the Pro Chancellor, Chitkara University, Dr. Madhu Chitkara said, "The idea behind getting Mr. Mapuskar on board came from the fact that we wanted our students to experience cinema as never before and look at it from a fresher perspective.
Hosting Mr. Mapuskar has undeniably been a matter of pride for the university, and Ferrari ki Sawaari ki Chaabi would always be held very close to our hearts. We are thrilled that the event helped students assimilate how they can use this incredible medium of art to elevate their professional experiences."