Five-day Thai trade show begins from

March 30
NewZNew (Chandigarh) : Following overwhelming response from Tricity residents during last three editions of the Thailand Trade Show, Confederation of Indian Industry is organising the fourth edition of 'THAILAND TRADE SHOW 2016' from March 30 to April 3, 2016. The show is being organised by CII and the Department of International Trade Promotion (DITP), Ministry of Commerce, Government of Thailand, at Himachal Bhawan, Sector 28, Chandigarh, from 10 AM to 8 PM.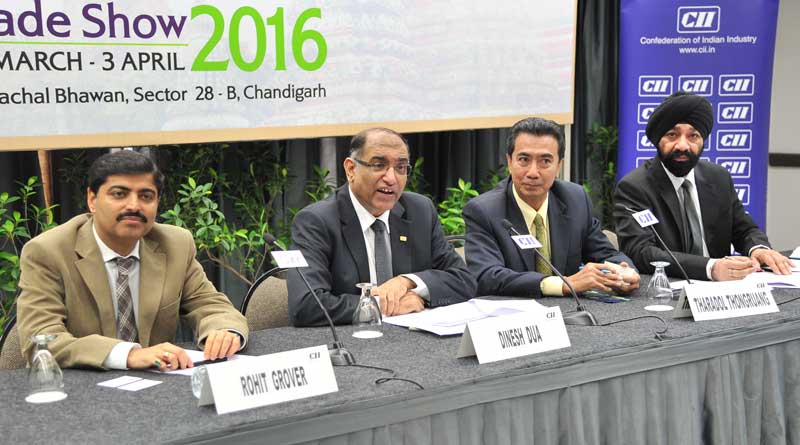 Addressing a press conference at the CII Northern Region headquarters in this regard, Tharadol Thongruang, Minister Counsellor (Commercial), Royal Thai Embassy, said "Thailand has been a part of CII Chandigarh Fair since 2005 and the partnership has flourished since. There is vast scope of improvement in the volume of trade between India and Thailand and Thailand Trade Show is a step in exploring the same. During the forthcoming visit of the Prime Minister of Thailand to India several MoUs will be signed, including Free trade Agreement (FTA). With the completion of Asian Highway road link to between the two countries via Myanmar, the volume of bilateral trade is also likely to increase manifold as businesses will not have to depend on ports as trade will be conducted through trucks as well. An agreement in this regard will also be signed soon between the governments of the two nations."
"Make in India policy of Prime Minister of India is very popular with the business community of Thailand and will encourage more companies from Thailand to invest in India. We see a lot of business potential in Northern India. The reason for choosing Chandigarh is that we think Chandigarh is the Gateway to North India and is the smartest city. North India also has the most vibrant and thriving business community," he added.
Addressing medipaersons, Dr Dinesh Dua, Chairman, CII Chandigarh Council and CEO and Director, Nectar Lifesciences Ltd, said "In the current scenario of emerging global economic situation, where Asia Pacific region is acquiring increasingly important significance with its fast economic growth, intra-regional cooperation has gained further importance and needs to be looked upon with newer perspectives. The fast growing Indian market remains attractive for Thai investors, given the vast opportunities available in infrastructure sector, tourism and retail industries. India continues to remain an interesting market for export of goods from Thailand. Currently, Thai goods have benefited from tax reduction under ASEAN-India FTA in Goods, which came into effect from 01 January, 2010 and resulted to the flow of more goods into Indian market."
India's Look East policy from 1993 and Thailand's Look West policy since 1996 set the stage for a substantive consolidation of bilateral relations. The past few years since 2001 have witnessed growing warmth, increasing economic and commercial links, exchange of high-level visits on both sides, and the signing of a large number of Agreements leading to a further intensification of relations."
"Thailand and India are cooperating in various multilateral fora like India's dialogue partnership with ASEAN, the ASEAN Regional Forum (ARF), and the East Asia Summit, the sub-regional grouping BIMSTEC involving Bangladesh, India, Sri Lanka, Thailand, Myanmar, Nepal and Bhutan, and trilateral transport linkages with Thailand, Myanmar and India. India is a member of the Asia Cooperation Dialogue (ACD) initiated by Thailand in 2002 and of the Mekong–Ganga Cooperation (MGC), a group of six countries. The leadership of the two countries has been making consistent efforts over the last one decade to build a strong strategic partnership," he added.
Mr Anurag Aggarwal, Home Secretary, Chandigarh Administration will inaugurate the Trade show. HE Chalit Manityakul, Ambassador, Royal Thai Embassy, Mr Tharadol Thongruang, Minister Counsellor (Commercial), Royal Thai Embassy, Mr Dinesh Dua, Chairman, CII Chandigarh Council and CEO & Director, Nectar Life Sciences Ltd, Mr Rohit Grover, Vice Chairman, CII Chandigarh Council and Director (Commercial), JREW Engineering Ltd and Mr Pikender Pal Singh, Regional Director, Confederation of Indian Industry (CII), Northern Region, will be the key dignitaries present at the inauguration ceremony.
As many as 30 companies from Thailand will display exclusive products such as artificial flowers, artificial jewelry, health & beauty care products, wellness and spa products, fashion accessories, food and beverage, garments, handbags, footwear, home décor and household products on display at the trade show.