Strengthens its commitment to bridge the language divide in India and enable every user to achieve more
NewZNew (Chandigarh) : In its commitment to make computing in Hindi and other local languages more accessible for users, Microsoft today showcased an array of technology innovations across its products and service portfolio. At an event in Chandigarh, Microsoft showcased the integration of Hindi and Punjabi on Office 365, Sway, Skype IM translator, Bing and Windows Phone that is available at no extra cost for consumers. The products and services portfolio showcased today has made Hindi and Punjabi Language computing more intuitive and discoverable for users, enabling them to be more productive.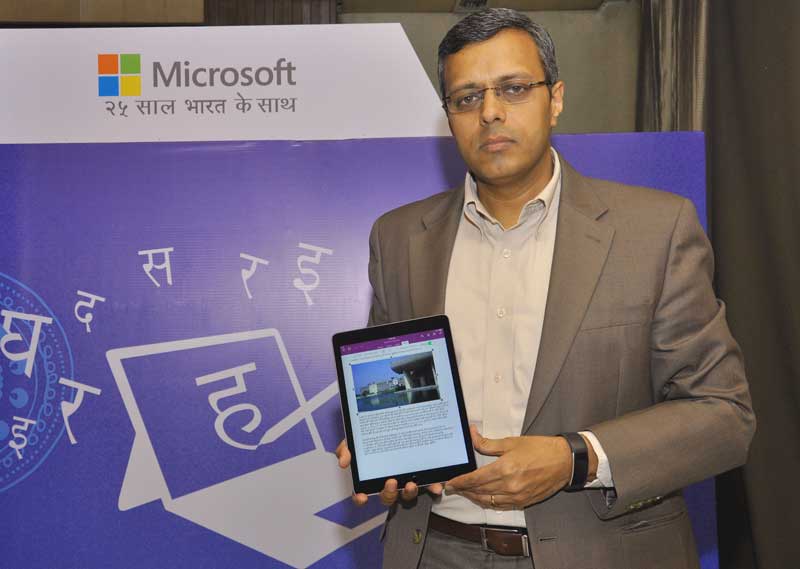 In this information-driven world, for millions of people, linguistic divide continues to be a barrier for the effective use of technology. India being one of the world's largest digital economies has a high level of linguistic diversity with 22 major languages, written in 13 different scripts, with over 720 dialects. The proliferation of the affordable devices and increasing mobile internet penetration is opening up newer opportunities to support local languages through technology, especially for those who still remain untouched by the digital revolution. The number of local- language Internet users in India is growing at 47% year-on-year and has touched 127 million in June 20151. The numbers clearly highlight an opportunity for both, the Central government and Chandigarh authorities that are on a mission of digital inclusion.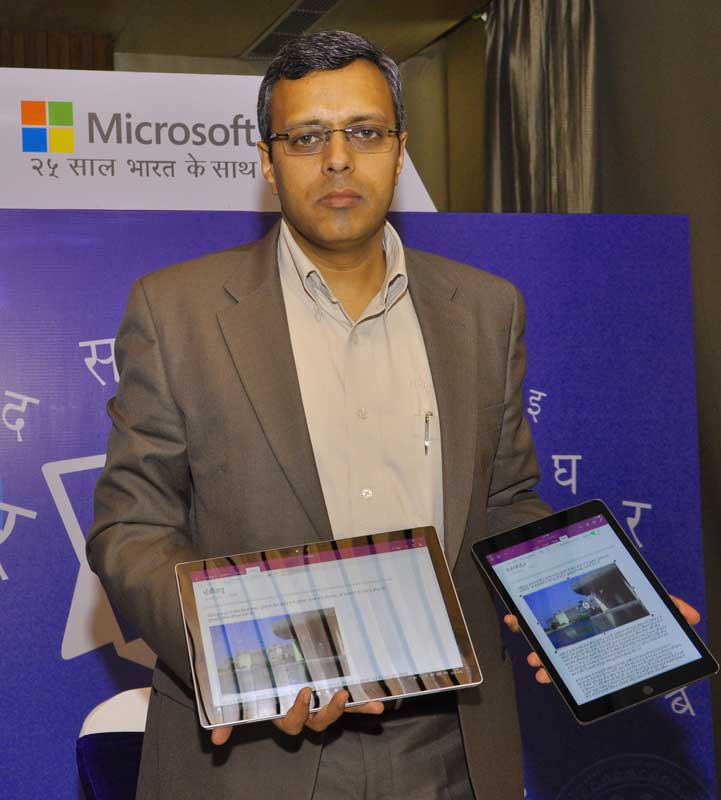 Microsoft has been dedicated to this cause for over 15 years and is the pioneer in providing native Unicode support for Hindi since the year 2000. The company also showcased key innovations that have helped create economic opportunities, build IT skills, enhance education outcomes, and sustain our local language and culture.
Speaking on the occasion, Alok Lall – Director, Office Marketing said, "In our commitment to empower users to achieve more, we are delighted to announce a suite of Hindi and Punjabi compatible products and services that users can use at no extra cost. We continue to enhance capabilities, making it easy for users across geographies to use our products and services without facing the language barrier."
He further said, "We have been a partner to India's developing technology landscape for the last 25 years and continue to invest in the same. With Project Bhasha, we are accelerating Hindi language computing in India wherein, Microsoft is primarily focusing its efforts in three key areas: Product localization, Government collaboration, Academia & Developer Integration through a common platform www.bhashaindia.com. We further fortified these efforts by launching cloud services from India data centers, making Hindi language computing on the local cloud a reality."
Local language computing enables users to be more productive:
Microsoft offers products and services that help users work in a more efficient manner.
Office 2016     
The new Office allows users across geographies and on various platforms to easily create and consume content in their native language. The Office 2016 apps are available in Hindi and 13other Indian languages and can run on Windows 7 or later. Office apps are available in Hindi across Windows, Android and iOS for consumer and commercial audiences to assist interactions without barriers.
Sway
Sway is an app for expressing new ideas, stories, reports and presentations in local languages with the help of multimedia content. The app suggests searches in local languages to help users find relevant images, videos, tweets and other content that can be used in the creation without worrying about design and layout.
Publisher
Publisher helps easily create, personalize and share a wide range of professional-quality publications which include newsletters, brochures, books in Hindi and 13 other local languages.
Microsoft Language Accessory Packs
Microsoft provides Indian languages support in Windows and Office using Microsoft Language Accessory Packs that can be downloaded free of charge. A Language Accessory Pack has translations for up to 300,000 words in Windows and for 600,000 words in Office.Language Accessory Packsconvert the user interface into the desired language and provides instructions and dialogue boxes in the local language.
Making Hindi usage more intuitive
Microsoft ensures that users interact with the devices and services of their choice, in Hindi in an intuitive manner, eliminating the need to learn complex tools to experience Hindi language computing
OneNote – Stylus Support & Touch Input  
OneNote is a digital notebook to manage to-do lists, lecture and meeting notes, vacation plans, or anything a person wants to organize or remember. Now users can type and scribble in Hindi, record and share. OneNote is available for free across PC, Mac, Windows Phone, iPhone, iPad, Apple Watch, Android, and Android Wear devices.
Skype Translator on IM
Skype has provided endless possibilities for people around the world to communicate over the years. Skype Translator messenger breaks down language by instantly translating conversation in IM from English to Hindi.
Microsoft Translator App                          
Microsoft has also introduced a translator app that works across smartphones, tablets, Apple Watch and Android Wear devices. Microsoft Translator supports up to 50 different languages including Hindi. Skype Translator is also supported by Microsoft Translator for IM communication.
Enables easy discoverability of content in Hindi
With a range of products and services by Microsoft, users especially while using the internet, can easily find content in their local language.
Bing
The search tool supports Hindi and eight other Indian languages. The Indian language experience is available on Bing.com both on Desktop and Mobile devices. Bing has built a scalable Hindi content generation pipeline to convert content from English to Hindi. Bing for Hindi augments Windows 10 phones, which natively supports text input in multiple Indian languages. All Indian language experiences in Bing are also available on Android devices.
Hindi language support on Windows Phone   
With the launch of Windows 10 Mobile, we have built new phonetic keyboards for Hindi and nine other Indian languages that allow users to type on a familiar Devanagari, Hinglish, Inscript and phonetic keyboard layout where the IME converts what they type into their native script. This helps users perform everyday tasks like email, text, social networking, search on their phone in Hindi.
All the services mentioned above are also available in Punjabi