CII Himachal Pradesh and Canadian High Commission to collaborate in various investable projects: Himachal Pradesh is an ideal investment destination for Canadian companies as state has vast investment potential in sectors such as hydro power, food processing and tourism said Mr Gagan Kapoor, Vice Chairman, CII Himachal Pradesh.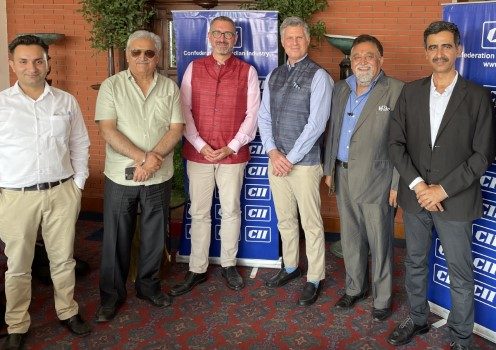 Himachal Pradesh and Canada has many similarities including climate. Many Canadian companies are keen to partner with business units in Himachal Pradesh to leverage the unmatched investment potential of the state Mr Kapoor further added.
A delegation of Canadian High Commission in India  led by H.E Cameron Mackay, High Commissioner,  Canadian High Commission met with CII Himachal Pradesh Office Bearers in Shimla to discuss the areas of collaboration.
Mr Mackay appreciated the start-up India campaign launched by Prime Minister of India and suggested that Indian start-up should open their offices in Canada and leverage the benefits of Free trade agreement of Canada with many countries such as US, EU, Japan etc. Mr Patrick Hebert assured that as a next step they will connect CII with Chambers of Business in Canada to take this forward.
Mr Rakesh Ahuja, Convener – Panel on Horticulture and Tourism, CII Himachal Pradesh while interacting with the Canadian High Commission delegation shared that Himachal Pradesh is known as the fruit bowl of the country and State is known for delicious Apple and other fruits. He has requested for investment in infrastructure from Canada on the Infrastructure and tourism projects in the state.