Commodity futures participants celebrate Market @75; seek stable policy to exploit 2 lakh crore daily agri contracts trading potential: The Commodity Participants Association of India (CPAI), a premier industry body representing lakhs of commodity futures value chain participants, organized a convention to commemorate the 75th year of India's independence and the progress made so far in the commodity and the capital markets.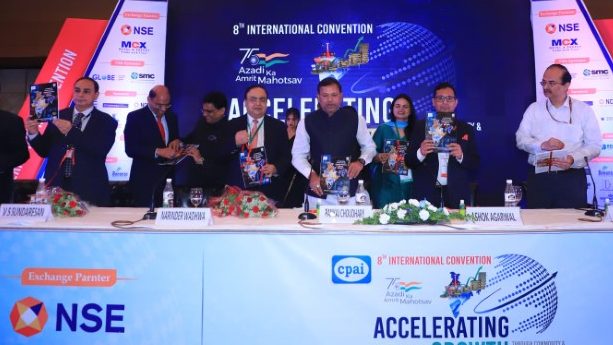 The convention titled 'Accelerating Growth through Commodity and Capital Market @75' stressed the size of the Indian physical market in agricultural commodities which stands much larger than the underlying futures markets. The potential that exists today is as high as 2 lakh crore derivatives contracts per day for which a stable policy environment would be the key. The stability in government policy in respect of agri contracts will give trust to value chain participants for efficient price discovery and hedging.
Speaking on this occasion, Mr Narinder Wadhwa, President of CPAI and Founder and Managing Director of SKI Group, said, "Our focus should be on the 3Ps– Policy, Products, and Participants – which will enable us to achieve accelerated growth through commodity and capital markets. Also, the cost of transactions needs to be reduced for acceleration in global and domestic investment on Indian exchanges."
Mr V S Sundresan, Executive Director, SEBI, highlighted the need for 3 'I's – Issuer, Intermediary, and Investor and raised concerns of mis-selling, not informing investors, complexity in products, lack of depth in the Indian equity markets which results in greed and eventually wrong practices.
Indian derivatives markets have made a giant stride in the last 75 years with both equities and commodities currently being traded on one exchange platform in a single window which indicates inclusiveness in the financial market. There has been a sharp increase in the number of Demat account holders. In addition to allowing a section of mutual funds' participation in commodities futures, the government also expanded the product basket to enhance participation.
Mr Ashok Kumar Agarwal, Chairman, and Promoter of Globe Capital Market Limited and Chief Mentor of CPAI, added, "Sustained increase in the number demat accounts is increasing inclusiveness in financial markets. It also places an additional responsibility on intermediaries to take more initiatives on imparting Investor Education to ensure their stickiness and prevent disillusionment."
In the last few years, the volatility in the commodity and equity markets has widened due to climate change, geopolitical challenges, and global economic policies. Therefore, there is a need to enhance a fair price discovery across the entire value chain on the exchange platform.
Mr Arun Raste, MD & CEO, NCDEX, said, "Price discovery should be fair for the entire value chain. Earlier, the largest hedgers in Indonesia took cues from soybean and derivative prices in India for price setting. The stability in respect of agri contracts will give trust to value chain participants about the useful effectiveness of agri derivatives for efficient price discovery and hedging."
Mr. P S Reddy – CEO and MD, MCX, stressed the need to conduct a study to determine whether trading in any particular commodity is detrimental before banning it. "MCX has accelerated the process of empanelment of domestic refined brands for increasing participation of domestic consumers and gold refiners," he added.
In fact, the Gift City in Gujarat realizes the aspiration that IFSC become a gateway for global capital flows with some of the instruments being traded here becoming the largest in the world. The Gift City possesses many such opportunities. A gold exchange here can make IFSC the gateway for gold import in India if the price discovery is better on the exchange than in the OTC market.
Mr Vikram Limaye, CEO and MD, National Stock Exchange, "Pricing is shifting from Europe to Asia and the ability of Asia to set the price is improving. NSE is increasing its footsteps in commodities. It is a strategic partner in Indian Gas Exchange that facilitates trading in delivery based trades at designated physical hubs and also partnering with IBJA for a bullion spot exchange."
Going forward, Make in India, Start-Up Mission which created 100 unicorns, Digital India with the adoption of DLT and Blockchain, etc. will accelerate growth and open up newer opportunities in the commodity and capital markets.