NewZNew (Chandigarh) : Confederation of Indian Industry, Global Environment Facility & United Nations Industrial Development Organization (GEF-UNIDO) in partnership with the Ministry of New and Renewable Energy (MNRE) launched the project 'Promoting business models for increasing penetration and scaling up of solar energy' with an aim to promote investment in CST technologies for industrial applications in the country. It is especially designed to complement MNRE's CST programme by helping to remove barriers associated with adoption of CST technologies by spreading awareness, building capacity and providing financing solutions.
In this context, a state level workshop was organized in Baddi, which was attended by the leading industrialists of the state.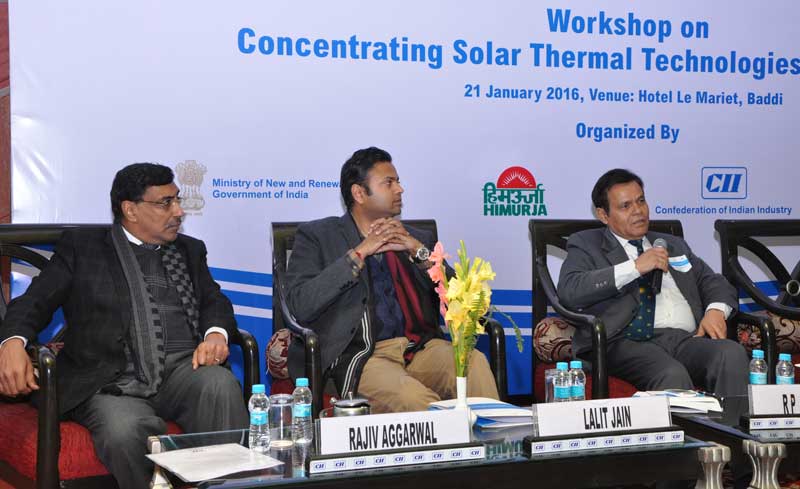 Dr R K Goswami, Director, MNRE motivated the industry of Himachal Pradesh to adopt the benefits of Solar Energy and assured full support and streamlined process of buying Solar energy from MNRE. He also announced incentive schemes for the industry that are ready to avail benefits of Solar Energy.
In 2014-15, industrial sector alone consumed 42 per cent of the crude oil imported that year. Use of solar energy applications focused for industrial sectors presents a significant opportunity for the country to address growing concerns of energy security and reduce carbon emissions. "Concentrated Solar Thermal (CST) technologies are amply suited for heating and cooling applications for industrial processes", quoted Mr Rajiv Aggarwal, Chairman CII Himachal Pradesh State Council.
Adding to that Mr Lalit Jain, CEO BBNDA said that "Availability of financing to the owners of small or big industrial units plays a vital role in their successful transition towards renewable energy, given the size of the market and the opportunities it presents, the GEF-UNIDO-MNRE project is preparing an innovative financial scheme to provide a single window system for accessing financial assistance. Indian Renewable Energy Development Agency (IREDA), as the fund manager to the project, would support the beneficiaries by bundling the MNRE's subsidy and the loan at sub-vented interest, thereby providing access to 75% of project cost for application of these technologies. Mr Lalit Jain also urged the Ministry to provide a platform to the interest individuals and parties to avail direct benefits of solar power. MNRE promised CII & BBNDA their full support in this direction.
He further added that these milestone decisions will go a long way in making Himachal Pradesh an attractive industrial destination.