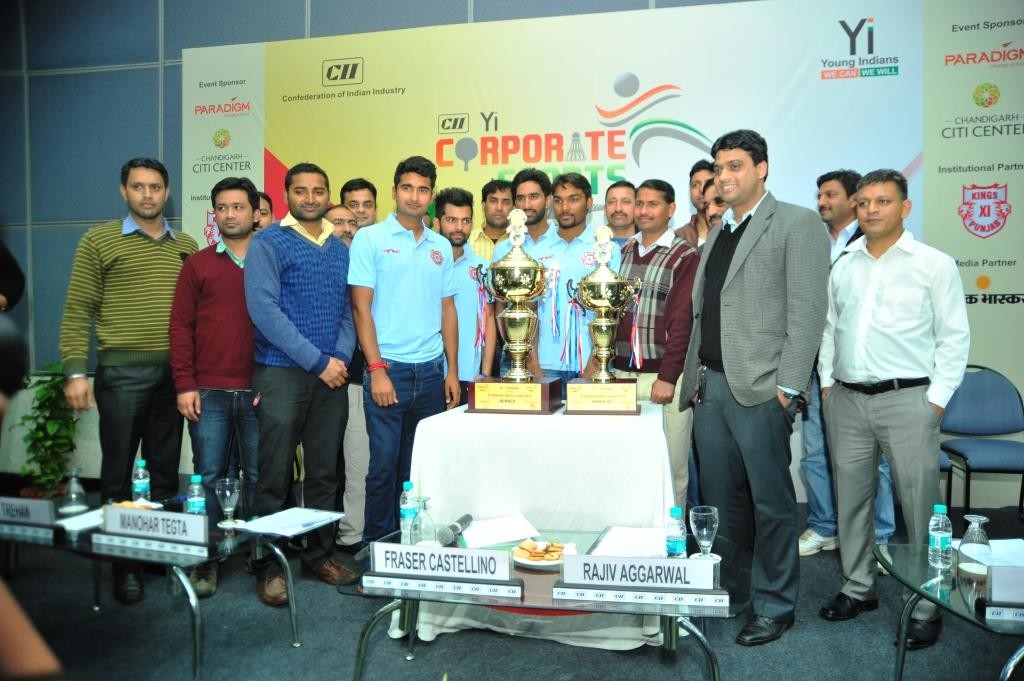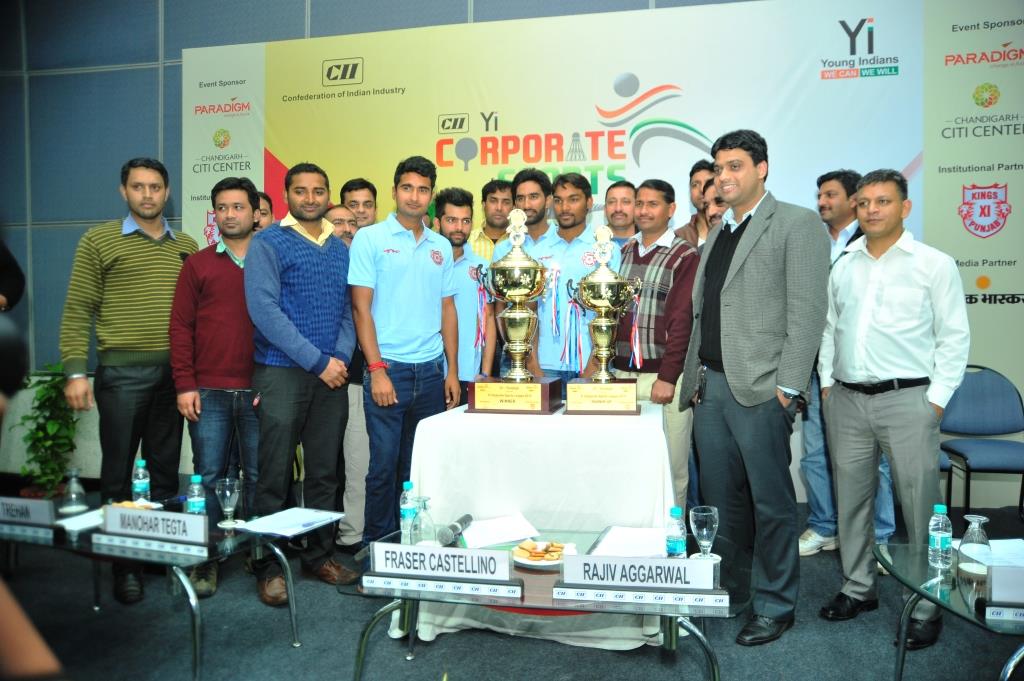 NewZNew (Chandigarh) : Confederation of Indian Industry's (CII's) Young Indians (Yi) Solan Chapter launched the 2nd edition of the CII – Paradigm Group Corporate Sports League at CII NR Headquarters in sector 31 A, here today.  Various Trophies and Kits were also unveiled by the Chief Guest Mr Fraser Castellino, Chief Operating Officer, Kings XI Punjab (KXIP) in the presence of KXIP's five key players namely Manan Vohra, Gurkeerat Mann, Sandeep Sharma and Karanveer Singh; Mr Rajiv Aggarwal, Chairman, CII Himachal Council; Mr Manohar Tegta, General manager – HR, Godrej Consumer Products Ltd; Mr Ravindra Dhapola, General Manager – Abbott Healthcare Ltd, Mr Vasu Trehan & Mr Nitin Aggarwal, CII Yi office bearers.
Spread over two months, the league will comprise three sports namely – Cricket, Badminton and Table Tennis. Matches for all the sports would be played on league cum knock out basis. All the matches would be played on weekends to save on productivity losses to industry. League Matches would be played at Chandigarh & Panchkula while the Semis and the finals would be played at Chandigarh only.
19 corporate teams would fight it out for the Cricket trophy, 30 players would take part in Badminton Singles Championship while 20 teams would play the Badminton Doubles competition and 25 players would strive for the Table Tennis (TT) trophy whereas 20 teams would play the TT doubles championship.
The Cricket matches would be of 20 overs a side and all rules of the ICC Twenty 20 Cup would be followed. Every weekend, four cricket matches and 10 Badminton and 8 TT matches would be played.
In the launch ceremony held today, Mr Fraser Castellino, Chief Operating Officer, Kings XI Punjab (KXIP), emphasised Corporate Sports League is much pertinent in present times, considering vast similarity between sports and corporates. Both call for patience, planning, strategies, execution and perseverance to achieve desired goals. He further stressed that Sports are one of the most crucial pillars in building complete personality of individuals be it from corporates or students. Sports teach us how to play as a team and contribute to organisation's overall goals and objectives.
Mr Vasu Trehan, Co – Chair, Yi Solan Chapter drew an analogy between corporate world and sports, both requiring strategy, team work and meticulous execution to be successful.
"This league would be a unique opportunity for corporates to learn the lessons of management through sports. The relevance of competition, team work, target oriented approach and coordination is just as much in sports as it is in corporate sector", he emphasised.
Mr Nitin Aggarwal, Vertical Chair – Arts, Sports & Culture, Yi Solan Chapter urged the teams to show true sportsmanship during the league whose objective is basically to inculcate team spirit amongst corporates.
Mr Pikender Pal Singh, Regional Director, CII NR shared that "Our aim of holding this tournament is to help corporates learn the art of working as a team, to inculcate a never say die spirit, to learn to play as a cohesive unit and coordinate well with each other to achieve desired results. It has been CII's endeavour to work towards an all-round growth & development of people working in the corporate sector".
The launch ceremony was attended by over 100 delegates, captains, managers and other officials of the organisations.