CII to host the 15th Edition of its Premier Agri & Food Technology Fair in Chandigarh: The Confederation of Indian Industry (CII), today announced that the premier industry body will host the 15th edition of India's premier Agri & Food Technology Fair, CII Agro Tech India 2022 from 4 – 7 November 2022 at Parade Ground, Sector 17, Chandigarh.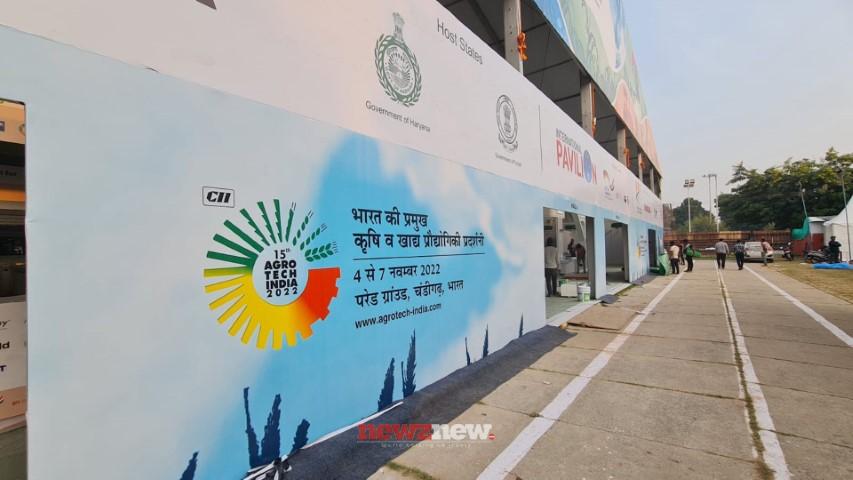 CII Agro Tech India 2022, making its formal return after 2018, will have 246 exhibitors, including 27 international exhibitors from as many as 4 countries this year. 
The Union Ministry of Agriculture & Farmers Welfare, Union Ministry of Food Processing Industries, Agricultural and Processed Food Products Export Development Authority (APEDA), and the Ministry of Agriculture & Farmers' Welfare, Government of India are Partner Ministries for CII Agro Tech India 2022.
Commenting on the mega event, Mr Sanjiv Puri, Chairman, CII Agro Tech India 2022 & Chairman & Managing Director, ITC Limited said, "It is critical to usher in future-ready agriculture leveraging the power of digital technology as well as by building climate resilience and adaptive capacity to enable enhanced farmer incomes and empowerment. CII Agro Tech India promises to be an effective platform to showcase and discuss some of the emerging opportunities in this crucial sector that provides livelihoods to a large proportion of the country's population. It is indeed a privilege that the Hon'ble Vice President of India, Shri Jagdeep Dhankhar, will inaugurate the mega international agricultural fair. It is also an honour that distinguished dignitaries including Shri Banwarilal Purohit, Governor, Punjab & Administrator, UT, Chandigarh; Shri Bandaru Dattatreya, Governor, Haryana; and Shri Vikramjit Singh Sawhney, Member of Parliament (Rajya Sabha) & Chairman, BRICS Agri Business Forum will grace the inaugural session. The CII Agro Tech India event and exhibition  will also facilitate extensive interaction opportunities between Farmers, Agtech  players and the Agro- Food  Industry in India and overseas to help shape the next horizon of value-added and sustainable agriculture."
In the last edition of Agro Tech held in 2018, Shri Ram Nath Kovind, Former President of India had inaugurated the fair.
The theme of this year's edition is 'Digital Transformation for Sustainable Agriculture & Food Security' which encompasses focusing on sustainable agriculture; technologies; enhancing productivity and profitability for various stakeholders in the agriculture chain; innovations for growth and sharing of best practices for agri-excellence. 
"Presently, India's agriculture industry is amidst a digital revolution that is turning challenges in agriculture into a world of endless opportunities in areas such as market linkages, efficient cropping, precision agriculture and farm management etc. This has been augmented by the proliferation of agri-tech firms that aim to bring in a paradigm shift in technologies in Indian agriculture 4.0. CII Agro Tech India serves as an ideal platform for newer technology and entrepreneurs to showcase their innovations and also to collaborate with industry leaders to lead the Agri sector," said Mr Tarun Sawhney, Co-Chairman, CII Agro Tech India 2022 & Vice Chairman & Managing Director, Triveni Engineering & Industries Ltd.
On resuming the physical edition after 2018, Mr Deepak Jain, Deputy Chairman, CII Northern Region & Chairman & Managing Director, Lumax Industries Ltd shared, "We are delighted to be back with the 15th CII Agro Tech India, and I am confident that this year's edition will play a significant role in developing a common platform for the Indian farmer community to engage with not only the Indian industry but also explore international opportunities to explore emerging technologies and farming practices. The US $370 billion agriculture industry in India is expected to completely shift over the next several years and by 2025, digital agriculture in India could add $50–65 billion to the country's economy, or 23% to the current value of agricultural output. CII Agro Tech India aims to help Indian agriculture to reach this goal in the coming years."
Mr Jain also added that farmers from the States shall be able to visit and interact with exhibitors and learn from the best practices of progressive farmers. "To strengthen their capacity and aptitude for better yield and results, we have also planned several theme-based conferences and innovators pitch sessions during the 4-day event. It's a packed event which has something for every stakeholder connected to the Agri sector," he said.
The exhibition will be spread over 16,000 sqm and there will be domestic exhibitors from 4 states with their special States pavilions. More than 30,000 farmers are expected to visit the fair which would also comprise Kisan Goshthees and international conferences. There will also be 7 concurrent shows including, Good Earth, Food Tech, Farm Tech, Dairy and Livestock Expo, Implementex, Farm Services and Irrigation & Water Management. 
Some of the products and services that will be launched at the show include power machinery such as tillers, water pumps, brush cutters, etc. An innovative display of cold storage is being set up by a few exhibitors in the form of Cold Rooms to experience live demos. Another exhibit will display Agri-specific Drones for solving queries on most required applications to digitally transform agriculture. India's first multi-temperature part load vehicle, Polygain™ from Australia, etc, are being showcased for the very first time in CII Agro Tech India 2022.