City Orthodontist Dr Sarabjeet Singh Elected as vice President of Indian Orthodontic Society: Dr Sarabjeet Singh has been elected as the Vice President of Prestigious Indian orthodontic Society for the year 2021-22 at 55th Indian orthodontic conference held at Amritsar on 24th to 26th September, 2021.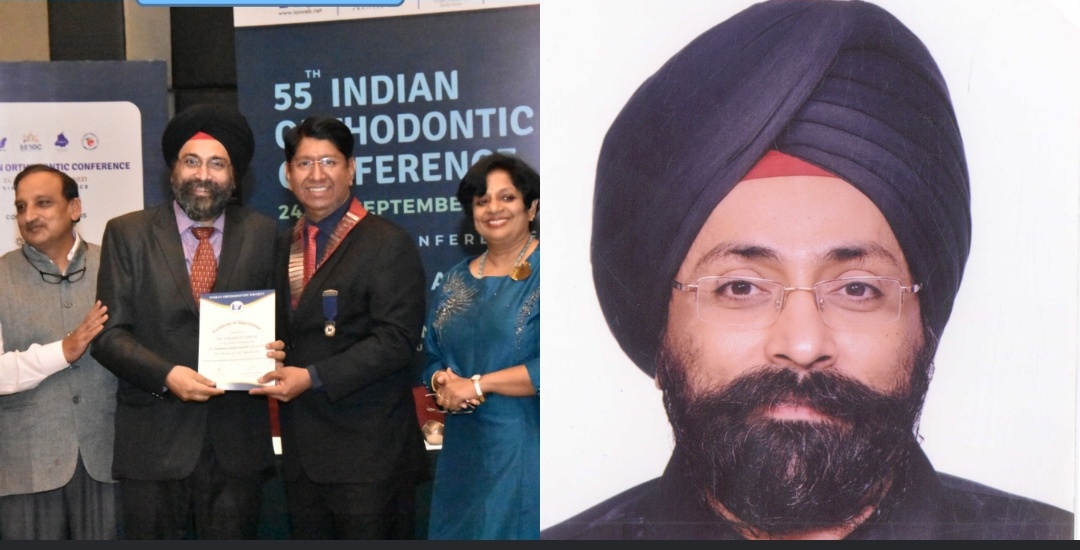 Other dignities who graced the occasion were President of Indian Orthodontic Society, Dr Srikrishna Chalsani, Honourable Secretary of IOS, Dr Sridevi P, Past President Dr Silju Matthews ,President Elect Dr B S Thakkar and Dr Sukhdeep Kahlon.
He is an astute dentists of North India and have won the prestigious national dental excellence award for the year 2014, 2015, 2016 and 2018 for demonstrating unparalleled dedication, innovation, creativity and excellence in the field of dentistry.He is a beacon of Indian orthodontics over three decades and is also convenor of Orthodontic study group of Chandigarh.
He has a brilliant academic record from KGMC Lucknow and PGI Chandigarh , has a vast multidimensional experience and is a profile speaker at both national and international  level .He has been Dean, Professor and HOD at Bhojia Dental College, Baddi.
Facial appearance plays an cardinal role towards the development of self confidence in an individual.Awareness is the state or ability to perceive, feel, and be conscious.Facial appearance plays an cardinal role towards the development of self confidence in an individual.Orthodontic treatment ensures proper function of teeth and create healthy smiles as misaligned teeth are harder to clean and can cause abnormal wear of enamel.
There has been a manifold increase in the number of orthodontic patients and  treatments available over the last few decades starting from removable appliances to metal braces to more recent self ligation ceramic braces (Speedo-orthodontics). So come ,let's spread this chain of awareness among our people as we are ONE PROFESSION,ONE SOCIETY,ONE US and we Orthodontists are there for the public. 
It is a common practice for each one of us, nowadays, to spend a considerable amount of time on social media. While doing so, it is quite possible you might have come across a lot of advertisements on your social media feed. Some of these may be from companies promising that they can deliver straighter teeth with removable trays, without you ever needing to see a trained orthodontist, at fraction of a cost that you would pay to an orthodontist.
While it is natural to get tempted by these offers, it is important to understand the potential risks and disadvantages..These appliances have shown to cause permanent damages to teeth and tissues, hence should be avoided. So take home message is "ALWAYS TAKE AN OPINION OF AN ORTHODONTIST".