City to commemorate Chinese War's Rezang La Day on 18th: Well-known think-tank SUVICHAR of Chandigarh, founded by Gen V P Malik, PVSM, AVSM (Retd), former Chief of Army Staff, Mr Vivek Atray, former IAS officer and other like-minded eminent citizens of Tricity, is commemorating the Rezang La Day at 10:30 AM on 18 November 2023 at Banyan Tree School, Sector 48 B Chandigarh.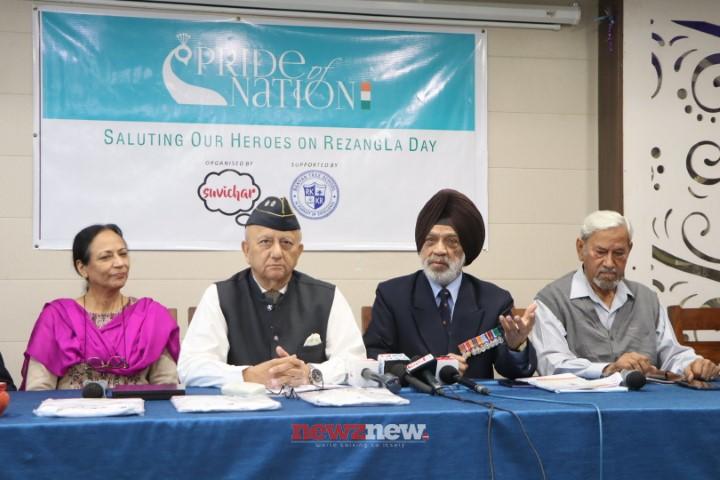 Banwarilal Purohit, Governor of Punjab and Administrator Union Territory Chandigarh will be the Chief Guest.  Many senior officers from administration, police, armed forces and judiciary have been invited to the event.
Col D S Cheema (Retd), Convener while addressing the media here today said, "Rezang La was a battle that has set an exceptional example of raw courage, steel nerves, gut, valour and glory of our great army which is considered the best in the world. I take pride in saluting the 104 soldiers of Charlie Company of Ahirs who fought the Chinese against all odds and were martyred protecting their motherland. Major Shaitan Singh, Param Vir Chakra, was a great son of India who showed utmost courage in the face of enemy and made the Supreme sacrifice for the honour of his motherland."
"We are fortunate that the three Param Vir Chakra awardees, Hony Capt Bana Singh (Retd), Hony Capt Yogendra Singh Yadav (Retd) and Sub-Maj Sanjay Kumar will honour the Rezang La Day commemoration event with their presence. Perhaps, this will be the first event of its kind where the three living legends will be together at the same platform", he said.
The event would include Screening of Film on Rezang La prepared by the Ministry of Defence. Meanwhile, NCC cadets and other students will get an opportunity to speak to the Param Veer Chakra awardees. Major D.P. Singh, a retired officer of the Indian Army and a Kargil War veteran, who is known as India's first blade runner will also be present on the occasion.
Great nations never forget their heroes, and India has the tradition of respecting the sacrifices made by the armed forces. Our armed forces are classic examples of devotion to duty, moral professionalism and love for motherland.  Every Indian is rightly proud of them and a grateful nation owes a debt of gratitude to them, he concluded.