NewZNew (Chandigarh) : A new Think Tank named SUVICHAR (Good Thought) has been set up by like-minded individuals to provide thought-leadership, with headquarters in Chandigarh. The initiative, comprising of all prominent citizens of the city was launched here today.
Addressing media persons here today Convenor Vivek Atray said that "SUVICHAR is a forum of experienced persons who have insight into various key sectors that are an integral part of our society's functioning. SUVICHAR seeks to give back to society inputs and guideposts that can enhance the ability of people to deal with a plethora of issues and also to provide thought leadership in certain areas."
SUVICHAR is a Think Tank comprising of prominent citizens comprising of defence experts, former bureaucrats, media persons and entrepreneurs. It would take up local, regional and national level issues.
The following are the founder members of SUVICHAR: General VP Malik (former Army Chief), ML Sarin (Senior Advocate), Neelam Mann Singh (Padmashri, Theatre Personality), VK Kapoor (IPS Retd), Vivek Atray (Author and Advisor), Prof Rajnish Wattas (Former Principal CCA), Vipin Pubby (Former Editor), Ashok Tandon (Noted Industrialist), Sameer Jain (Technology Entrepreneur), Sameer Goel (e-Governance Expert), Neena Singh (Former Banker/Social Activist), Jyoti Kamal (Media Personality) and Dr ID Shukla (Former Principal).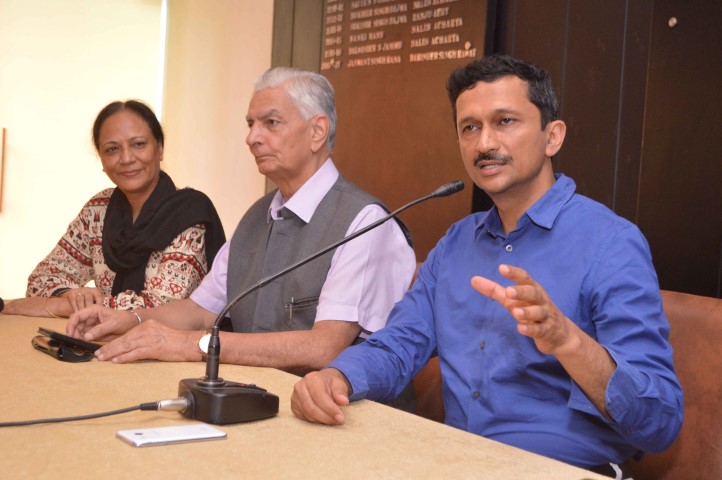 Prof Rajnish Wattas said "Neither Pandit Jawaharlal Nehru nor Le Corbusier could have ever imagined that the seeds of the city sown by them, would in a period of 63 years of its inauguration earn it a UNESCO heritage tag. The Capitol Complex is truly now its 'Crowning Glory' — as Corbusier would to refer to it. The Edict of Chandigarh as drawn up by Le Corbusier should be respected."
Commenting on the World Heritage status of Chandigarh's Capitol Complex and the road ahead, Wattas said, "It is a matter of immense pride for residents of Chandigarh UT, and the entire nation, that the CAPITOL COMPLEX of Chandigarh has been listed for the UNESCO World Heritage Status. Coming as it did, at the historic 40th meet of the World Heritage Committee held under the dramatic shadow of goings-on at Istanbul, the announcement is even sweeter."
With such global recognition come responsibilities too. SUVICHAR proposes the following steps to be taken by the city in the coming years to maintain and preserve and even further enhance the sanctity and stature of the Capitol Complex and the city as a whole:
Firstly, the Capitol Complex has to be protected assiduously from any tampering with its authenticity, by any individual, agency, or organisation. Secondly, wherever mindless damage has been done over the years, it has to be restored. Some offices may need to be shifted from the Secretariat especially, to ensure that it is used as per its capacity. Thirdly, the UNESCO norms for its future management and maintenance have to be followed in letter and spirit!
The think tank members said residents in the city should be encouraged to take pride in the Capitol Complex and the city as a whole; children especially should be enlightened about the city's origin and its significance from an early age. They added, tourism should be promoted in a big way so that economic benefits and employment opportunities arise as a consequence of the heritage status. Entry to the Capitol Complex area should be relatively unrestricted, while security is maintained by use of modern technology-enabled measures.
Further it was also suggested international seminars and events should be organised highlighting Chandigarh's uniqueness and experts should be invited to discuss global as well as national level issues of urbanisation. There is also a need for a facility like Delhi's India Habitat Centre in Chandigarh which would facilitate art and cultural activities, national/international level conferences and seminars.