CM holds all-party meeting to discuss Covid-19 situation in Himachal Pradesh: Chief Minister Jai Ram Thakur while presiding over the all-party meeting here today apprised the leaders about the Covid-19 situation in the state and steps being taken by the state government to check the spread of this pandemic.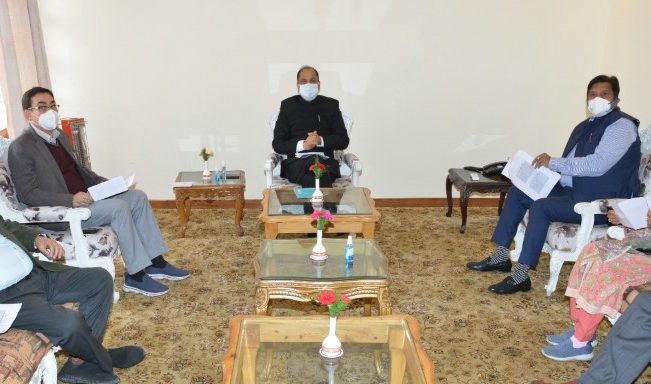 Jai Ram Thakur said that the current oxygen production capacity in the state was 53 MT, which includes 15 MT state quota from INOX, Solan. The state has urged the union government to increase the state quota to 30 MT.
Currently, the state has oxygen cylinders filling capacity at nine places and PSA plants have been commissioned at Deen Dayal Upadhyay hospital Shimla, zonal hospital, Dharamshala and Shri Lal Bahadur Shastri government medical college Ner Chowk.
He said that union government has recently sanctioned six new oxygen plants for the state which would be established at civil hospital Palampur, zonal hospital Mandi, civil hospitals Rohru and Khaneri in Shimla district, Dr. Y.S Parmar government medical college, Nahan and regional hospital Solan.
The government of India has already sanctioned seven oxygen plants for the state and once fully functional, these plants would ensure uninterrupted oxygen supply not only within the state but also to the entire region. The state government has also urged the central government to provide 5000 D-type and 3000 B-type cylinders to Himachal Pradesh.  
The Chief Minister said that adequate manpower was also being ensured in all the health institutions of the state. The doctors were being recruited besides deployment of nurses, para-medical and other supporting staff on outsource basis.
He said that services of 4th and 5th year MBBS students, junior and senior resident doctors, nursing students etc. was being taken to care for the patients. The efforts were also being made to rope in private labs for undertaking RT-PCR tests so that test reports could be accelerated. 
Jai Ram Thakur said that the government was striving hard to increase the bed capacity in various health institutions. The Ner Chowk medical college has been designated as Covid hospital having a bed capacity of 300 beds. Similarly, MCH Sundernagar and Mandi have also been designated as dedicated Covid hospitals.
He said that work on MCH Mandi has been expedited and would be completed within a month. The new OPD block of IGMC Shimla would also be used for Covid patients which would ensure bed capacity of 300 beds.
The Army hospital (Walker) in Shimla would also be used for treatment of Covid patients. He said that additional bed capacity of about 1000 would be created at Radhaswami Satsang complex at Paraur in Kanggra district and about 200 beds at Radha Swami Satsang complex, Mandi.  
The Chief Minister said that vaccination drive was also going on smoothly in the state and about 18.80 lakh vaccination doses had been administered to the eligible group till date. 
It was also decided in the All Party Meeting to donate one month salary of all the MLAs towards the Chief Minister's Covid-19 Fund. 
Parliamentary Affairs Minister Suresh Bhardwaj welcomed the Chief Minister and other leaders in the meeting.
Leader of Opposition and senior Congress leader Mukesh Agnihotri expressed concern over the covid-19 cases and sharp surge in Covid related deaths.
He also expressed concern over delay in getting test report of Covid. He assured the government that the Opposition was with the government and would fully support its decisions in larger interest of the public. He suggested common facility centres at Pandoga and Bathu in Una district for treatment of Covid-19 patients. 
Senior Congress leader Asha Kumari said that availability of essential medicines such as remdesivir must also be ensured particularly in all district hospitals and medical colleges.   
Senior Congress leader Col. (Dr.) Dhani Ram Shandil  felt the need for increasing deployment of additional ambulances for transportation of Covid patients.
CPM leader Rakesh Singha expressed the need for prompt shifting of critical ill Covid patients to hospitals from home isolation besides creation of additional bed capacity at Tanda medical college which had adequate infrastructure. 
Vidhan Sabha Speaker Vipin Singh Parmar, Education Minister Govind Singh Thakur, Additional Chief Secretary J.C. Sharma, Principal Secretary Onkar Sharma, MD, NHM Dr. Nipun Jindal and other officers also attended the meeting.