Commissioner launches pilot model smart food cart: Sh. K.K. Yadav, IAS, Commissioner, Municipal Corporation Chandigarh today inaugurated a pilot model smart food cart designed under the supervision of Dr. Kumar Pushkar, guided by Dr. Amarjeet Singh and Dr. Sonu Goel, Department of Community Medicine and SPH, PGIMER, Chandigarh and Municipal Corporation of Chandigarh.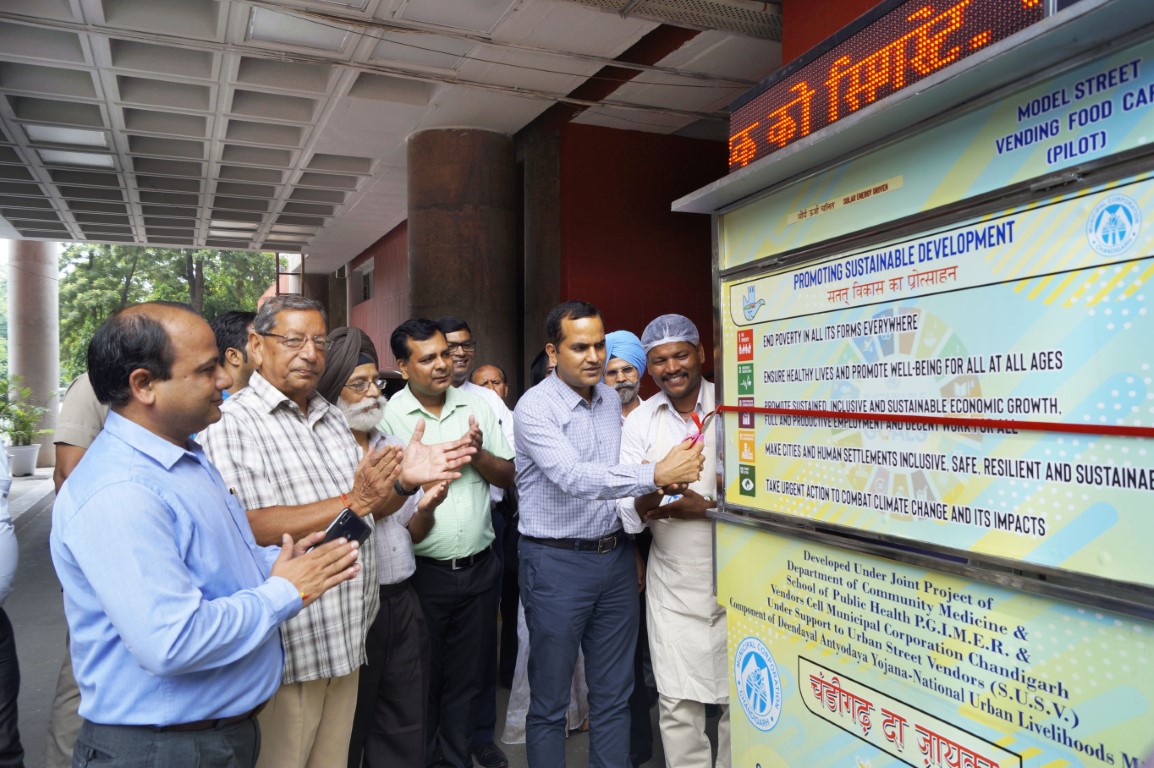 This cart was gifted as an award to Mr. Pawan, a registered street food vendor operating near the Elante Mall. His cart scored the highest on the checklist devised by Dr. Kumar Pushkar, Dr. Amarjeet Singh and Dr. Sonu Goel for its conformance with FSSAI specifications.
The team is working on two more cart designs for 'tea vendors' and; Chhole-kulche' vendors. The venture was supported by SBI &Hindustan Unilever Pvt Ltd. Raghubir Fabricators team helped in manufacturing the cart. Mr. Jagdish, Sector 26 also actively contributed to finalizing the cart design.
This is a pilot smart food cart designed with many food safety features as per the mandate of the bylaws specified by MCC Chandigarh. It is made up of stainless steel material; it is solar-powered (top-mounted) with inbuilt sink for handwashing.
There are numerous food safety features such as a slot for drinking water, a designated place for storing raw and cooked food separately, facilities for keeping soap, space for keeping apron, caps and gloves.
It has a gas cylinder/stove provision. It is equipped with a fire extinguisher. There are dustbins to segregate dry and wet waste separately as per MCC specifications. Display board provides all the important phone numbers and digital mode of payment options are also available. Health messages are also displayed on the cart. LED message display is also there on the top of the cart.
This smart food pilot cart is expected to improve hygienic standards of street food vendors. It mightalso give a fillip to the street food vending operation in Chandigarh under the stewardship of MCC. This may even transform the scenario in this field. If this venture is successful, itcan be a role model for the rest of the country.
The PGIMER & MCC have jointly initiated a project entitled "Convergence of initiative of Women, Child and Social development agencies of Chandigarh for mainstreaming Street Vendors' Welfare through integrated training enterprise of its Municipal Corporation with special focus on street food hygiene".
As a part of this project, a workshop was organized today at conference hall, MCC during which more than 50 street food vendors participated. Till date 12 workshops have been held over a period of 6 months and capacity building of more than 320 street food vendors has been done.